Saints stretched their lead at the top of the Betfred Super League to 10 points with a 14-6 derby win over Wigan.
Morgan Knowles scored the crucial try in a blazing team performance that saw 1 to 17 stand proud at the DW Stadium.
He was a highlight reel, as was Jack Ashworth – playing in his first game since 2016 – Matty Lees and James Roby.
Justin Holbrook said his skipper was "one of the very best in the world" afterwards and there was no denying his input on the win.
He made three terrific cover tackles in the second half alone to backstop his team to victory.
Saints were the better side throughout but couldn't shake off a resilient Warriors who threw everything at them.
Dom Peyroux opened the scoring on 10 minutes as Theo Fages' kick bounced off the Wigan defence for him to pounce.
Danny Richardson hit the conversion and then made it 8-0 with a penalty after Saints were impeded following Luke Thompson's 30 metre break.
The visitors continued to press but were forced back on their heals to defend two sets right on their own line.
The first saw Wigan gain a drop out but a huge tackle from Luke Douglas and Lees on Taulima Tautai set the tone for the Warriors' forward to drop the ball moments later.
Ashworth entered the fray in the final seven minutes and instantly set Roby and Jonny Lomax off on a break – before the skipper made a try saving tackle on Gabe Hamlin at the other end.
John Bateman then did the same as Makinson broke following Lomax' pass.
8-0 up at half time, Saints edged the game further away from the Warriors with a long period of pressure that saw Knowles cross.
He went within inches five minutes into the half and then Fages set Tommy Makinson away after Kyle Amor's run.
Lomax went agonisingly close moment later too but Fages hit Knowles on a class line for 12-0.
Richardson taking the lead out to 14 points with the conversion.
Wigan wouldn't go away though and it took all of Saints' defensive talent to get them through it.
The Warriors had one chalked off for a double movement on the hour mark and then Regan Grace had to be agile enough to stop a kick to the corner five minutes later.
Saints were then made to drop out before Ryan Morgan came up with a try saving tackle to keep the line intact.
But the pressure was building and within the next two plays, Sam Tomkins cut back inside to make it game on.
This Saints team never gives up though and they were not going to give their hosts a second bite.
Makinson once again went close with another barnstorming run as the game entered it final knockings, before the defence then doing the trick to seal Saints' 13th win on the bounce.
Match Summary:
Warriors:
Tries: Tomkins,
Goals: Tomkins (1 from 1)
Saints:
Tries: Peyroux, Knowles
Goals: Richardson (3 from 3)
Penalties Awarded:
Warriors: 6
Saints: 5
HT: 0-8
FT: 6-14
REF: R Hicks
ATT: 16,047
Teams:
Warriors:
1. Sam Tomkins; 2. Tom Davies, 41. Chris Hankinson, 3. Dan Sarginson, 22. Liam Marshall; 34. Josh Woods, 7. Sam Powell; 8. Tony Clubb, 9. Thomas Leuluai, 10. Ben Flower, 19. Willie Isa, 14. John Bateman, 25. Romain Navarrete.
Subs: 17. Taulima Tautai, 30. Gabriel Hamlin, 39. Liam Paisley, 40. Joe Greenwood.
Saints:
1. Jonny Lomax; 5. Adam Swift, 2. Tommy Makinson, 3. Ryan Morgan, 19. Regan Grace; 6. Theo Fages, 18. Danny Richardson; 10. Kyle Amor, 9. James Roby, 16. Luke Thompson, 17. Dom Peyroux, 15. Morgan Knowles, 12. Jon Wilkin.
Subs: 13. Louie McCarthy-Scarsbrook, 14. Luke Douglas, 20. Matty Lees, 21. Jack Ashworth.
Saints Line up
| | |
| --- | --- |
| 6 | Jonny Lomax |
| 18 | Adam Swift |
| 2 | Tommy Makinson |
| | Ryan Morgan |
| 5 | Regan Grace |
| 7 | Theo Fages |
| 7 | Danny Richardson |
| 18 | Kyle Amor |
| 9 | James Roby |
| 10 | Luke Thompson |
| 12 | Dominique Peyroux |
| 13 | Morgan Knowles |
| 12 | Jon Wilkin |
| 15 | Louie McCarthy-Scarsbrook |
| 14 | Luke Douglas |
| 10 | Matty Lees |
| 17 | Jack Ashworth |
Wigan Warriors Line up
| | |
| --- | --- |
| 1 | Sam Tomkins |
| 2 | Tom Davies |
| 3 | Chris Hankinson |
| 4 | Dan Sarginson |
| 5 | Liam Marshall |
| 6 | Josh Woods |
| 7 | Sam Powell |
| 8 | Tony Clubb |
| 9 | Thomas Leuluai |
| 10 | Ben Flower |
| 11 | Willie Isa |
| 12 | John Bateman |
| 13 | Romain Navarrete |
| 14 | Taulima Tautai |
| 15 | Gabriel Hamlin |
| 16 | Liam Paisley |
| 17 | Joe Greenwood |
Last updated 19 Jul 18 21:37:12
Chip over, Regan puts it in touch.
Great clearing kick from Richardson…
Saints keep them out. 70 seconds left.
Wigan penalty in front of the sticks, 30 out.
Wigan ball on half way – Saints defending like their lives depend on it.
Makinson makes a 60 metre break but Saints can't punch it in. The ball is down in Wigan's half though.
Swift takes a high ball but it's all Wigan at the moment.
Goal
Sam Tomkins for Wigan Warriors
Try
Sam Tomkins for Wigan Warriors
Tomkins cuts back inside and it's game on.
Wigan over in the corner – looks held up; heading upstairs.
Big tackle from Lees on Tomkins – Richardson then dabs a kick behind the goal. Saints will drop out.
More good D from Saints – but they lose on the ball to hand Wigan a set right in good territory.
A welcome take from Regan there as the ball comes into the corner. Sigh of relief from the 3000 away fans!
Little dab towards Wigan's line but the home side come away with it. Still tense this one. Saints lead 14-0
Wigan think they're over – but they are called for a double movement. Saints now in Wigan's 40.
Swift with the great clearance after he takes a high ball.
High ball from Richardson – Tomkins takes and is then smothered by three Saints. Saints lead 14-0.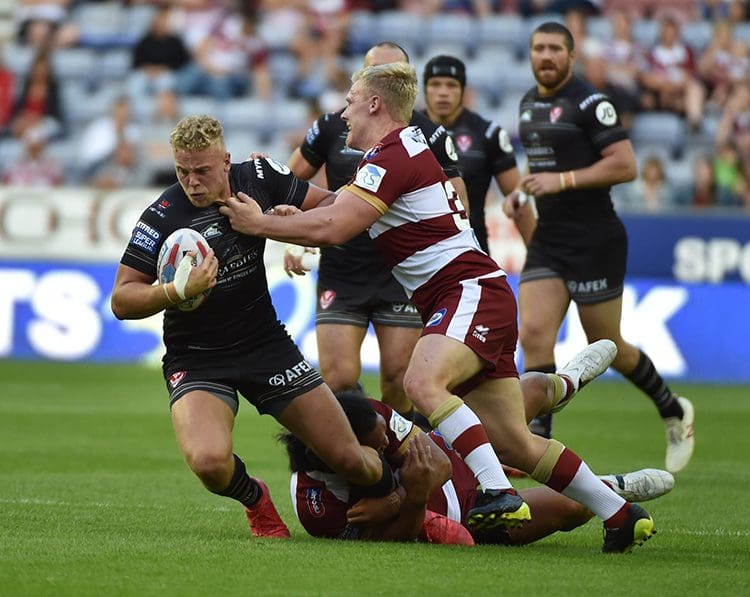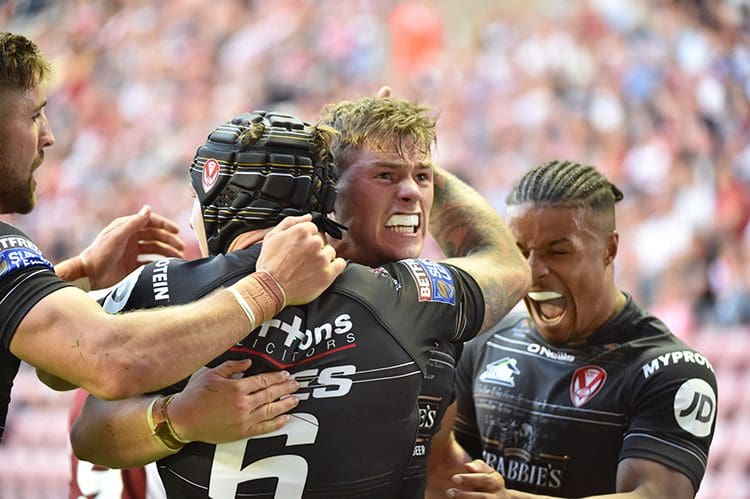 Goal
Danny Richardson for Saints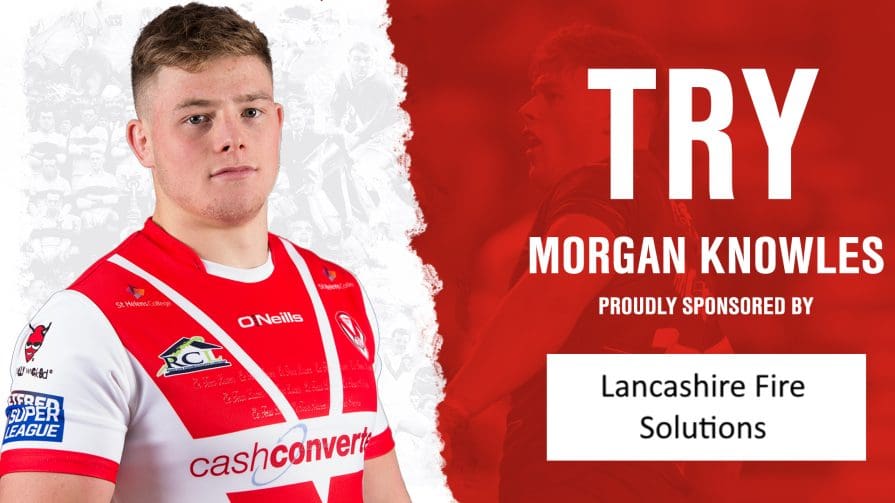 Try
Morgan Knowles for Saints
Yes Morgs! Great try as he breaks a tackle and puts down under pressure.
Has Knowles scored? We're heading upstairs…
Jack Ashworth draws another penalty….
Penalty to Saints for interference right on Wigan's line.
Saints on the doorstep again as Wigan lose it – Richardson with the break.
Wonderful break from Saints as Fages set Makinson away – but he loses the ball as the pitch widened up.
Morgan Knowles goes within inches – the Warriors then take Richardson's high ball in the corner.
LMS with the bone cruncher on Tomkins following Richardson's high ball
Kick trading to start the second half…
Saints will get this second half underway – they lead 8-0.
Lomax gets a high ball, sets off down the field and finds Makinson. But Bateman tracks him back and the chance is gone.
But Saints cough up the ball and have a set to defend.
Roby hauls down Hamlin on the way to the line – what an important tackle that is.
Ashworth makes great break to set Roby and then Lomax off – but Saints can't convert it. Wigan get the ball and a penalty.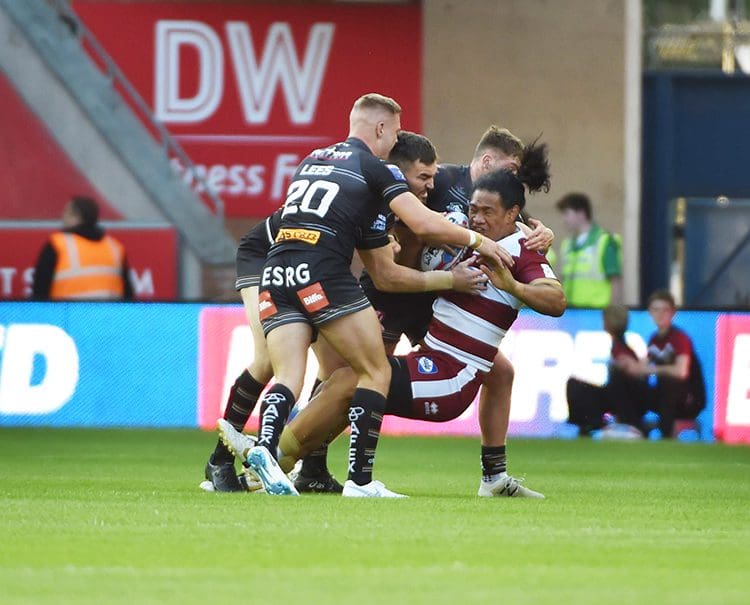 Saints have the Warriors pinned on their line – but they give a penalty away,
Just before that knock on – a massive tackle from Knowles and Douglas on Tautai
Wigan looked to have knocked the ball in the tackle – it's then grounded in-goal and Saints have to drop out.
Saints knock-on right on their own line. Big defensive set needed here.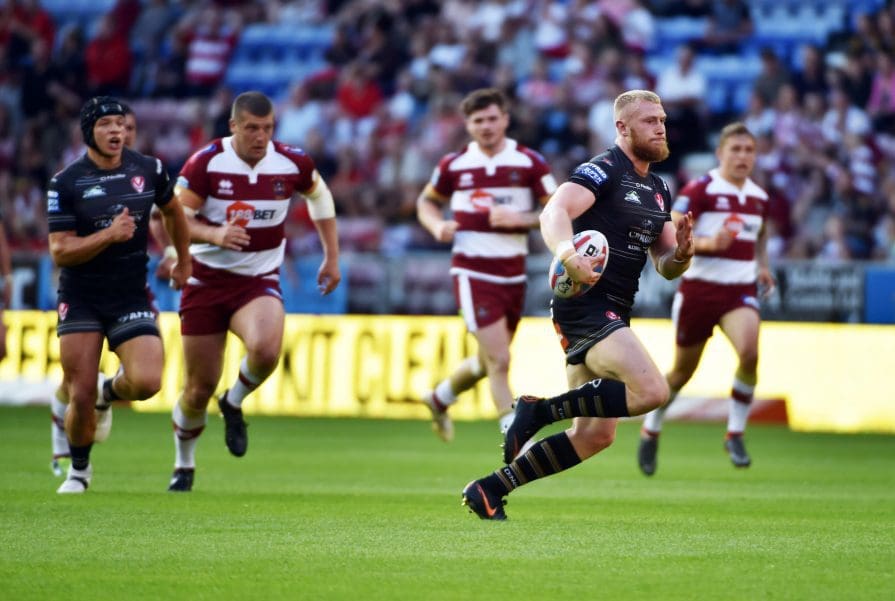 Goal
Danny Richardson for Saints
Thompson marches through a gap and goes a good 30 metres – Saints have men over but Wigan concede the penalty. Let off for the home side there.
Wigan gain a penalty on their line.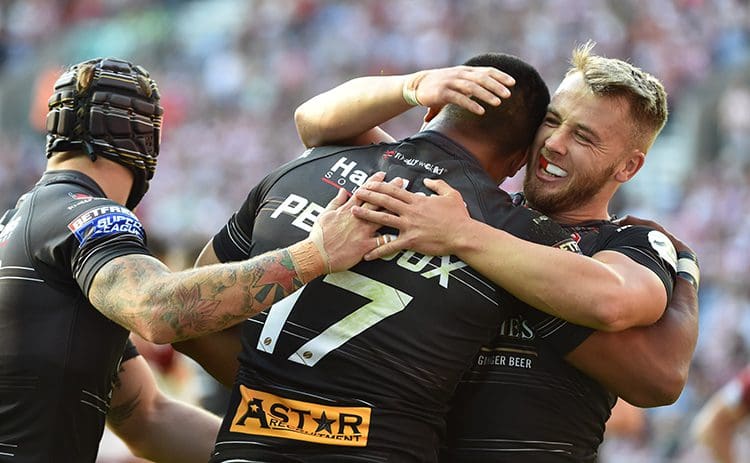 Goal
Danny Richardson for Saints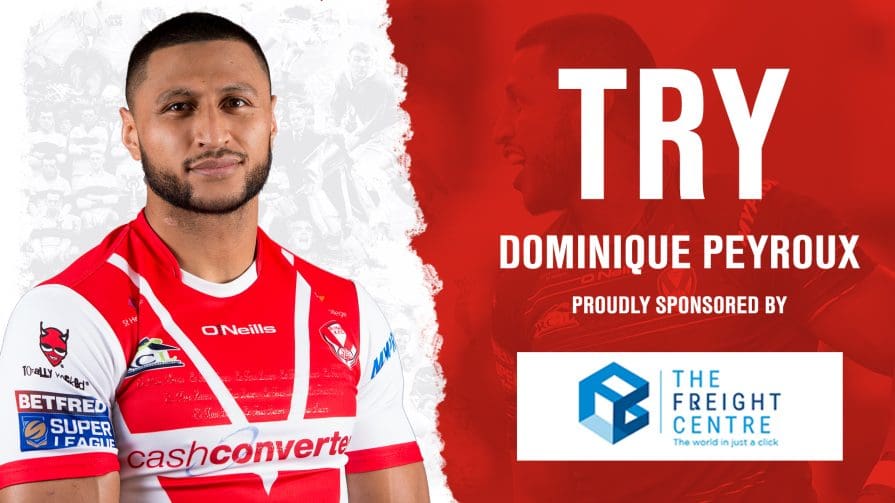 Try
Dominique Peyroux for Saints
Saints make the pressure pay – kick from Fages, Wigan can't handle it and Peyroux pounces!
Saints win another set after Wigan break up a play on the last tackle. Big chance here.
Saints penalty as Amor is pulled down.
Sides exchanging high kicks but no real chances for either team
Good run by Bateman but Woods puts the ball down.
Saints then return the favour. Nervy start from both sides.
Wigan put the ball down. Saints head and feed on their own 35.
Richardson kicks the ball dead and is nailed by Clubb after it leaves his boot.
Wigan will get this one underway