Saints face Hull KR (a) this evening at the Totally Wicked Stadium with kick off at 8.15pm and you can read all the pre-match news in our match preview story.
BACKGROUND
Mose Masoe's two former Super League clubs will go head to head on Thursday night at our Totally Wicked Stadium with Mose in attendance to support his former teammates. Saints are actually the away team today with all Round 2 games being played at our St Helens home.
Hull KR's new number 10 Korbin Sims will pay tribute to Mose on Thursday and wear Masoe's name proudly on the back of his shirt in round 2, as the Robins look to secure a victory over last years champions.
Show your support for Mose by clicking here.
SQUADS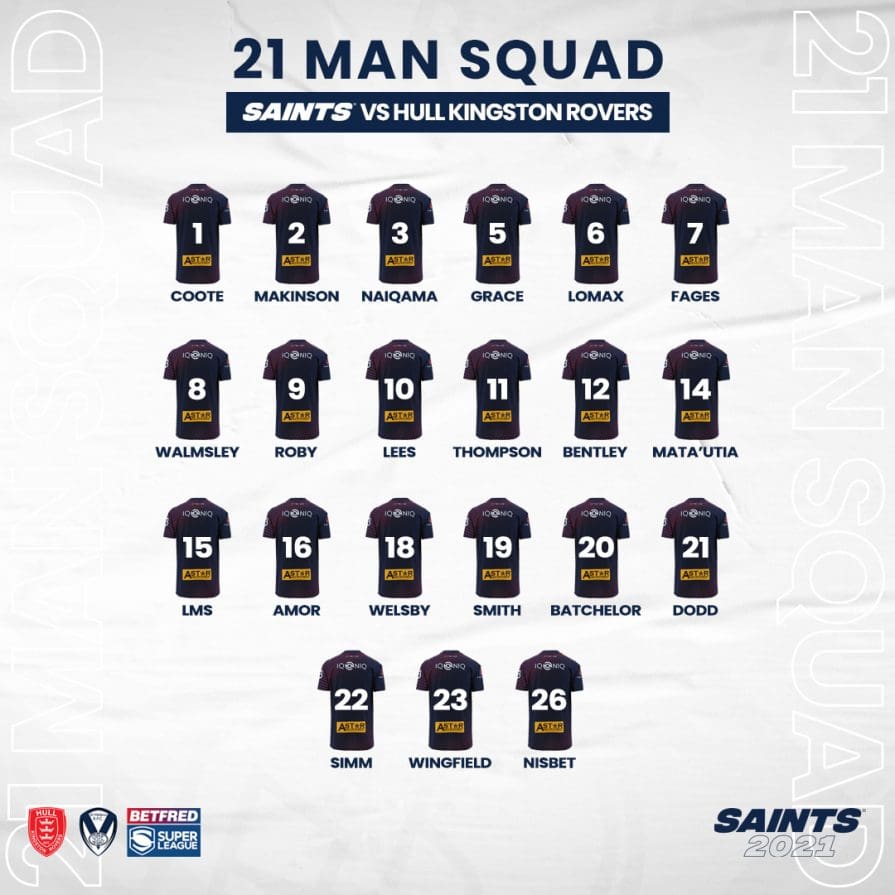 Click here to read more about the two 21 man squads.
COACH AND PLAYER PREVIEW

Head Coach Kristian Woolf previewed tonight's clash here whilst Matty Lees also chatted to Saints TV about building on Round 1 and supporting Mose Masoe. This can be viewed here.
LAST 10 MEETINGS
St Helens 21, Hull KR 20 (aet) (SLR12, 11/9/20)
Hull KR 18, St Helens 32 (SLR10, 30/8/20)
Hull KR 26, St Helens 42 (SLR14, 5/5/19)
St Helens 36, Hull KR 24 (SLR8, 29/3/19)
St Helens 26, Hull KR 4 (SLR17, 8/6/18)
Hull KR 6, St Helens 30 (SLR7, 23/3/18)
St Helens 48, Hull KR 16 (SLR19, 17/6/16)
Hull KR 22, St Helens 31 (SLR3, 26/2/16)
St Helens 52, Hull KR 12 (SLR23, 24/7/15)
Hull KR 24, St Helens 22 (SLR7, 27/3/15)
MAN IN THE MIDDLE?
Robert Hicks will be referee. Tom Grant will be the video referee.
KIT?
Despite playing at our Totally Wicked Stadium, Saints are the 'away' team meaning will be wearing our dark blue away kit. As a huge Thank You to our donating 2020 Members, your Saints will again warm up in a special shirt which has the names printed of all those who donated. Read more.
FANS?
Following the Government guidelines the game will again be played behind closed doors. However we will have a selection of our TOTALLY WICKED FANS on Sky Sports' Fan Zone – cheering the boys on from home. Keep an eye out for them!
WHERE CAN I WATCH THE GAME?
The game is live on Sky Sports Arena with kick off at 8.15pm. 2021 members can also watch on the RFL's Our League app via a unique streaming code.
Supporters can follow the game on our official Twitter, Facebook and Instagram accounts as well as on our Live Match Centre.
Reaction will follow the Full-Time whistle on our website and social media channels whilst the highlights and the full 80 minute replay will be on Saints TV over the weekend for subscribers.
RIVALS WATCH
Thursday:
Wigan vs Wakefield – 6pm
Friday:
Warrington vs Leigh- 12.45pm
Leeds vs Castleford – 3pm
Saturday:
Salford vs Hull FC – 12.15pm
Huddersfield vs Catalans – 2.30pm