A late Danny Richardson try wasn't enough as Saints went down 16-14 at Headingley on Friday night.
The youngster dummied his way over the line with just minutes to spare after Leeds came back from a six point deficit.
Saints had the better of the first half to take the lead but couldn't create enough chances in the second.
They were in front through a Mark Percival penalty in the tenth minute after Kyle Amor was held down in front of the sticks.
Kallum Watkins replied with a two pointer of his own before Percival missed the chance to put Saints back in front with another penalty attempt.
Both sides struggled to keep hold of the ball on a fine night, but that was interrupted as superb Saints defence stopped a certain Rhinos' try down the left hand side and then Regan Grace cleared his lines with a class run.
And when Tommy Makinson did the same around five minutes from the break, Saints profited.
The influential James Roby, who was a cut above all night, broke free and offloaded to Zeb Taia who duly turned it inside for Jonny Lomax to go under the sticks.
Up six at the break, Saints were on the front foot from the start of the second, putting a high ball right onto the Leeds' line that the home side had to defend.
But Ryan Hall scored for the Rhinos on 47 minutes after Saints were harshly penalised for obstruction in midfield.
Watkins tagging on the conversion to make it all square.
Saints weathered more pressure before Watkins missed the chance to put the Rhinos ahead with a chip shot penalty on 58 minutes.
The number of defended sets were beginning to tell though and it was no surprise when the home side took the lead – even though it came from a contentious call.
A last tackle kick won them a repeat set and when they gained another Adam Cuthbertson charged over from close range.
It was fortuitous considering the kick previous had been collected in an offside position – but the finish was anything but lucky.
Another fortuitous penalty then saw Watkins extend the Rhinos' lead to eight – LMS adjudged to have obstructed on a grubber.
Saints fought their way back into it and after Matty Smith went close following his own high kick, Richardson produced a moment of magic.
He'd only been on the pitch a few moments when he took a pass around 10 metres out, dipped his shoulder and dummied his way over the line.
It set up a mad final few minutes that saw Percival chip down the left hand side – the bounce alluding him – before he was wrapped up as Saints went for the wonder play as the hooter sounded.
Agonisingly close once again for Holbrook's side, leaving the match with Wigan on September 1 a must win.
Match Summary:
Rhinos:
Tries: Hall, Cuthbertson
Goals: Watkins (4 from 5)
Saints:
Tries: Lomax, Richardson
Goals: Percival (3 from 4)
Penalties Awarded:
Rhinos: 10
Saints: 8
HT: 2-8
FT: 16-14
REF: Ben Thaler
ATT: 16,326
Teams:
Leeds:
31. Jack Walker; 2. Tom Briscoe, 3. Kallum Watkins, 14. Liam Sutcliffe, 5. Ryan Hall; 4. Joel Moon, 6. Danny McGuire; 16. Brad Singleton, 9. Matt Parcell, 10. Adam Cuthbertson, 11. Jamie Jones-Buchanan, 13. Stevie Ward, 12. Carl Ablett.
Subs: 7. Rob Burrow, 15. Brett Delaney, 18. Jimmy Keinhorst, 20. Anthony Mullally.
Saints:
1. Jonny Lomax; 2. Tommy Makinson, 3. Ryan Morgan, 4. Mark Percival, 28. Regan Grace; 6. Theo Fages, 7. Matty Smith; 10. Kyle Amor, 9. James Roby, 16. Luke Thompson, 36. Zeb Taia, 12. Jon Wilkin, 20. Morgan Knowles.
Subs: 8. Alex Walmsley, 13. Louie McCarthy-Scarsbrook, 18. Dominique Peyroux, 24. Danny Richardson.
Saints Line up
| | |
| --- | --- |
| 6 | Jonny Lomax |
| 2 | Tommy Makinson |
| | Ryan Morgan |
| 4 | Mark Percival |
| 5 | Regan Grace |
| 7 | Theo Fages |
| 7 | Matty Smith |
| 18 | Kyle Amor |
| 9 | James Roby |
| 10 | Luke Thompson |
| 11 | Zeb Taia |
| 12 | Jon Wilkin |
| 13 | Morgan Knowles |
| 8 | Alex Walmsley |
| 15 | Louie McCarthy-Scarsbrook |
| 12 | Dominique Peyroux |
| 7 | Danny Richardson |
Leeds Rhinos Line up
| | |
| --- | --- |
| 1 | Jack Walker |
| 2 | Tom Briscoe |
| 3 | Kallum Watkins |
| 4 | Liam Sutcliffe |
| 5 | Ryan Hall |
| 6 | Joel Moon |
| 7 | Danny McGuire |
| 8 | Brad Singleton |
| 9 | Matt Parcell |
| 10 | Adam Cuthbertson |
| 11 | Jamie Jones-Buchanan |
| 12 | Stevie Ward |
| 13 | Carl Ablett |
| 14 | Rob Burrow |
| 15 | Brett Delaney |
| 16 | Jimmy Keinhorst |
| 17 | Anthony Mullally |
Last updated 18 Aug 17 21:59:31
10 seconds left and Saints have the ball at the scrum.
Percy goes for chip over down the left hand side but the bounce beats him
Two minutes to go, Saints have the ball on their 20.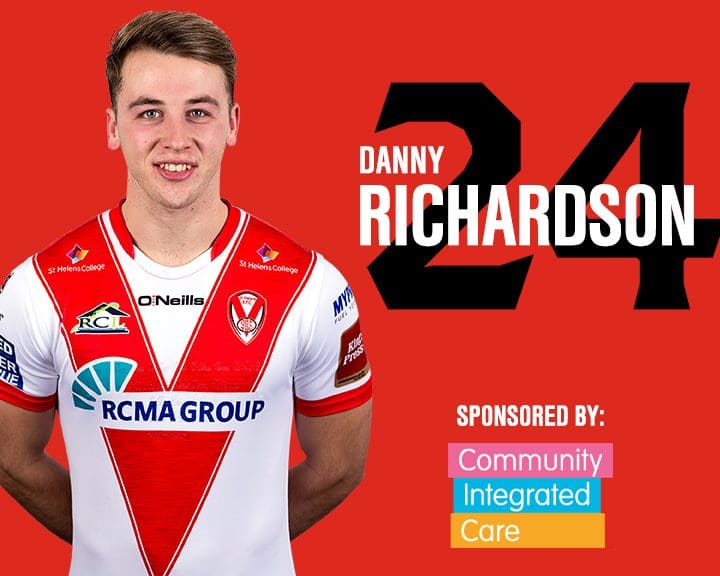 Try
Danny Richardson for Saints
Cracking dummy and dart through from Danny! It's 16-14
High ball, Makinson tips back and Smith is agonisingly close.
Goal
Kallum Watkins for Leeds Rhinos
Another penalty for Leeds and they will take the two.
Try
Adam Cuthbertson for Leeds Rhinos
Puts the Rhinos ahead on a charging run
More repeat sets on Saints' line from for the Rhinos
Saints defend it as the Rhinos drop the ball.
And Leeds will have another set as Peyroux can't haul in a loose Rhinos' pass
Missed! But Leeds will get the ball back.
Leeds have a penalty near the sticks and they will take the two
Saints defend, and then win a penalty.
Saints gain a penalty on half way
Goal
Kallum Watkins for Leeds Rhinos
Try
Ryan Hall for Leeds Rhinos
Saints penalised for obstruction and Leeds score through Hall
High ball, Lomax takes. Good start to the second half from both sides.
Another chance for Saints but it goes to ground after an awkward pass under the sticks.
High kick, Leeds defend it.
Saints will get the second half underway – they lead 8-2
HT
Saints 8-2 up at the break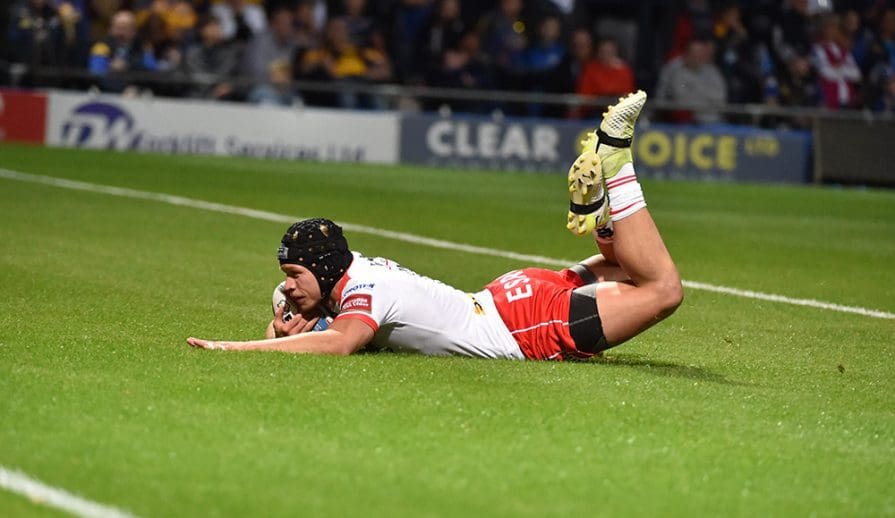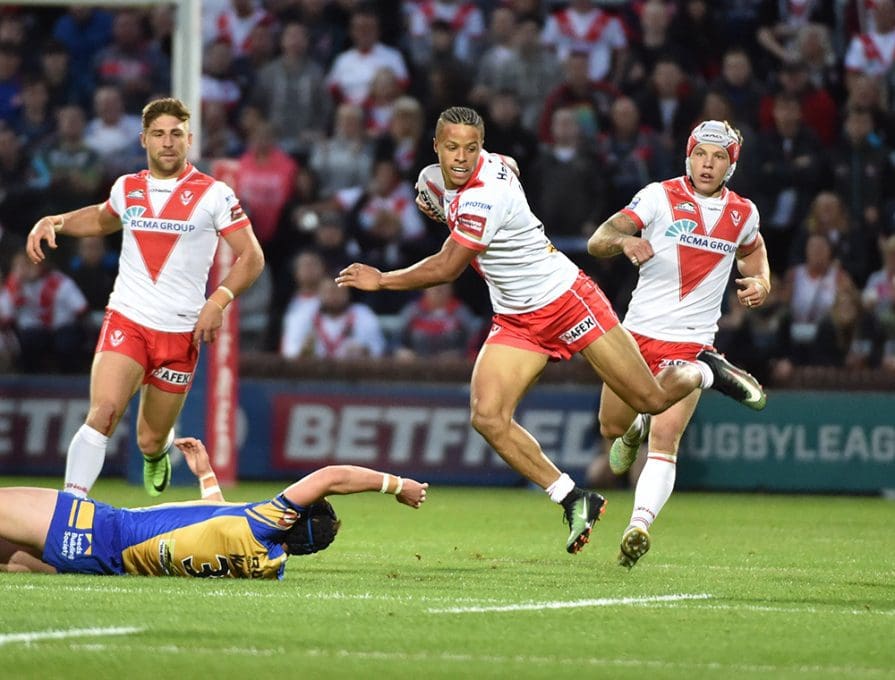 Goal
Mark Percival for Saints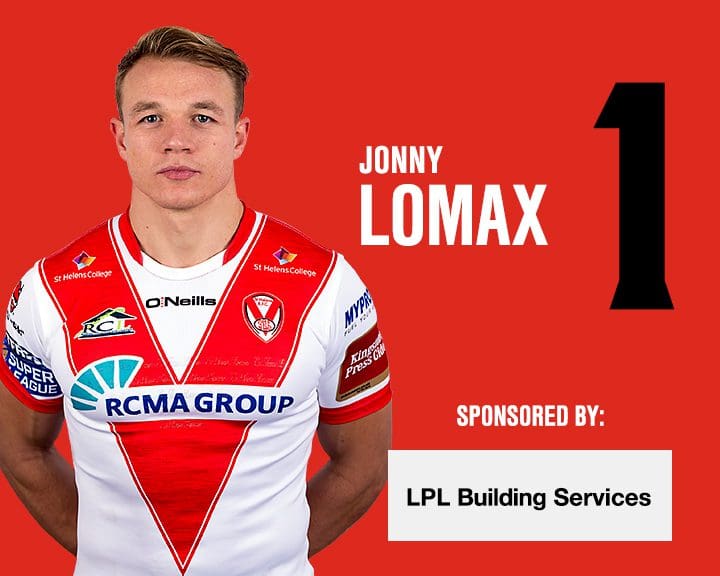 Try
Jonny Lomax for Saints
Roby breaks the line, offloads to Taia who turns it back inside for Jonny!
What a run from Grace as he clears his lines. Wonderful stuff from the youngster.
High ball, solid take from Jack Walker.
But a Fages' tackle wins Saints the ball back!
Plenty of ball going to the ground here from both sides. Latest one sees Leeds 40 metres out from Saints' line
Effort goes wide. Remains 2-2 but Saints will get the ball back
Interference in the tackle and Percy will attempt the two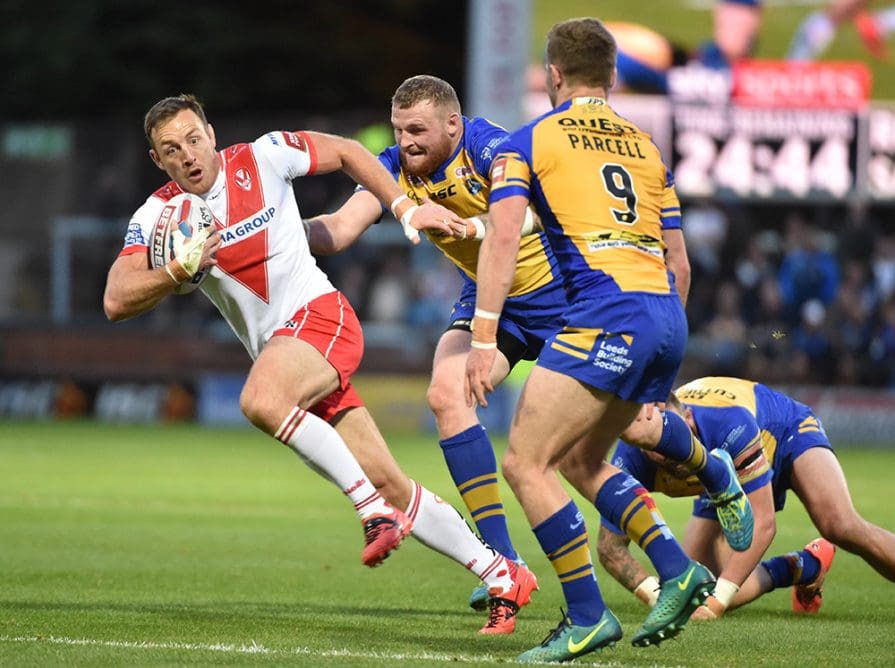 Leeds knock on in their own 40 – chance for Saints
Goal
Kallum Watkins for Leeds Rhinos
Another penalty heads Leeds way, and they will attempt the two
Leeds penalty in Saints' 40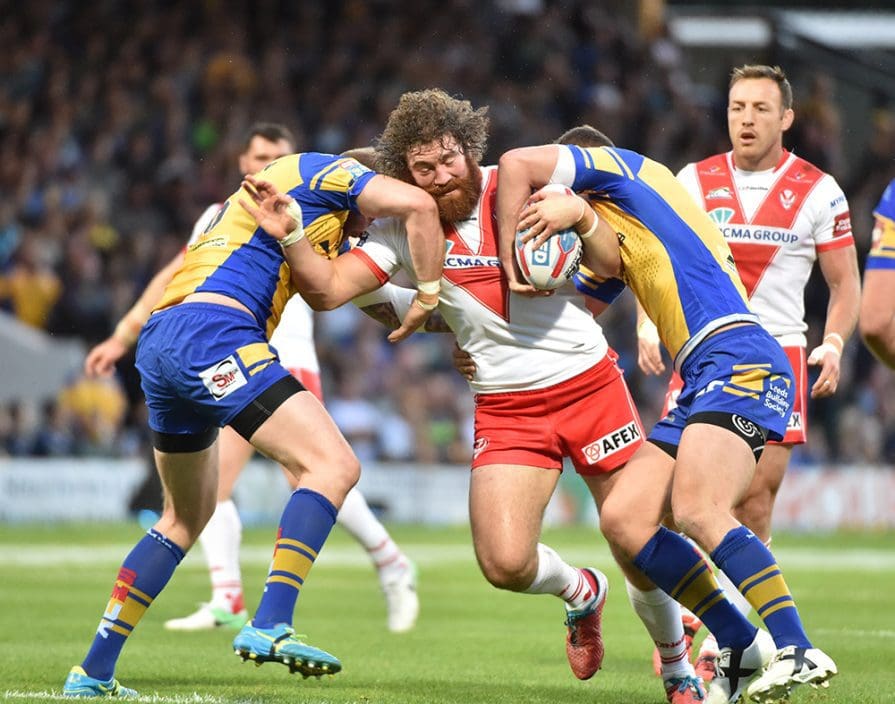 Theo almost through – and he wins Saints another penalty
Lomax almost through then a Smith kick to the corner wins Saints another drop out.
Taia taken high, Saints have a penalty
Goal
Mark Percival for Saints
Saints have an early lead.
Amor held down in front of the posts and Saints will take the two
Another high bomb from Smith wins Saints a drop out.
Good clearing kick from Smith and a good chase – but Saints give away a penalty.
Monster kick from Smith – and a great take from Briscoe under pressure from Taia
Leeds will get this one underway
Saints out to warm up. Big night – a win takes us back to fourth.