A 50 metre Marc Sneyd penalty halted Saints' winning run as Hull came from behind to win 8-6 on Friday night.
In appalling conditions the half back's telling contribution settled a dour contest.
Both sides struggled throughout with their handling and whilst Saints created the better of the chances they couldn't make it pay when it mattered most.
They'd got off to a great start too when Regan Grace acrobatically finished off a flowing move after just four minutes.
Mark Percival drew the defence to put his winger in as the ball flew left, and then nailed the conversion from the touchline.
Poor handling dogged the next 10 or so minutes, as it did throughout the half, but the home side's chances continued to flow.
Grace had an opportunity on 26 minutes but couldn't haul a pass in with the line begging, and then a mazy Alex Walmsley run almost set James Roby away.
But Marc Sneyd hit the home side with a suckerpunch.
After some poor handling gave the ball to the visitors his sneaky run and conversion brought Hull level – even though there was a suggestion he knocked on in the act of scoring.
Saints had a chance right on the stroke of half time when Jake Connor knocked on a towering Richardson kick, but poor ball control let them down once again.
Considering what had gone before, the sight of both sides controlling their sets early in the second half was a relief!
But on 45 minutes Hull lost the ball giving Saints the chance to pile on some pressure.
Percival ran out of room and ended up in touch as a result, but it was a promising sign after a somewhat stop start first 40.
Matty Smith replaced Richardson on 50 minutes and he was instantly involved almost creating a chance for Saints with a slide rule kick following back to back sets.
But the handling issues that plagued the first half continued until what looked like a Hull knock on saw the home side penalised and Sneyd slotting over a penalty from half way.
His teammates offside from the kick.
Saints continued to toil from their own line and failed to trouble the Hull defence until, in the final minute, Percival went down the left hand side.
He opted to chip forward too, but was held back and the chance was gone.
Saints probably should have had the ball back as a result, but they hadn't done enough in the game to justify the points.
Match Summary:
Saints:
Tries: Grace
Goals: Percival (1 from 1)
Hull FC:
Tries: Sneyd
Goals: Sneyd (2 from 2)
Penalties Awarded:
Saints: 10
Hull FC: 7
HT: 6-6
FT: 6-8
REF: James Child
ATT: 10,338
Teams:
Saints:
1. Jonny Lomax; 2. Tommy Makinson, 3. Ryan Morgan, 4. Mark Percival, 28. Regan Grace; 6. Theo Fages, 24. Danny Richardson; 13. Louie McCarthy-Scarsbrook, 9. James Roby, 16. Luke Thompson, 36. Zeb Taia, 18. Dominique Peyroux, 12. Jon Wilkin.
Subs: 7. Matty Smith, 8. Alex Walmsley, 10. Kyle Amor, 20. Morgan Knowles.
Hull FC:
14. Jake Connor; 4. Josh Griffin, 16. Jordan Thompson, 3. Carlos Tuimavave, 19. Steve Michaels; 6. Albert Kelly, 7. Marc Sneyd; 8. Scott Taylor, 9. Danny Houghton, 10. Liam Watts, 25. Jansin Turgut, 21. Sika Manu, 13. Gareth Ellis.
Subs: 15. Chris Green, 17. Danny Washbrook, 28. Brad Fash, 29. Masimbaashe Matongo.
Saints Line up
| | |
| --- | --- |
| 6 | Jonny Lomax |
| 2 | Tommy Makinson |
| | Ryan Morgan |
| 4 | Mark Percival |
| 5 | Regan Grace |
| 7 | Theo Fages |
| 7 | Danny Richardson |
| 15 | Louie McCarthy-Scarsbrook |
| 9 | James Roby |
| 10 | Luke Thompson |
| 11 | Zeb Taia |
| 12 | Dominique Peyroux |
| 12 | Jon Wilkin |
| 7 | Matty Smith |
| 8 | Alex Walmsley |
| 18 | Kyle Amor |
| 13 | Morgan Knowles |
Hull FC Line up
| | |
| --- | --- |
| 1 | Jake Connor |
| 2 | Josh Griffin |
| 3 | Jordan Thompson |
| 4 | Carlos Tuimavave |
| 5 | Steve Michaels |
| 6 | Albert Kelly |
| 7 | Marc Sneyd |
| 8 | Scott Taylor |
| 9 | Danny Houghton |
| 10 | Liam Watts |
| 11 | Jansin Turgut |
| 12 | Sika Manu |
| 13 | Gareth Ellis |
| 14 | Chris Green |
| 15 | Danny Washbrook |
| 16 | Brad Fash |
| 17 | Masimbaashe Matongo |
Last updated 11 Aug 17 21:47:51
percy down the left hand side, chips forward, gets his shirt pulled but Hull have the ball.
51 seconds left for Saints to snatch this one. They'll be coming out of their own 20.
Massive kick from Smith – great take form Hull but they have to come away from their own line.
ball to ground again. Hull possession, 30 out.
Saints ball, in their own 20.
Ten minutes to go, Hull lead 8-6 and have the ball in Saints 40
Controlling kick from Sneyd means Saints will have to come off their own line.
Crossfield kick and Theo comes up with it. Little bit of class that as he was under pressure
Saints almost free down the left hand side but the ball finds the ground again
Goal
Marc Sneyd for Hull FC
From half way. Hull lead 8-6
Hull penalty – Sneyd will have a shot from the half way line.
Hull ball, Kelly feeds the scrum. Who will be the first side to complete a set and take advantage?
Possession changing hands through errors once more – Hull have it on their own 40
Hull get a penalty but Lomax stops Kelly's kick going into touch
But, yes, Saints knock on again. Still 6-6 this one.
Penalty to Saints on half way for interference.
Amor called for a forward pass. Hull ball, half way line.
Hull deal with Saints attacking threat and clear their lines.
And another following a penalty…
And they'll have another set right on Hull's line…
Saints penalty on half way
But Percy can't find the room and is put into touch.
Saints get the ball in Hull's 40…
Griffin takes Richardson's high kick.
Fages' kick on the last will have Hull coming off their line.
Saints will get the second half underway, we're tied 6-6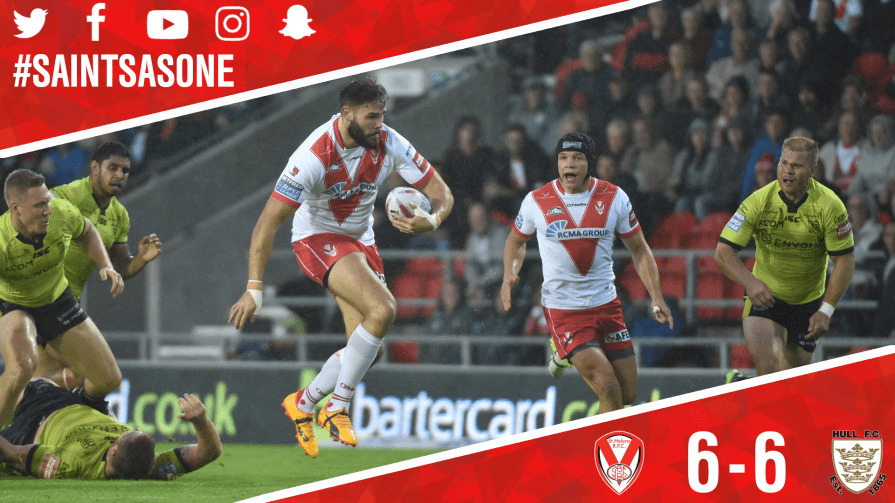 Chance for Saints as Hull knock on Richardson's towering kick with just two minutes left in the half
Looks like Sneyd may have bounced the ball as he put it down… but it matters not on the scoreboard
Goal
Marc Sneyd for Hull FC
Try
Marc Sneyd for Hull FC
Sneyd pulls it back for Hull after showing some nice footwork.
And another knock on. Drizzle causing havoc with both side's handling tonight.
But… Saints have another set.
Walmsley with the break, gets it away to Roby but the hooker's pass in knocked down.
But the pass to Grace is too strong and he can't haul it in.
Saints penalty on 40 metres after Fages is taken off the ball.
Great high take from Percy… and he makes some metres too. Saints lead 6-0
Albert Kelly the latest player to make an error as his pass goes aimlessly into touch
And Hull knock on right on Saints line from the play the ball.
Saints penalised for offside – Hull with a chance on their host's 20.
Long Richardson pass heads into touch
Both sides exchange knock-ons – Saints come up with it.
Makinson away down the right after nice Richardson pass – gets clocked high for his troubles!
Peyroux defends a cross field kick – and then Saints earn a penalty
Another good run from Grace – this time from his own 20 but the winger knocks on playing the ball
Saints down the left again through Grace, but his pass inside is called forward.
And Hull hand it back to Saints.
Ball changes hands twice in quick succession – Hull have a fresh set.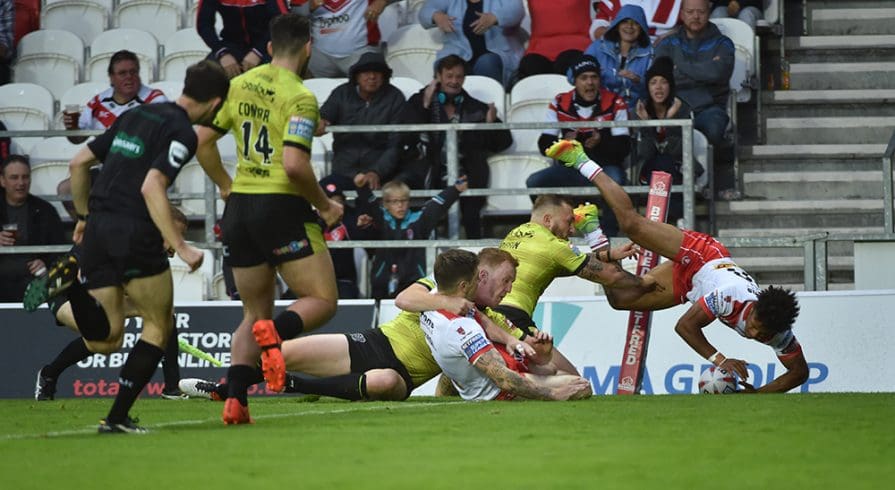 Percival sets Grace off again – but the winger is bundled into touch
Goal
Mark Percival for Saints
Off the touchline. Saints lead 6-0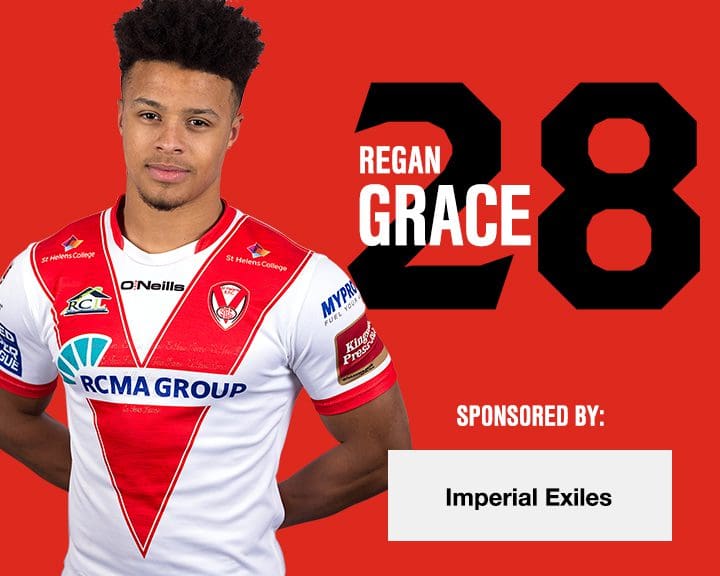 Try
Regan Grace for Saints
Lovely ball from Percival and an equally acrobatic finish!
Saints penalty on half way
Lomax up to Sneyd's reverse kick early in the tackle count
Saints knock on on half way – it's Hull's ball.
Hull get this game underway