Castleford Tigers v Saints
Jonny Lomax produced one of his finest performances in the red vee to lead Saints to a 40-18 win over Castleford.
He scored one and laid on several others as Justin Holbrook's men stretched their advantage at the top of the Betfred Super League.
Ryan Morgan and Theo Fages both scored braces in the victory whilst Ben Barba pulled off another length of the field masterpiece.
But this was a 1 to 17 effort, with big displays from the pack too.
Saints led 22-4 after dominating the first half.
They scored on their first set through Kyle Amor and then took control after Mike McMeeken replied.
A sensational length of the field move had already seen Regan Grace halted in the far corner before Barba repeated his feat of the last meeting between the two sides.
Adam Swift knocked back a high ball, Barba picked it up and went the distance.
To be fair, this one was a little more spectacular than his Cup effort – the full back scooting around several defenders on his way to his 20th of the season.
Cas had one chalked off for a knock-on on 22 minutes before both Adam Swift and Dom Peyroux went close as Saints pressed.
It was a warning the Tigers didn't heed though as once they'd given a penalty away for stepping off the mark, a lovely move saw Lomax ghost through.
And it got better as moments later Dom Peyroux stretched the advantage following a sweet pass from Lomax.
Saints were in command but it took an important tackle from Mark Percival on Greg Minikin to keep the line intact as the half came to a close.
Saints led by 18 at half time and within a couple of minutes of the second it was a 22 point game; Ryan Morgan continuing his rich try-scoring form as he exchanged passes with Adam Swift.
The centre then poached his second following a mazy run from Jonny Lomax – Theo Fages adding another from Regan Grace's pass.
Cas hit back with three quick tries from Jy Hitchcox, Jake Trueman and Oliver Holmes but the flow was stemmed by another Lomax inspired try.
This time he dipped through the defence to send Fages in for his second – and the away fans home happy.
Match Summary:
Tigers:
Tries: McMeeken, Hitchcox, Trueman, Holmes,
Goals: Ellis (1 from 4)
Saints:
Tries: Amor, Barba, Lomax, Peyroux, Morgan (2), Fages (2)
Goals: Richardson (4 from 8)
Penalties Awarded:
Tigers: 5
Saints: 5
HT: 4-22
FT: 18-40
REF: C Kendall
ATT: 6,969
Teams:
Tigers:
4. Michael Shenton; 2. Greg Minikin, 17. Alex Foster, 1. Ben Roberts, 24. Jy Hitchcox; 6. Jamie Ellis, 21. Jake Trueman; 32. Liam Watts, 9. Paul McShane, 15. Jesse Sene-Lefao, 11. Oliver Holmes, 12. Mike McMeeken, 13. Adam Milner.
Subs: 8. Junior Moors, 10. Grant Millington, 14. Nathan Massey, 18. Matt Cook.
Saints:
23. Ben Barba; 5. Adam Swift, 3. Ryan Morgan, 4. Mark Percival, 19. Regan Grace; 1. Jonny Lomax, 18. Danny Richardson; 10. Kyle Amor, 9. James Roby, 16. Luke Thompson, 17. Dom Peyroux, 11. Zeb Taia, 12. Jon Wilkin.
Subs: 6. Theo Fages, 14. Luke Douglas 13. Louie McCarthy-Scarsbrook, 15. Morgan Knowles.
Saints Line up
| | |
| --- | --- |
| 23 | Ben Barba |
| 18 | Adam Swift |
| | Ryan Morgan |
| 4 | Mark Percival |
| 5 | Regan Grace |
| 6 | Jonny Lomax |
| 7 | Danny Richardson |
| 18 | Kyle Amor |
| 9 | James Roby |
| 10 | Luke Thompson |
| 12 | Dominique Peyroux |
| 11 | Zeb Taia |
| 12 | Jon Wilkin |
| 7 | Theo Fages |
| 15 | Louie McCarthy-Scarsbrook |
| 14 | Luke Douglas |
| 13 | Morgan Knowles |
Castleford Tigers Line up
| | |
| --- | --- |
| 1 | Michael Shenton |
| 2 | Greg Minikin |
| 3 | Alex Foster |
| 4 | Ben Roberts |
| 5 | Jy Hitchcox |
| 6 | Jamie Ellis |
| 7 | Jake Trueman |
| 8 | Liam Watts |
| 9 | Paul McShane |
| 10 | Jesse Sene-Lefao |
| 11 | Oliver Holmes |
| 12 | Mike McMeeken |
| 13 | Adam Milner |
| 14 | Junior Moors |
| 15 | Grant Millington |
| 16 | Nathan Massey |
| 17 | Matt Cook |
Last updated 24 May 18 21:40:02
Goal
Danny Richardson for Saints
Try
Theo Fages for Saints
Lomax does it again! Breaks the line and puts Fages over for his second! Lovely stuff!
Try
Oliver Holmes for Castleford Tigers
Oliver Holmes the latest to cross. Nervy times!
Goal
Jamie Ellis for Castleford Tigers
Ellis converts, Saints lead 34-14
Try
Jake Trueman for Castleford Tigers
Saints doing lots of defending and letting Cas on to them. Simple ball sees Trueman over
Try
Jy Hitchcox for Castleford Tigers
Heading upstairs for a Cas try – loose ball picked up and chipped over the top.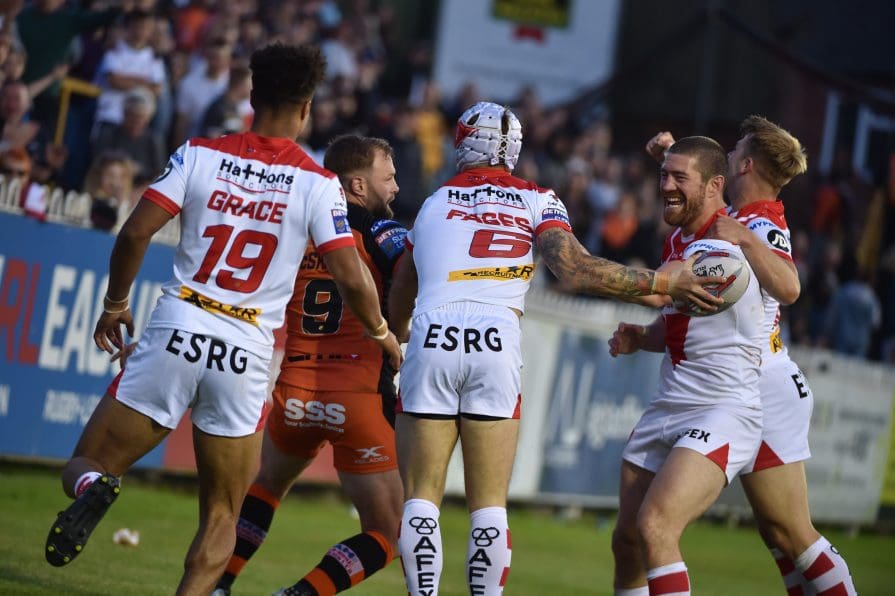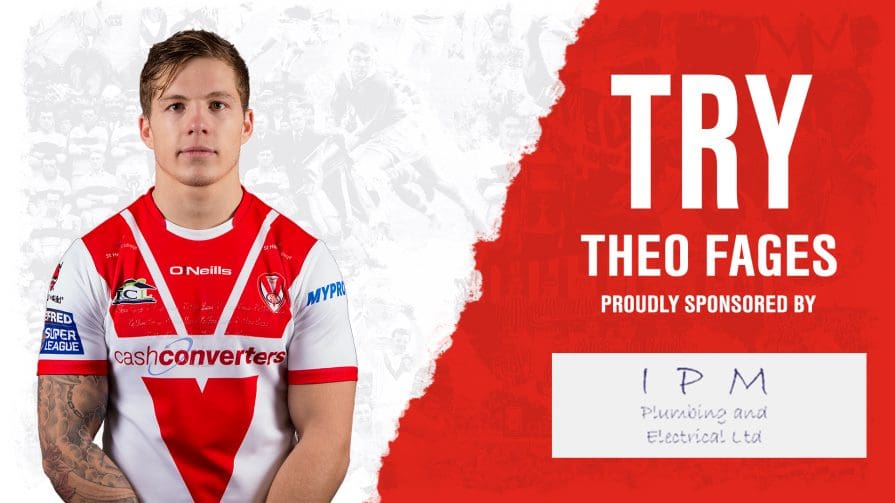 Try
Theo Fages for Saints
Another cracking move down the left hand side and Regan turns it inside to Fages. Saints lead 34-4
Great take from Minikin on a high Danny Richardson ball.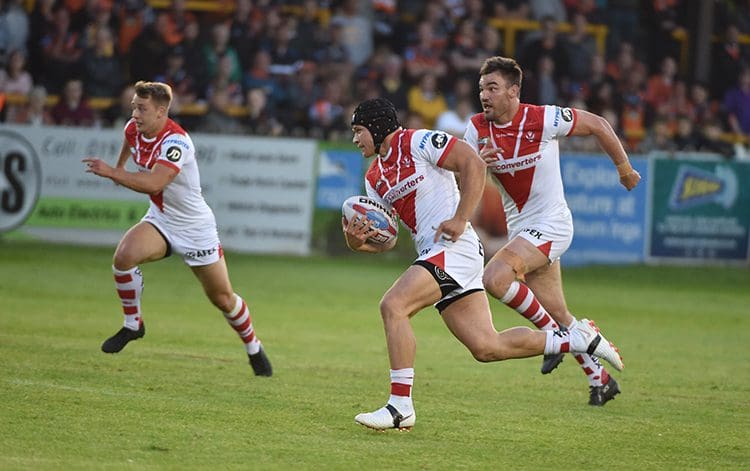 Danny wide with the extras – Saints lead 30-4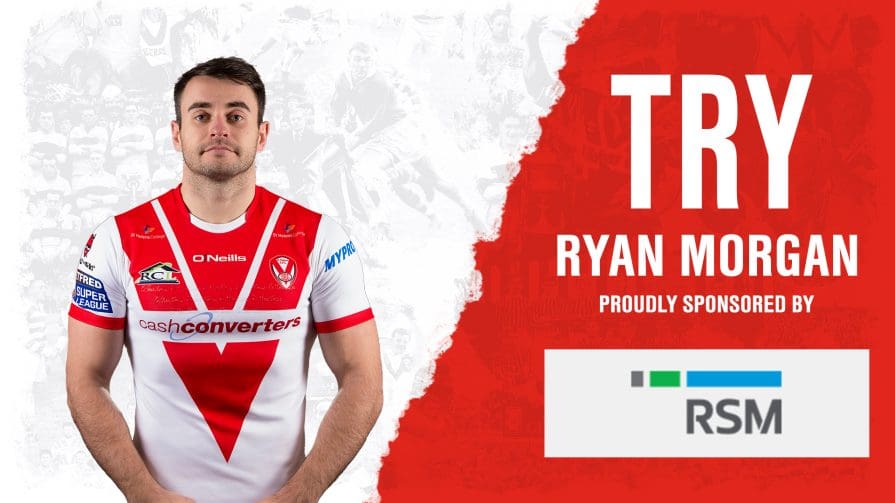 Try
Ryan Morgan for Saints
Morgan in for his second after a wonder run from Jonny Lomax. Class from the half back!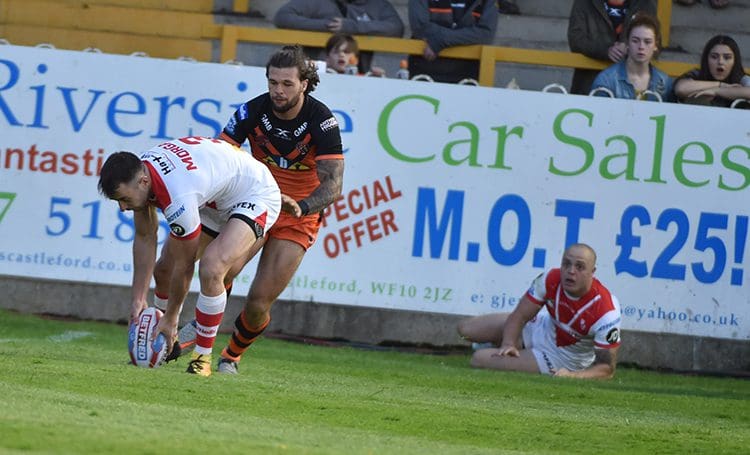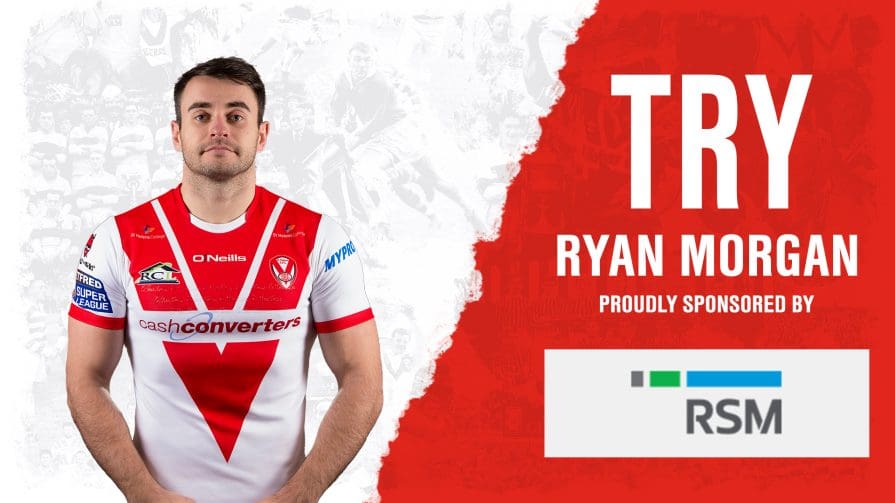 Try
Ryan Morgan for Saints
And Saints are in. Lovely play on the right hand side sees Barba link up with Morgan and Swift for Ryan to cross
Penalty for Saints as Cas are caught offside…
Cas will get this second half underway – Saints lead 22-4.
Cas charge down a drop goal attempt, Saints play on but it's pulled back and Saints get the scrum.
Saints will have another set in Cas territory.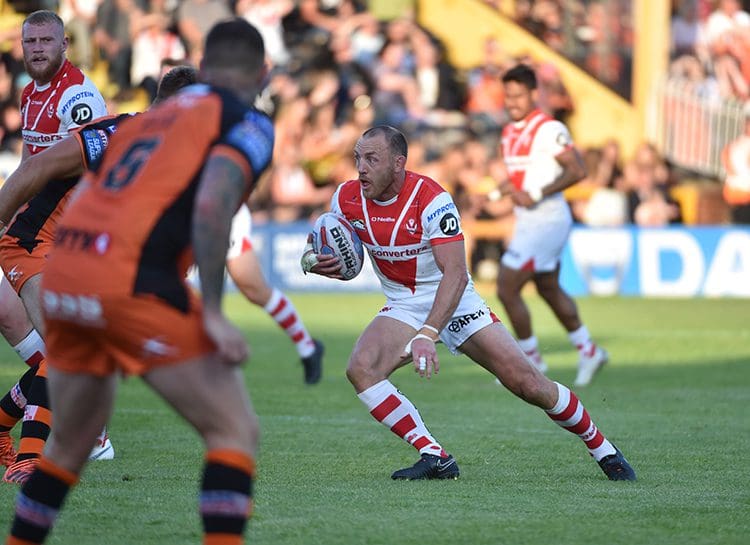 But Cas can't find the pass and Saints remain 22-4 up.
Richardson caught on the last – Saints have some defending to do here.
heading upstairs for a cas try…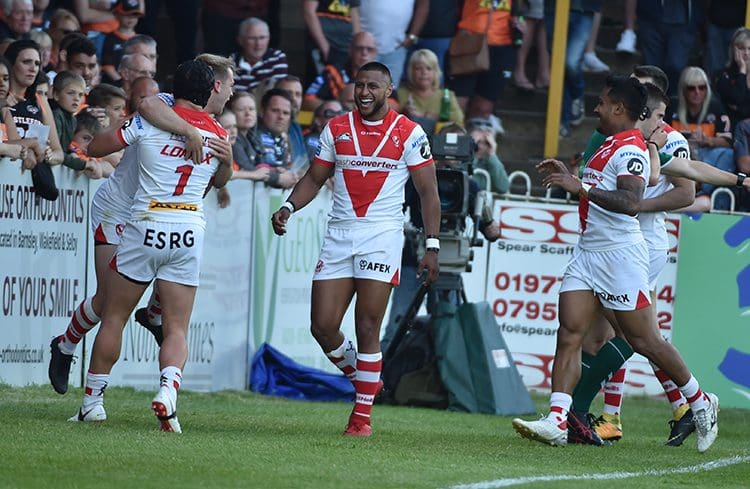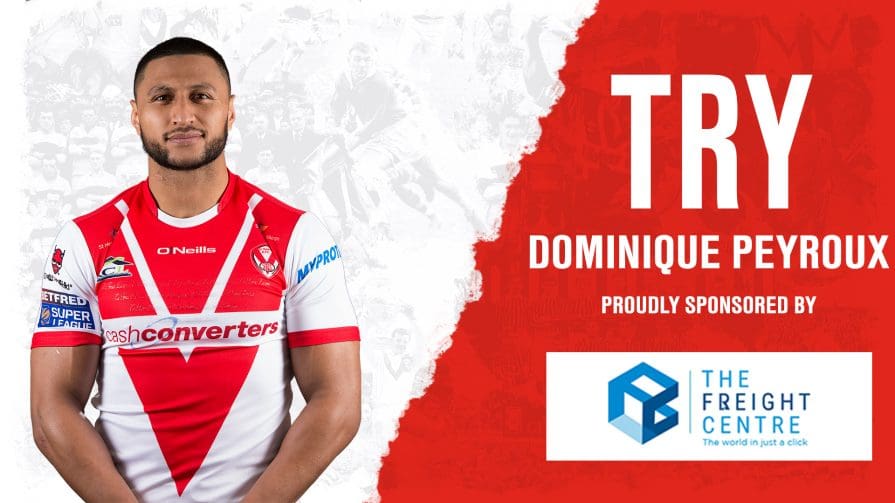 Try
Dominique Peyroux for Saints
That' a cracker from Lomax – lovely pass sees Dom over
Another set for Saints right on Cas' line.
Goal
Danny Richardson for Saints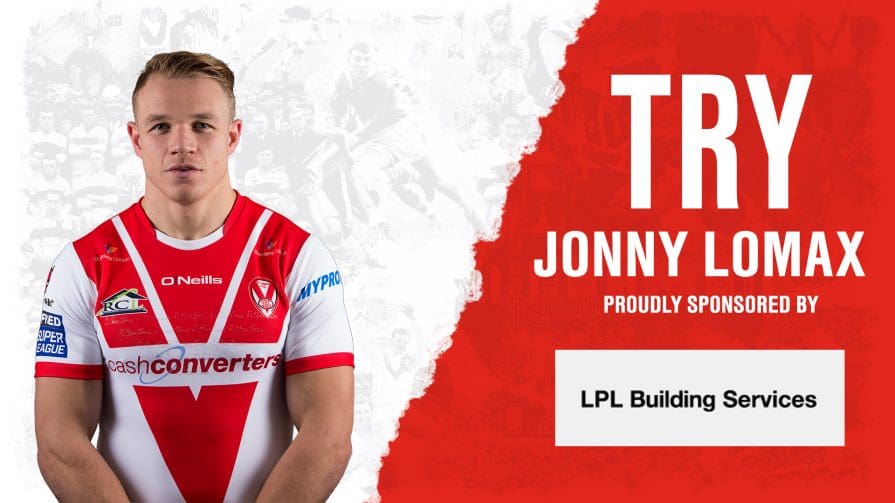 Try
Jonny Lomax for Saints
Lovely hands from Saints sees Lomax dart through a gap for 16-4
Saints adjudged to have knocked on – Cas then 'score' from the set and are heading upstairs.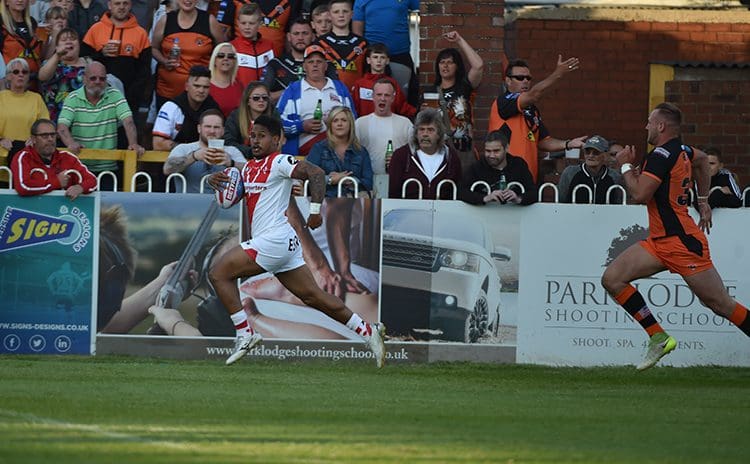 Saints have to drop out again.
Goal
Danny Richardson for Saints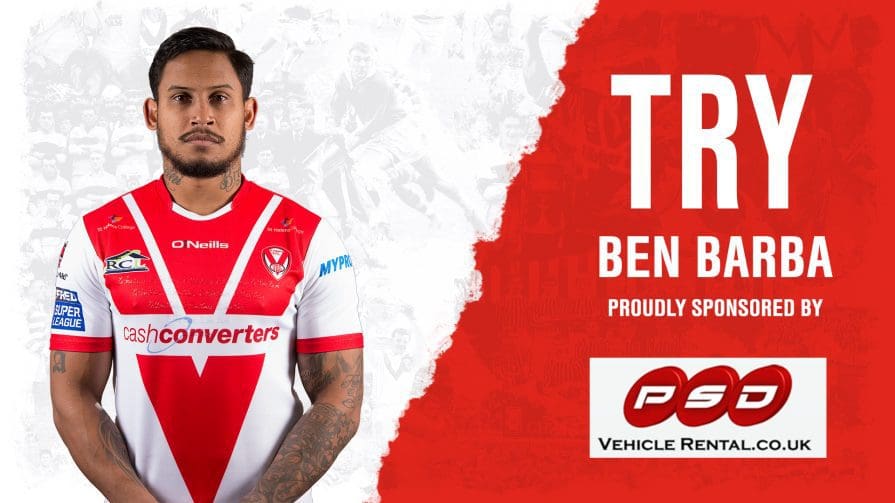 Try
Ben Barba for Saints
Loose ball and Barba has gone the length of the field!
Sensational move from Saints to go down the other end of the field but Grace is wrapped up on the last in the far corner.
Good scrambling D from Saints… but they'll have to come away from their own line.
Another penalty for Cas and they are knocking on the door again.
Ellis misses his conversion – Saints lead 6-4
Try
Mike McMeeken for Castleford Tigers
McMeeken takes a short ball after Saints give away a penalty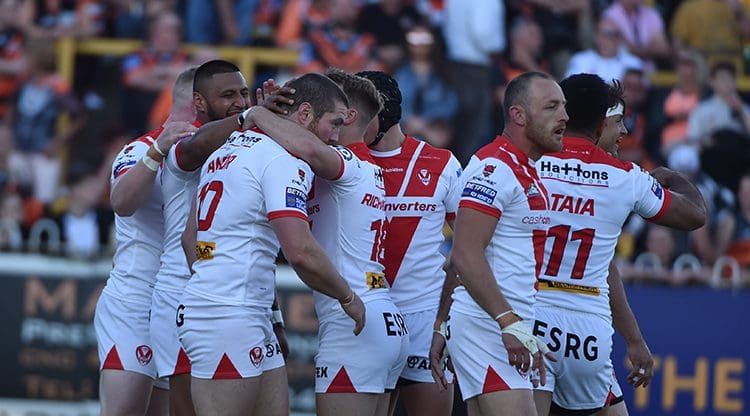 Goal
Danny Richardson for Saints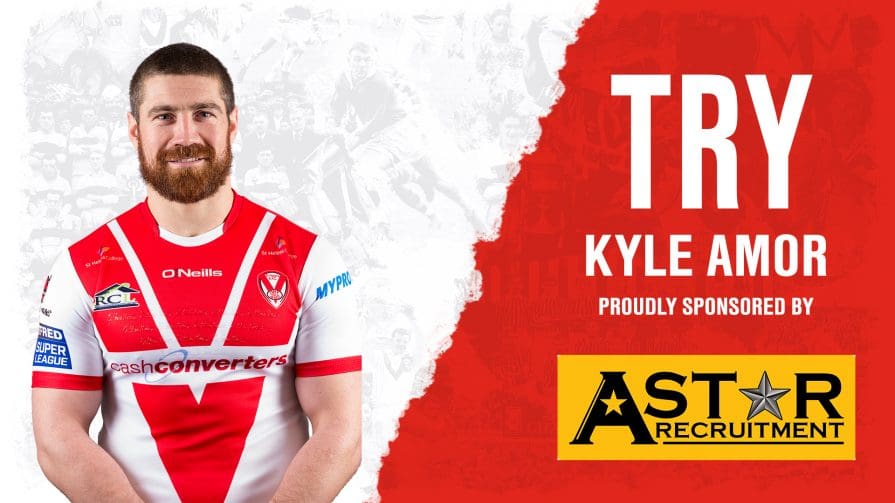 Try
Ben Barba for Saints
Amor charges over! Great start after good work from Zeb Taia.
Amor unceremoniously up-ended and Saints have a penalty
Perfect night for rugby league! Saints will get this one underway!