Catalans Dragons v Saints
If there was ever a time for a young set of players to come of age it was in Catalans on Saturday night.
11 of the 17 came through the Academy, Aaron Smith made his debut and with the likes of Ben Barba and James Roby out, they all needed to stand up strong to secure a result.
And that's exactly what they did as Morgan Knowles sidestepped his way over with two minutes remaining to all but hand Saints the League Leaders' Shield.
Justin Holbrook's side had to come from behind twice to seal a victory that was based on never giving up.
Catalans led 10-0 after 15 minutes but Mark Percival crossed for his 22nd of the season to get Saints on the hunt.
Percival and Kenny Edwards both had efforts chalked off shortly afterwards before Josh Drinkwater tagged on a penalty in the 27th minute to stretch Catalans lead.
Saints didn't hang around though and Theo Fages produced a sensational run from a loose ball to go under the posts.
Aaron Smith made his Saints bow on the half hour mark – and was instantly involved after he was felled late by Sam Moa.
That incident saw the Catalan prop sinbinned and Richardson duly added the penalty in front of the sticks to make it 14-12.
After weathering the pressure, Saints suddenly had their tails up and looked to have increased their lead when Matty Lees bulldozed over from 10 metres out.
But his effort was unluckily called back for a double movement even though his momentum seemed to have carried him over.
Saints were 14-12 in front at the break but within five minutes of the second half, Iain Thornley had crossed in the corner to give the lead back to the hosts.
Edwards then increased the lead in the 54th minute.
Somehow, Saints hung on in there though and with 10 to go, Mark Percival scooted off down the left hand, sucked in the defence and found Jonny Lomax who put down.
Richardson kicked the conversion – and then Morgan Knowles made his timely intervention.
Fages supplied the pass but there was no stopping the hooker on his way to the line.
Richardson tagged on the extras to take the lead out to 26-22 – and after Saints defended the short kick off, the fans who had made the journey over to France could finally breathe a sigh of relief.
Match Summary:
Dragons:
Tries: Mead, Casty, Thornley, Edwards,
Goals: Drinkwater (3 from 5)
Saints:
Tries: Percival, Fages, Lomax, Knowles
Goals: Richardson (5 from 5)
Penalties Awarded:
Dragons: 7
Saints: 6
HT: 12-14
FT: 22-26
REF: Liam Moore
ATT: TBC
Teams:
Dragons:
31. Tony Gigot; 20. Lewis Tierney, 1. David Mead, 4. Brayden Wiliame, 3. Iain Thornley; 6. Samisoni Langi, 33. Josh Drinkwater; 15. Mikael Simon, 19. Michael McIlorum, 10. Sam Moa, 34. Kenny Edwards, 13. Greg Bird, 8. Rémi Casty.
Subs: 14. Julian Bousquet, 17. Jason Baitieri, 24. Alrix Da Costa, 32. Mickael Goudemand.
Saints:
1. Jonny Lomax; 2. Tommy Makinson, 30. Matty Costello, 4. Mark Percival, 19. Regan Grace; 6. Theo Fages, 18. Danny Richardson; 16. Luke Thompson, 15. Morgan Knowles, 10. Kyle Amor, 13. Louie McCarthy-Scarsbrook, 11. Zeb Taia, 12. Jon Wilkin.
Subs: 14. Luke Douglas, 20. Matty Lees, 21. Jack Ashworth, 25. Aaron Smith.
Saints Line up
| | |
| --- | --- |
| 6 | Jonny Lomax |
| 2 | Tommy Makinson |
| 21 | Matthew Costello |
| 4 | Mark Percival |
| 5 | Regan Grace |
| 7 | Theo Fages |
| 7 | Danny Richardson |
| 18 | Kyle Amor |
| 13 | Morgan Knowles |
| 10 | Luke Thompson |
| 15 | Louie McCarthy-Scarsbrook |
| 11 | Zeb Taia |
| 12 | Jon Wilkin |
| 14 | Luke Douglas |
| 10 | Matty Lees |
| 17 | Jack Ashworth |
| 19 | Aaron Smith |
Catalans Dragons Line up
| | |
| --- | --- |
| 1 | Tony Gigot |
| 2 | Lewis Tierney |
| 3 | David Mead |
| 4 | Brayden Wiliame |
| 5 | Iain Thornley |
| 6 | Samisoni Langi |
| 7 | Josh Drinkwater |
| 8 | Mikael Simon |
| 9 | Michael McIlorum |
| 10 | Sam Moa |
| 11 | Kenny Edwards |
| 12 | Greg Bird |
| 13 | Rémi Casty |
| 14 | Julian Bousquet |
| 15 | Jason Baitieri |
| 16 | Alrix Da Costa |
| 17 | Mickael Goudemand |
Last updated 8 Sep 18 19:32:53
Saints get the ball back from the kick off.
Goal
Jonny Lomax for Saints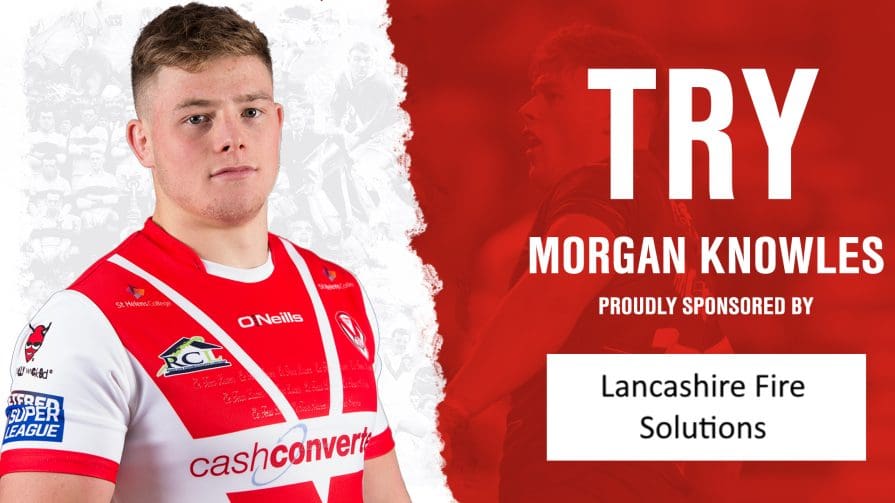 Try
Morgan Knowles for Saints
Lomax hit high on his way to the line as Saints attack – loses the ball but Catalans get the ball.
Goal
Danny Richardson for Saints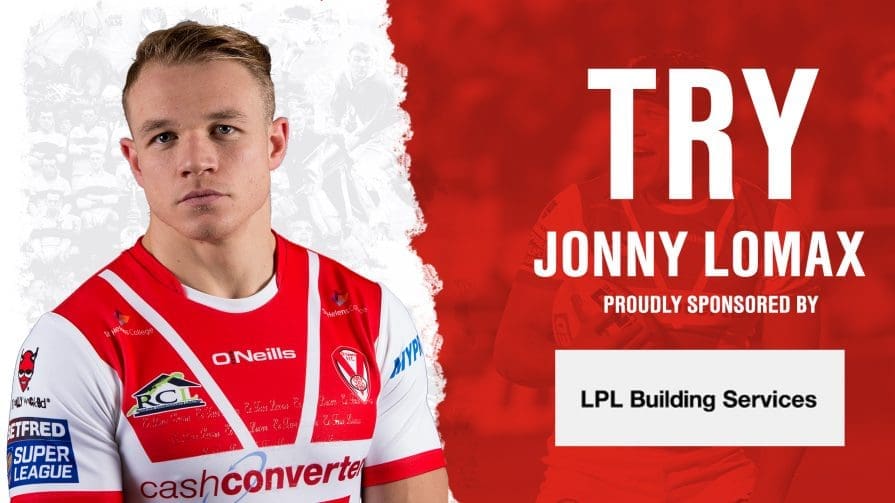 Try
Jonny Lomax for Saints
Game on? Lomax over for Saints to set up a barnstorming finish.
Grace in touch as Saints give the ball air on the last tackle.
Percival called for obstruction – more Catalans pressure incoming
Percy can't take in Fages pass and Catalans come away with it.
Saints have the ball though and will attack from 40 out.
David Mead makes the tackle and the ball comes loose.
Aaron Smith grabs a loose ball goes over – heading upstairs first…
Try
Kenny Edwards for Catalans Dragons
Given. Catalans lead 22-14
Heading upstairs for an Edwards try
Goal
Josh Drinkwater for Catalans Dragons
Drinkwater off the touchline for 18-14
Try
Iain Thornley for Catalans Dragons
Ashworth offloads – snaffled up by Catalans and Thornley crosses in the corner.
Costello doing the same at the other side of the pitch – nice take from a cross field kick.
Catalans have a scrum in Saints' 40.
Lovely take from Percival on a cross field kick – stays in the field of play too.
Saints get this second half underway – they lead 14-12
HT
Saints lead 14-12 at half time!
Lomax wraps up Edwards and then Costello makes sure.
That's some tackle from Lomax to keep Saints ahead!
Catalans head down the left hand side – Saints disrupt the move but Catalans will have 60 seconds in Saints 20.
Lees called back for a double movement – great run from the youngster and he's unlucky there.
Lees over under the sticks – we're heading upstairs
Another high shot – this time on Zeb Taia from Baitieri
Goal
Danny Richardson for Saints
Richardson puts Saints ahead 14-12
Yellow Card
Sam Moa for Catalans Dragons
Yellow card for the hit on Smith.
As Smith is flattened as he lets the ball go…
Goal
Danny Richardson for Saints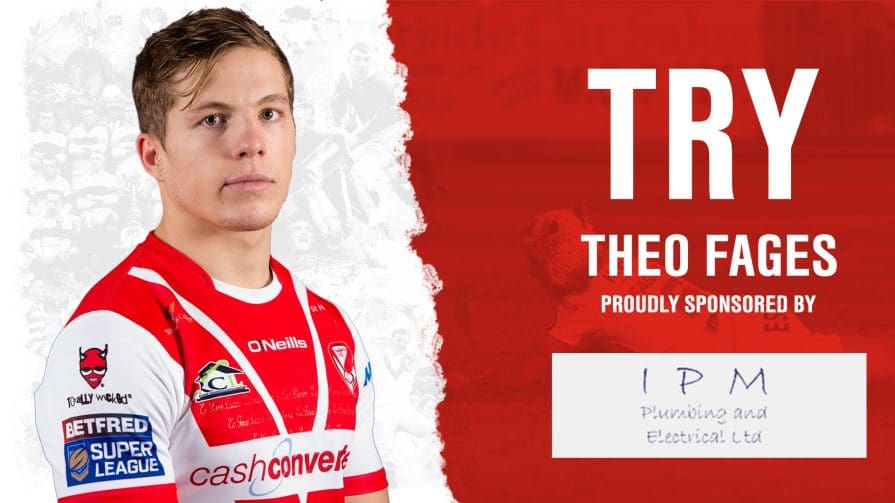 Goal
Josh Drinkwater for Catalans Dragons
Makes it 12-6 to Catalans
Drinkwater will take the 2.
not given – obstruction in the build up.
Regan over in the corner – heading upstairs
Makinson goes close – Saints then win a penalty
Catalans over through Edwards – heading upstairs first.
Percival heads off down the field, finds Lomax who then sends it back to Percy – but it's called back for a forward pass.
Goal
Danny Richardson for Saints
Danny converting for 10-6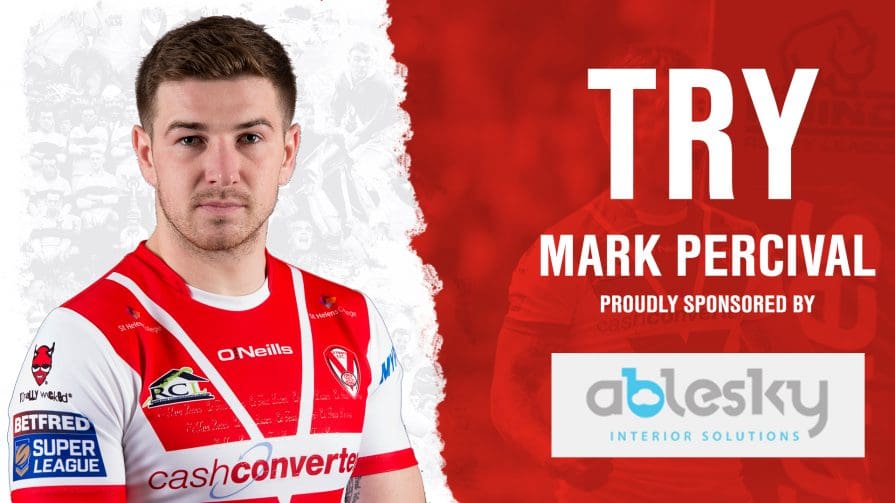 Lovely passing move for Saints sees Mark Percival cross – we're heading upstairs first.
Saints force an error and will have the ball around halfway.
Goal
Josh Drinkwater for Catalans Dragons
Drinkwater makes it 10-0.
Try
Rémi Casty for Catalans Dragons
Casty takes advantage of a loose ball to increase the lead.
Richardson caught in the last – Catalans in good field position here.
Drinkwater can't convert – Catalans lead 4-0.
Try
David Mead for Catalans Dragons
Goes over from dummy half to give the Catalans the lead.
Chance gone and Catalan will have the ball from the scrum.
Saints on the front foot again – inside Catalans 40.
We have nine former Academy players who toured Australia in the team tonight and 11 former Academy players in the 17. #saintsandproud
Lovely take from Percival from a cross field kick – sets Saints on up the field.
Lose pass from Percival – Grace can't take it and Catalans have the ball.
High kick from Richardson that Gigot takes.
Catalans will get this one underway
Quick shout out to the 200+ Saints fans who have headed over here today – superb support and we thank you all.