Huddersfield Giants v Saints
Saints continued their good start to the Betfred Super League season with a hard fought 26-12 win over Huddersfield.
Two second half tries sealed an important victory at a ground that hasn't been a happy hunting ground of late.
Danny Richardson kicked five from five whilst Mark Percival crossed for his fourth of the season.
But this was a performance once again based on tenacious and scrambling defence.
After a timid opening Saints scored first thanks to the awareness of Jon Wilkin.
Luke Thompson produced a strong run and on the next play Kyle Amor offloaded with the second rower right on his shoulder.
Converted by Richardson.
The visitors then defended five sets in a row on their own line before Danny Brough took advantage of a Saints penalty to dummy his way past the defence.
He goaded too and then the Giants enjoyed a period of sustained pressure.
Jake Mamo almost got his hands to Jordan Rankin's high bomb but Richardson steadied the ship with a penalty in the 28th minute.
Alex Walmsley was held up seven minutes later and then Danny Brough tagged on a penalty after a scrappy period of play to make it all square.
But from the restart the Giants knocked on and right on the stroke of half time James Roby burrowed over.
Richardson handing Saints the 14-8 half time nod.
Saints increased their lead early in the second through Zeb Taia.
On the last, Lomax moved across the defence and with would-be tacklers expecting a kick, caught him on running a fine line for his third of the year.
And it got better as on the very next set Percival out jumped Mamo to collect a Lomax' high ball.
Oliver Roberts replied almost immediately to give the Giants a sniff but Saints had done the damage.
Ben Barba and Adam Swift produced characteristic runs to release the pressure before strong defence ensured there would be no comeback.
Match Summary:
Giants:
Tries: Brough, Roberts
Goals: Brough (2 from 3)
Saints:
Tries: Wilkin, Roby, Taia, Percival
Goals: Richardson (5 from 5)
Penalties Awarded:
Giants: 8
Saints: 10
HT: 8-14
FT: 12-26
REF: L Moore
ATT: 5,915
Teams:
Giants:
1. Jake Mamo; 2. Jermaine McGillvary, 6. Lee Gaskell, 4. Jordan Turner, 5. Aaron Murphy; 15. Jordan Rankin, 7. Danny Brough; 17. Ukuma Ta Ai, 21. Adam O'Brien, 18. Paul Clough, 16. Oliver Roberts, 14. Dale Ferguson, 13. Ryan Hinchcliffe.
Subs: 8. Seb Ikahihifo, 9. Kruise Leeming, 19. Daniel Smith, 20. Adam Walne.
Saints:
23. Ben Barba; 5. Adam Swift, 2. Tommy Makinson, 4. Mark Percival, 19. Regan Grace; 1. Jonny Lomax, 18. Danny Richardson; 10. Kyle Amor, 9. James Roby, 16. Luke Thompson, 17. Dom Peyroux, 11. Zeb Taia, 12. Jon Wilkin.
Subs: 6. Theo Fages, 8. Alex Walmsley, 13. Louie McCarthy-Scarsbrook, 14. Luke Douglas.
Saints Line up
| | |
| --- | --- |
| 23 | Ben Barba |
| 18 | Adam Swift |
| 2 | Tommy Makinson |
| 4 | Mark Percival |
| 5 | Regan Grace |
| 6 | Jonny Lomax |
| 7 | Danny Richardson |
| 18 | Kyle Amor |
| 9 | James Roby |
| 10 | Luke Thompson |
| 11 | Zeb Taia |
| 12 | Dominique Peyroux |
| 12 | Jon Wilkin |
| 7 | Theo Fages |
| 8 | Alex Walmsley |
| 15 | Louie McCarthy-Scarsbrook |
| 14 | Luke Douglas |
Huddersfield Giants Line up
| | |
| --- | --- |
| 1 | Jake Mamo |
| 2 | Jermaine McGillvary |
| 3 | Lee Gaskell |
| 4 | Jordan Turner |
| 5 | Aaron Murphy |
| 6 | Jordan Rankin |
| 7 | Danny Brough |
| 8 | Ukuma Ta Ai |
| 9 | Adam O'Brien |
| 10 | Paul Clough |
| 11 | Oliver Roberts |
| 12 | Dale Ferguson |
| 13 | Ryan Hinchcliffe |
| 14 | Seb Ikahihifo |
| 15 | Kruise Leeming |
| 16 | Daniel Smith |
| 17 | Adam Walne |
Last updated 23 Feb 18 21:28:56
Minute left, Saints have the ball.
Saints forced to drop out.
Scrappy period of play from both sides – Saints D stop a Giants attack and then the hosts return the favour.
Ball comes the other way after a Saints' error but the defence does the job. Saints remain 26-12 up.
Cute ball from Barba sees Percy held up over the line – Saints then force a drop out.
Barba with a scintillating run on a free play – sets Swift off on a run and then wins a penalty.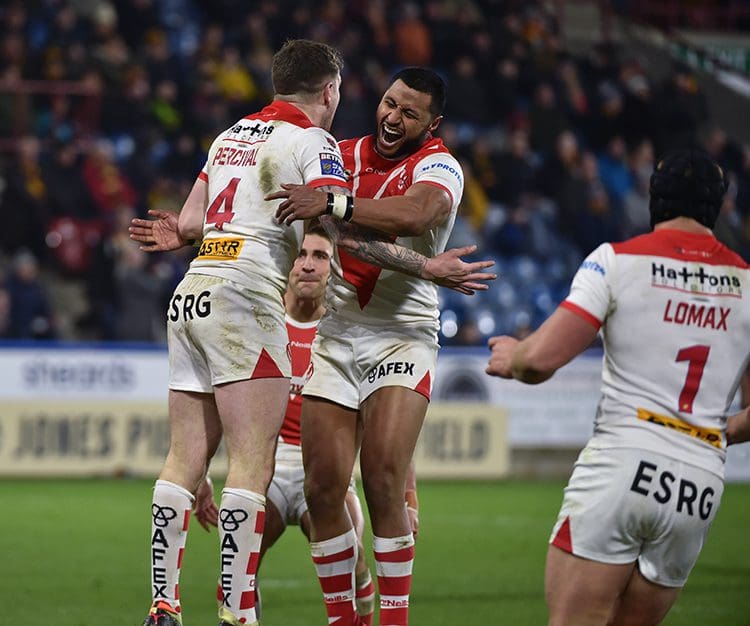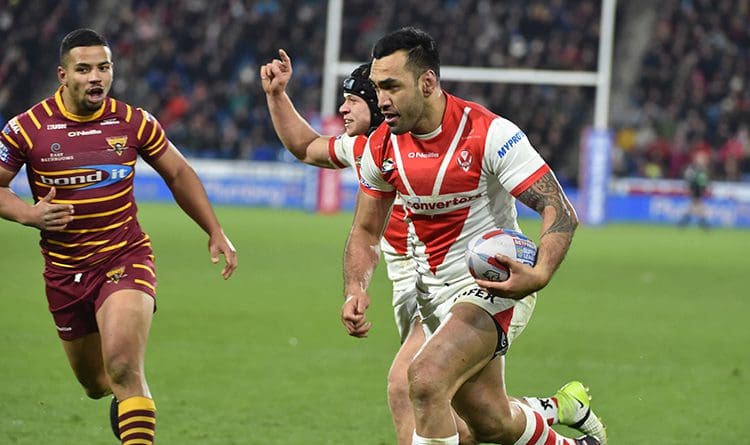 Brough wide with the conversion – Saints lead 26-12
Try
Oliver Roberts for Huddersfield Giants
Instant reply for the Giants – shows good strength to push over
Goal
Danny Richardson for Saints
Richardson makes it 26-8 to Saints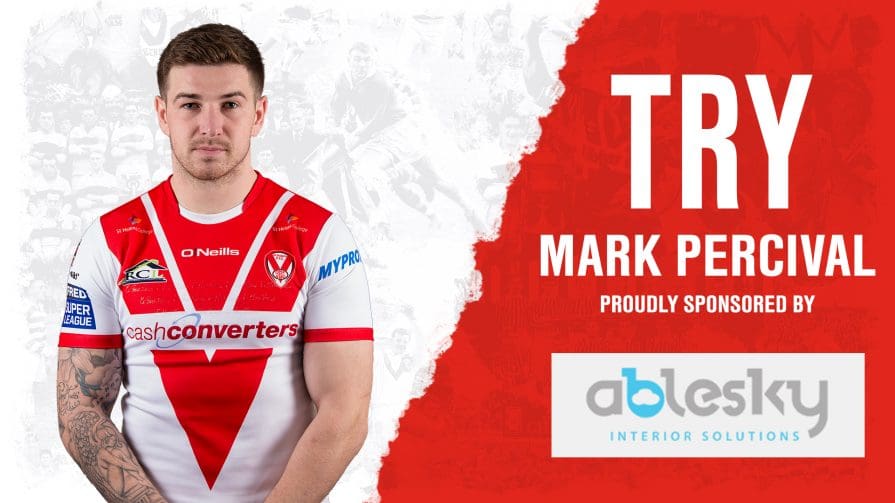 Try
Mark Percival for Saints
Lomax again! This time with then kick that Mamo can't take and Percy mops up!
Goal
Danny Richardson for Saints
And Danny kicks his fourth to hand Saints a 20-8 lead.
Try
Zeb Taia for Saints
Lomax finds Taia on a superb angle and Saints increase the lead
Great take by Richardson from Rankin's kick. Alert there the Saints half back
Saints then called for a forward pass. Scrappy this half so far.
And the Giants are penalised for obstruction!
Giants with a set right on Saints line.
Both sides have exchanged kicks on their sets, Saints have the ball on their own 20.
Huddersfield will get the second half underway – Saints lead 14-6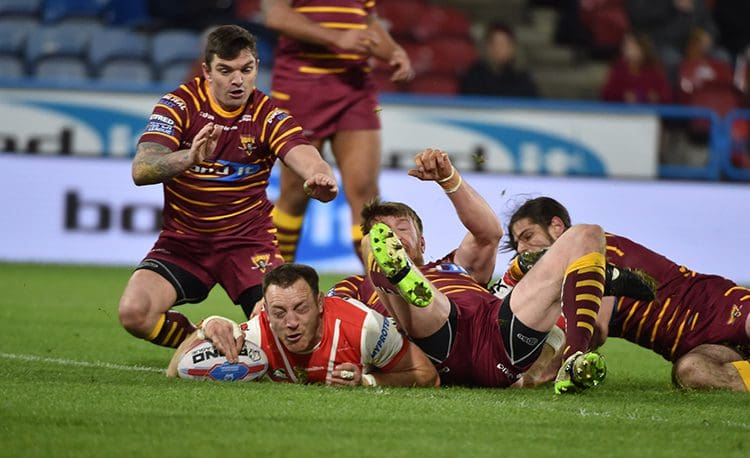 Goal
Danny Richardson for Saints
And Danny slots the extras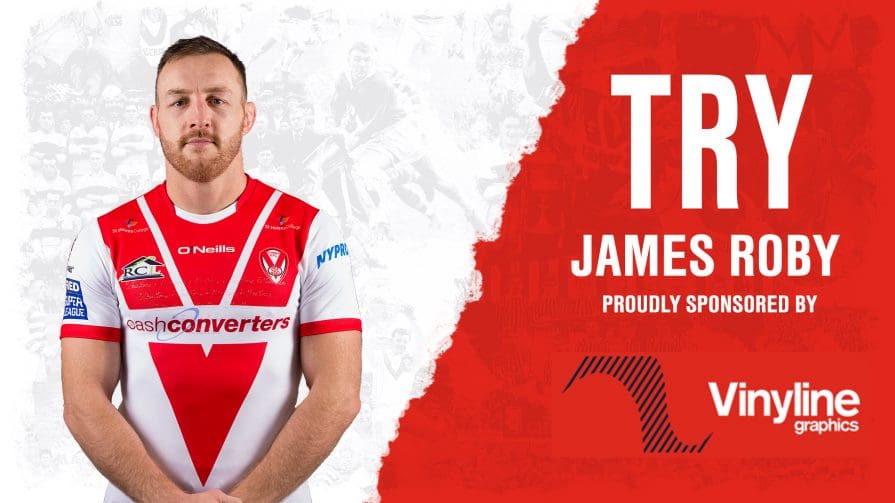 Try
James Roby for Saints
Goes from dummy half and Saints are back in front!
Knock on from the restart
Goal
Danny Brough for Huddersfield Giants
Slots a penalty to make it 8-8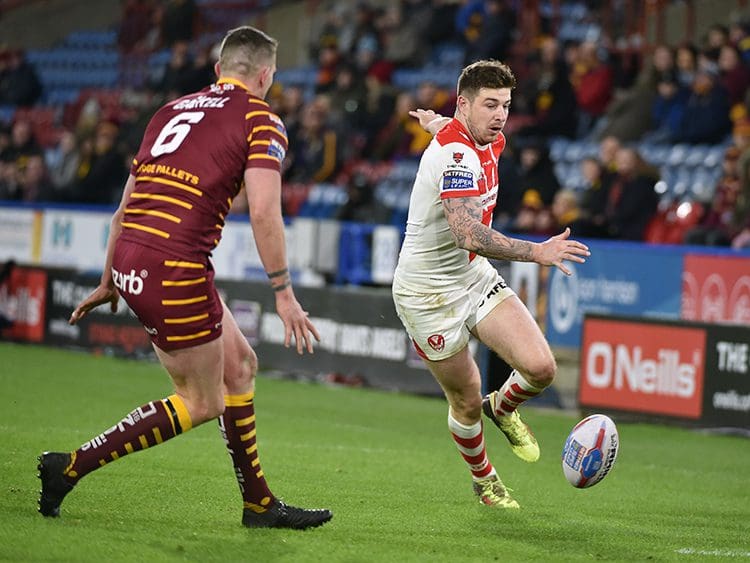 Walmsley held up over the line
Penalty to Saints as LMS is taken high.
Goal
Danny Richardson for Saints
Richardson makes it 8-6 to Saints.
Giants all over Peyroux – Saints will take the two.
Mamo unlucky not to take Rankin's high kick – Saints then win a penalty
Restart out on the full – Giants are knocking on the door again.
Goal
Danny Brough for Huddersfield Giants
Try
Danny Brough for Huddersfield Giants
Pressure tells for the hosts and Brough dummies his way over.
Ball comes back the other way and the Giants have a penalty, around 40 out.
Visitors win a penalty – Saints on half way.
And the Giants knock on! Big defensive stint from the boys there! It remains 6-0
And the Giants have another set off the back of a penalty
And another drop out follows. Pressure here from the Giants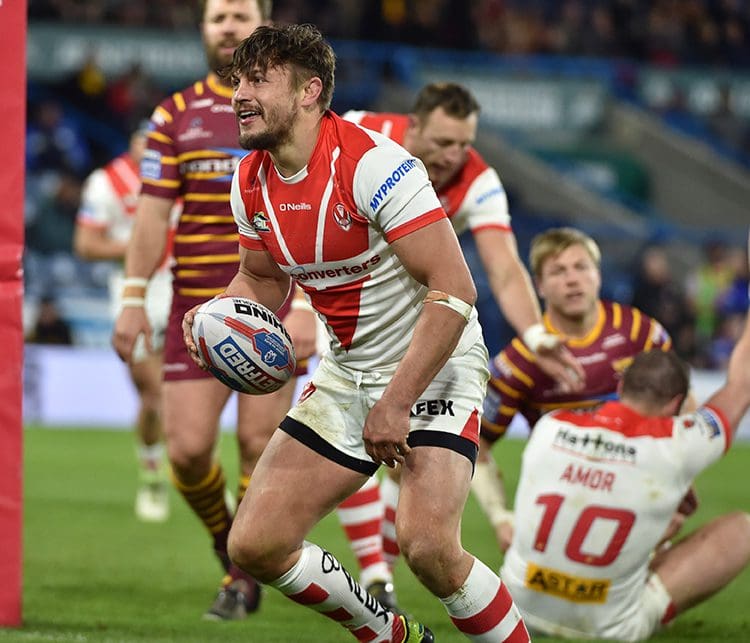 Saints have to drop out again
Awareness from Barba knocks the ball dead. Saints will drop out.
Giants intercept an offload and they are right on Saints line.
Goal
Danny Richardson for Saints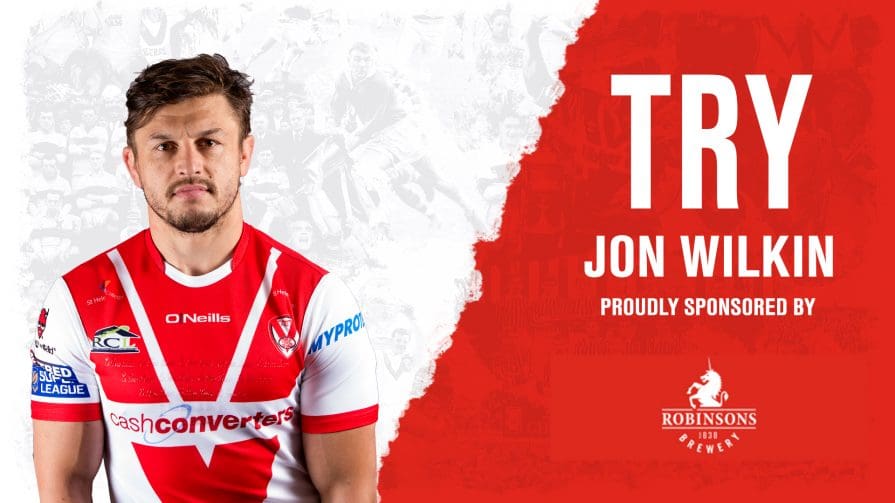 Try
Jon Wilkin for Saints
Lovely offload from Amor sees Jon Wilkin go over!
And another around 40 metres out. Good attacking position for Saints.
Saints penalty as the Giants are caught offside on the last.
Richardson's last tackle kick goes dead in goal. Timid opening from both sides at present.
Saints first set – ball goes dead so Giants have a 20 metre restart
Giants first set, easy take from Barba from Rankin's high kick.
Saints will get this one underway!