Ben Barba continued his sensational start to the season as he bagged a brace in Saints' 30-6 win at Hull KR.
The full back took his tally to eight as Justin Holbrook's men bounced back from last week's loss to Leeds.
Defensively, the visitors were solid too, halting a number of Rovers' attacks on the goal-line to stay top of Super League.
The game took a while to get going, but when it did Saints took full advantage.
Firstly, Theo Fages' footwork wrong-footed the Robins defence to win a penalty.
Then, Luke Thompson took a short pass to smash through the defence and put down under pressure.
It was great show of strength from the young prop to bring up his second of the season.
Danny Richardson tagged on the extras – and then added a penalty on 18 minutes for 8-0.
Saints defended four sets on their own line following an error from the restart – and then forced a knock on to gain possession in the host's 40.
And it was a chance they weren't going to pass up as from the scrum, Benny Barba 'showed and goed' and went over in the corner.
Richardson bettering the score with a cracking conversion from the touchline.
Hull KR came back into it as the half ended and after huge runs from Mose Masoe and Justin Carney, they found Ryan Shaw who reduced the deficit.
14-6 to the visitors at half time.
Both sides ripped into each other in the early stages of the second but each found ball control at a premium.
Indeed, Saints missed a couple of opportunities to turn the screw and silence the home support but a superb inside pass from Zeb Taia, close in, saw Barba get over for his second just before the hour mark.
Ten minutes later it was game over.
Back to back penalties got Holbrook's men into range before great handling saw Barba link up with Tommy Makinson on the right touchline – the centre duly turning it back inside for Lomax.
Moments later, after the restart had gone into touch, Dom Peyroux took the ball at pace and smashed through the defence to seal the deal.
Match Summary:
Rovers:
Tries: Shaw
Goals: Shaw (0 from 1)
Saints:
Tries: Thompson, Barba (2), Lomax, Peyroux
Goals: Richardson (5 from 6)
Penalties Awarded:
Rovers: 10
Saints: 9
HT: 6-14
FT: 6-30
REF: L Moore
ATT: 7724
Teams:
Rovers:
1. Adam Quinlan; 5. Ryan Shaw, 4. Andrew Heffernan, 3. Thomas Minns, 36. Justin Carney; 7. Danny McGuire, 24. Christopher Atkin; 21. Robert Mulhern, 18. George Lawler, 10. Mose Masoe, 11. Maurice Blair, 17. Chris Clarkson, 13. Ben Kavanagh.
Subs: 12. James Greenwood, 15. James Donaldson, 19. Tommy Lee, 29. Jordan Walne.
Saints:
23. Ben Barba; 5. Adam Swift, 2. Tommy Makinson, 4. Mark Percival, 19. Regan Grace; 1. Jonny Lomax, 18. Danny Richardson; 10. Kyle Amor, 9. James Roby, 16. Luke Thompson, 17. Dom Peyroux, 11. Zeb Taia, 12. Jon Wilkin.
Subs: 6. Theo Fages, 13. Louie McCarthy-Scarsbrook, 14. Luke Douglas, 15. Morgan Knowles.
Saints Line up
| | |
| --- | --- |
| 23 | Ben Barba |
| 18 | Adam Swift |
| 2 | Tommy Makinson |
| 4 | Mark Percival |
| 5 | Regan Grace |
| 6 | Jonny Lomax |
| 7 | Danny Richardson |
| 18 | Kyle Amor |
| 9 | James Roby |
| 10 | Luke Thompson |
| 11 | Zeb Taia |
| 12 | Dominique Peyroux |
| 12 | Jon Wilkin |
| 7 | Theo Fages |
| 15 | Louie McCarthy-Scarsbrook |
| 14 | Luke Douglas |
| 13 | Morgan Knowles |
Hull KR Line up
| | |
| --- | --- |
| 1 | Adam Quinlan |
| 2 | Ryan Shaw |
| 3 | Andrew Heffernan |
| 4 | Thomas Minns |
| 5 | Justin Carney |
| 6 | Danny McGuire |
| 7 | Christopher Atkin |
| 8 | Robert Mulhern |
| 9 | George Lawler |
| 10 | Mose Masoe |
| 11 | Maurice Blair |
| 12 | Chris Clarkson |
| 13 | Ben Kavanagh |
| 14 | James Greenwood |
| 15 | James Donaldson |
| 16 | Tommy Lee |
| 17 | Jordan Walne |
Last updated 23 Mar 18 21:52:01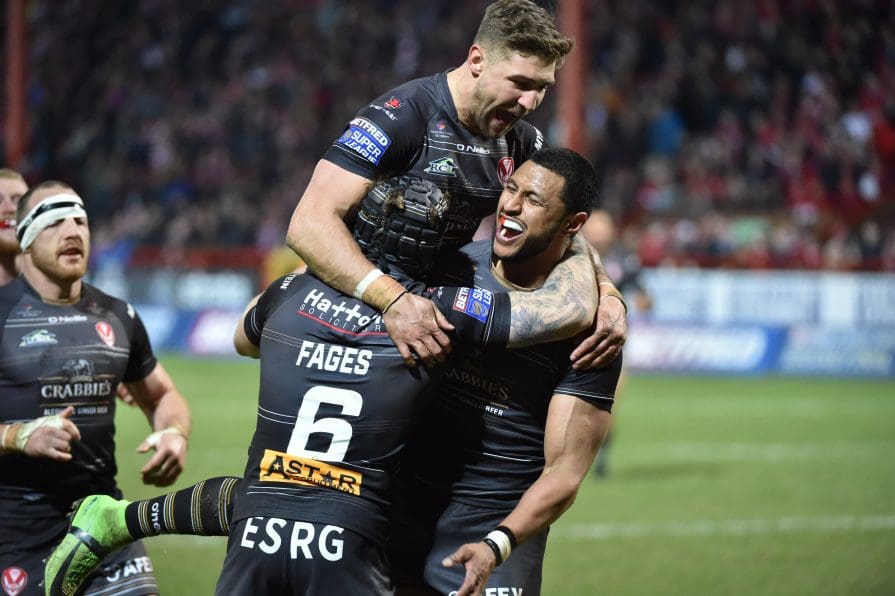 Goal
Danny Richardson for Saints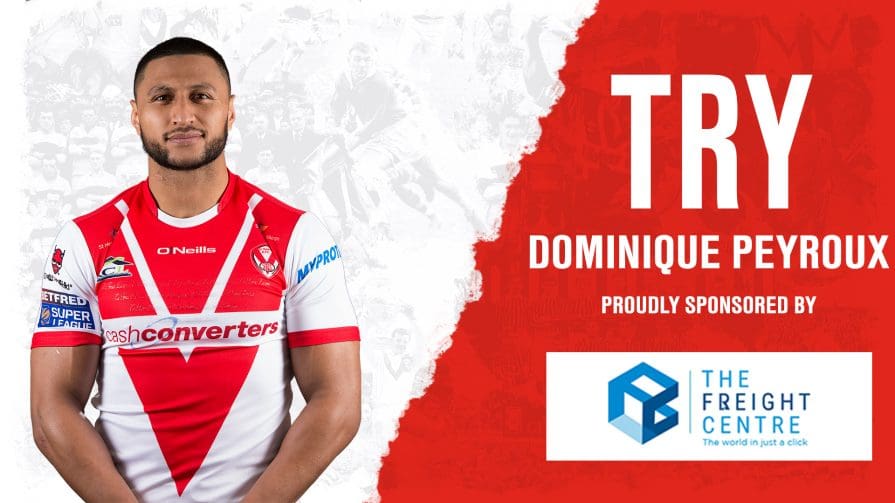 Try
Dominique Peyroux for Saints
Lovely stuff from Peyroux there, stepping through a gap!
Richardson hits the post with his attempt. Saints lead 24-6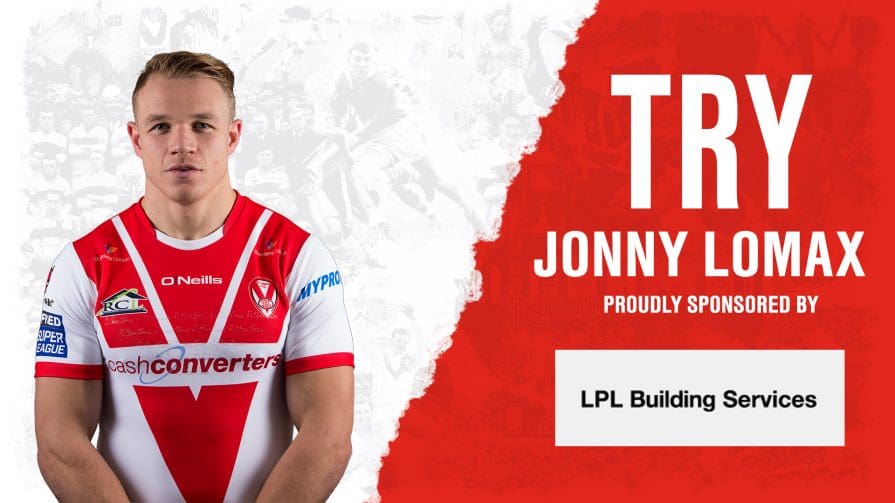 Try
Jonny Lomax for Saints
Great handling from the Saints – Barba to Makinson who then, running out of space on the touchline, back inside to Lomax.
Danger averted as Hull attack on the last – Richardson obstructed on a kick through.
Ball comes over on the last – Saints player clearly taken out in the air but the have to drop out.
last tackle penalty from Saints hands Hull another set right on Saints line.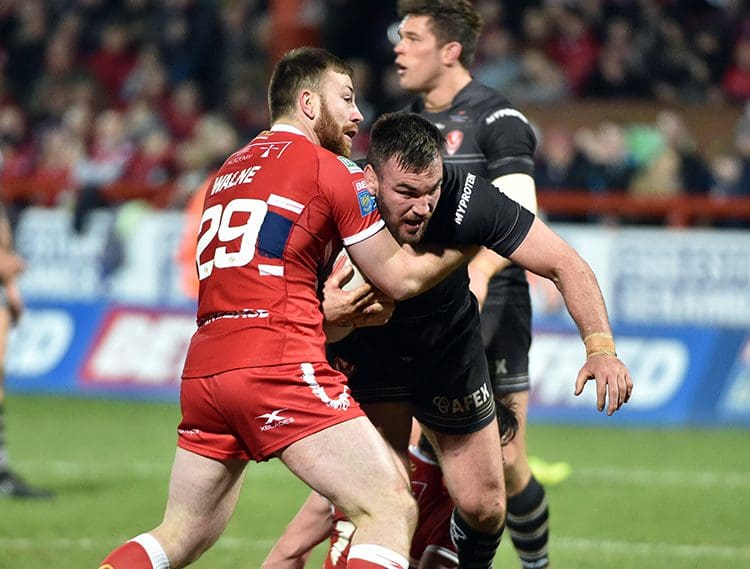 Goal
Danny Richardson for Saints
Try
Ben Barba for Saints
Barba again… this time a lovely inside ball from the impressive Zeb Taia from close range.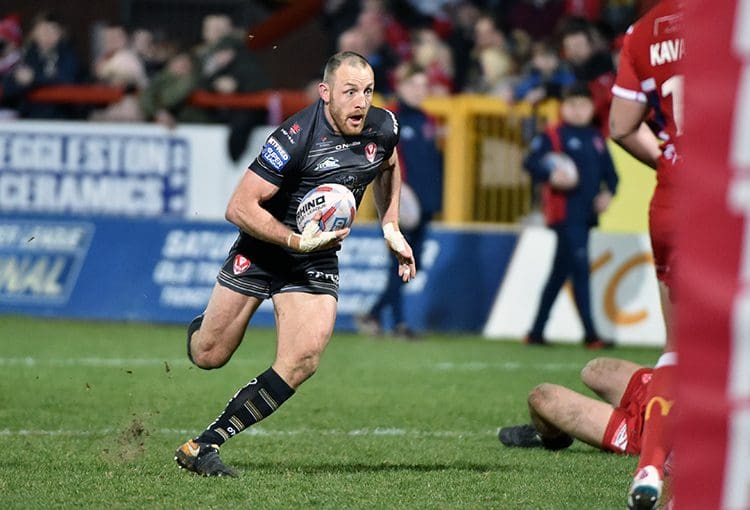 Saints win a penalty. They'll attack from within Hull's 40
High kick from Fages, but that's easy for Quinlan. Both teams ripping into it here now too.
Saints keep it alive on the last once more – but Fages kick is just a little too strong. Remains 14-6 here to Saints.
Saints go for it on the last down the blind side but the kick forward is a little too strong.
Saints will get this one back underway, they lead 14-6.
Goal
Ryan Shaw for Hull KR
Shaw slots over the conversion from the touchline.
Try
Ryan Shaw for Hull KR
Carney break down the left hand side. It then comes back the other way and Shaw goes over.
Kr knocking on the door – but Richardson comes up with Masoe's pass and Saints are back on the front foot.
Kick from Barba bounces into touch about one foot from the corner flag.
Quinlan breaks through the line – but throws the ball right to a Saints player. Massive let off for the visitors after a superb break.
Rovers cough it up – the line stays intact.
Chance for Hull now as they win a penalty 30 out from the Saints line.
Goal
Danny Richardson for Saints
Richardson right off the touchline for 14-0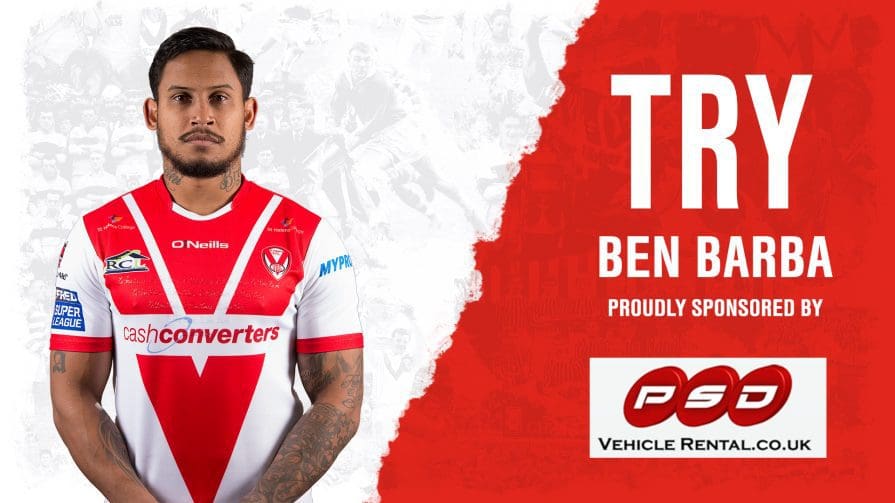 Try
Ben Barba for Saints
From the scrum, the ball comes left, Barba shows and goes and we're over in the corner.
Hull cough up the ball, 40 out. Chances for the visitors here.
Barba comes up with the ball – Saints weather the pressure.
Rovers now held up over the line too. Big pressure from the home side.
And a kick gives the Robins their third set in a row.
And Hull force a drop out.
Ball back with the Robins as Saints cough up possession
Goal
Danny Richardson for Saints
Richardson makes it 8-0 to the Saints.
Penalty in front of the sticks for Saints, Richardson will opt for the '2'
George Lawler being stretchered off here – we wish him all the best.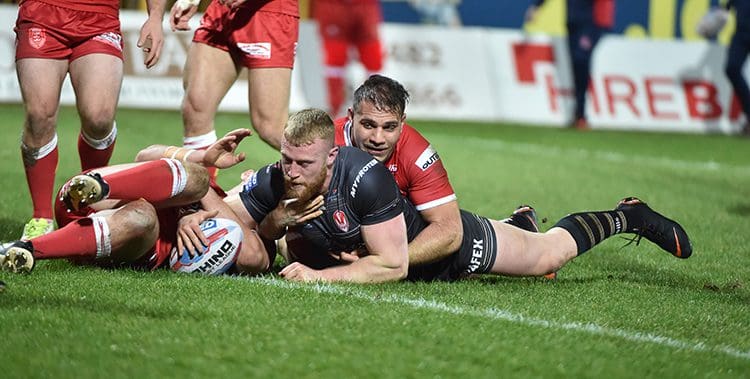 Goal
Danny Richardson for Saints
Richardson tags on the extras for 6-0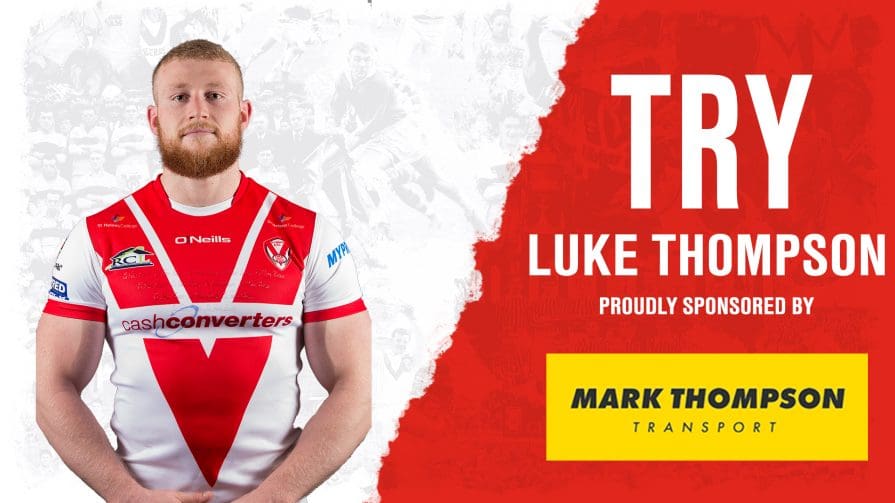 Try
Luke Thompson for Saints
Powers onto a short pass, twists and turns and puts the ball down. Great strength from the forward!
Saints penalty, around 45 off KR's line. Good attacking opportunity.
Great bit of improvisation on the last from Richardson clears Saints lines – but they give away a high shot on the return set.
Grace strong against his opposite number on the last – sticking him into touch. Saints coming away from their 20.
Rovers go for a short drop out and get the ball back – Saints then penalised.
Lovely kick from Richardson wins a drop out for Saints.
Fages comes on, Lomax moves to the centre.
Swift coming off the field – could be a hand injury, unlikely we'll see him again tonight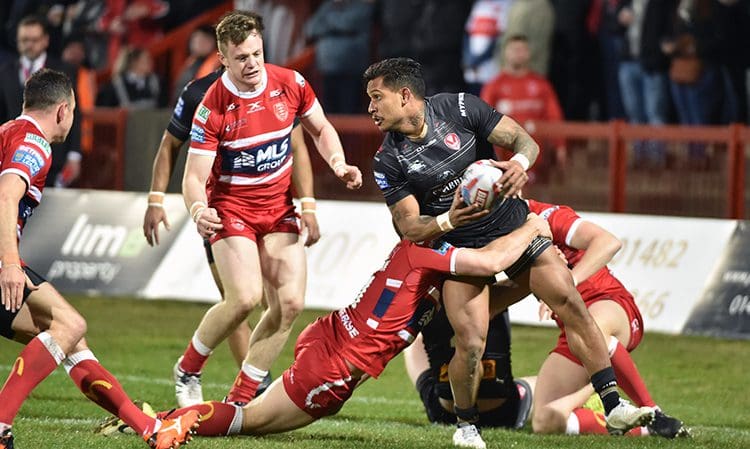 Hull over in the near side corner – but the touch judge rules Shaw dropped the ball over the line.
Chip over the top that Swift gets to – but he is dragged in goal and that's a drop out.
Saints coming down the left hand side again as Lomax links up with Barba; final pass inches forward.
Saints run it on the last but can't make the last pass count. Hull KR coming off their line.
Ball heads out on the full and Saints have a penalty
Hull KR will get this one underway