Saints v Catalans Dragons
Saints ran in five tries to open up a four point gap at the top of the Betfred Super League table on Thursday – but they were made to work hard by a resilient Catalans Dragons.
Regan Grace crossed for a brace in the 26-12 victory, whilst Tommy Makinson, Jonny Lomax and Morgan Knowles also tallied tries.
Saints couldn't match the free flowing rugby of their previous two wins but did produce some quality moments for the fans.
Jonny Lomax's 10th minute try came from a Tommy Makinson chip and soon after provider became scorer as he took Danny Richardson's crossfield kick.
The Dragons got themselves back into it when Brayden Williame beat Ryan Morgan to Josh Drinkwater's kick.
But with seconds Morgan Knowles restored the advantage with a mazy run under the sticks.
Saints went into the sheds 16-4 up at half time and quickly extended their lead five minutes into the second half.
Fages took the line on at speed, linked up with Mark Percival and he sent Grace in for his third in two games.
It was a lovely move – but all that hard work was undone as from the restart, Saints overplayed, lost the ball, and Jodie Broughton went over in the corner.
Remi Casty went close on 60 minutes – and then Jon Wilkin had one chalked off for a double movement.
But Saints put the game to bed with 10 to go – and it came from another flowing move on the left hand side.
Grace notching his second after fine hands from Wilkin, Fages, Taia, Lomax and Percival.
Richardson tagged on the conversion – his third of the night before Lewis Tierney finished off a blindside move on the right to end the scoring.
Match Summary:
Saints:
Tries: Lomax, Makinson, Knowles, Grace (2)
Goals: Richardson (3 from 5)
Dragons:
Tries: Williame, Broughton, Tierney
Goals: Drinkwater (0 from 3)
Penalties Awarded:
Saints: 11
Dragons: 7
HT: 16-4
FT: 26-12
REF: R Hicks
ATT: 9,138
Teams:
Saints:
1. Jonny Lomax; 2. Tommy Makinson, 3. Ryan Morgan, 4. Mark Percival, 19. Regan Grace; 6. Theo Fages, 18. Danny Richardson; 10. Kyle Amor, 9. James Roby, 16. Luke Thompson, 11. Zeb Taia, 17. Dom Peyroux, 12. Jon Wilkin.
Subs: 7. Matty Smith, 13. Louie McCarthy-Scarsbrook, 14. Luke Douglas, 15. Morgan Knowles.
Dragons:
31. Tony Gigot; 2. Jodie Broughton, 16. Vincent Duport, 4. Brayden Wiliame, 20. Lewis Tierney; 6. Samisoni Langi, 33. Josh Drinkwater; 8. Remi Casty, 19. Michael McIlorum, 14. Julian Bousquet, 11. Louis Anderson, 21. Benjamin Jullien, 13. Greg Bird.
Subs: 10. Sam Moa, 17. Jason Baitieri, 23. Antoni Maria, 24. Alrix Da Costa.
Saints Line up
| | |
| --- | --- |
| 6 | Jonny Lomax |
| 2 | Tommy Makinson |
| | Ryan Morgan |
| 4 | Mark Percival |
| 5 | Regan Grace |
| 7 | Theo Fages |
| 7 | Danny Richardson |
| 18 | Kyle Amor |
| 9 | James Roby |
| 10 | Luke Thompson |
| 12 | Dominique Peyroux |
| 11 | Zeb Taia |
| 12 | Jon Wilkin |
| 7 | Matty Smith |
| 15 | Louie McCarthy-Scarsbrook |
| 14 | Luke Douglas |
| 13 | Morgan Knowles |
Catalans Dragons Line up
| | |
| --- | --- |
| 1 | Tony Gigot |
| 2 | Jodie Broughton |
| 3 | Vincent Duport |
| 4 | Brayden Wiliame |
| 5 | Lewis Tierney |
| 6 | Samisoni Langi |
| 7 | Josh Drinkwater |
| 8 | Rémi Casty |
| 9 | Michael McIlorum |
| 10 | Julian Bousquet |
| 11 | Louis Anderson |
| 12 | Benjamin Jullien |
| 13 | Greg Bird |
| 14 | Sam Moa |
| 15 | Jason Baitieri |
| 16 | Antoni Maria |
| 17 | Alrix Da Costa |
Last updated 3 May 18 21:37:59
Try
Lewis Tierney for Catalans Dragons
Blindside move and Saints are caught out. 26-12
Knock-on-athon…. Catalans have the ball.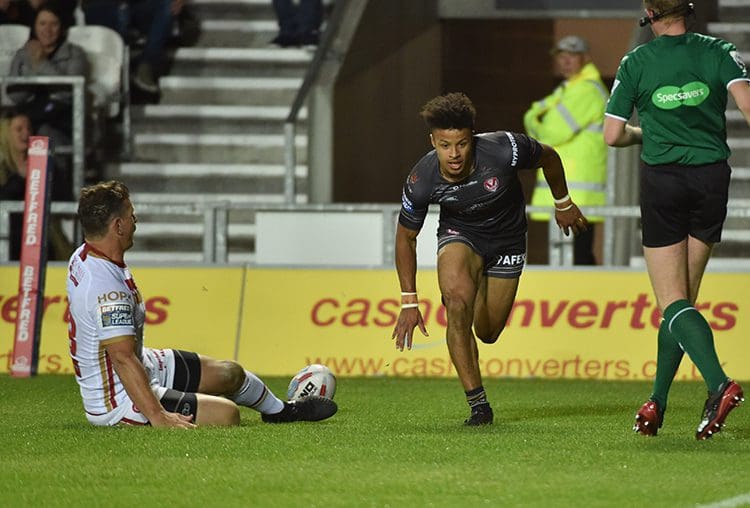 Goal
Danny Richardson for Saints
Try
Regan Grace for Saints
Great stuff down the left hand side sees Grace go in for his second.
Fages comes up with the crossfield kick collect – nervy times for Saints.
Grace can't take a high ball – Catalans in the zone once more.
It's neither. Catalans have a penalty themselves
Could be a high shot in there too!
Wilko over? We're heading upstairs. Hits a great line but looks to be held up.
Goal-line D for Saints this time out and they come away with the ball.
Saints penalty and Catalan are on a team warning
Catalans penalty. Saints lead 20-8 but the Dragons are coming once again.
Penalty to Saints on their own 40.
Saints knock-on on their own 40. Chances for Catalan here.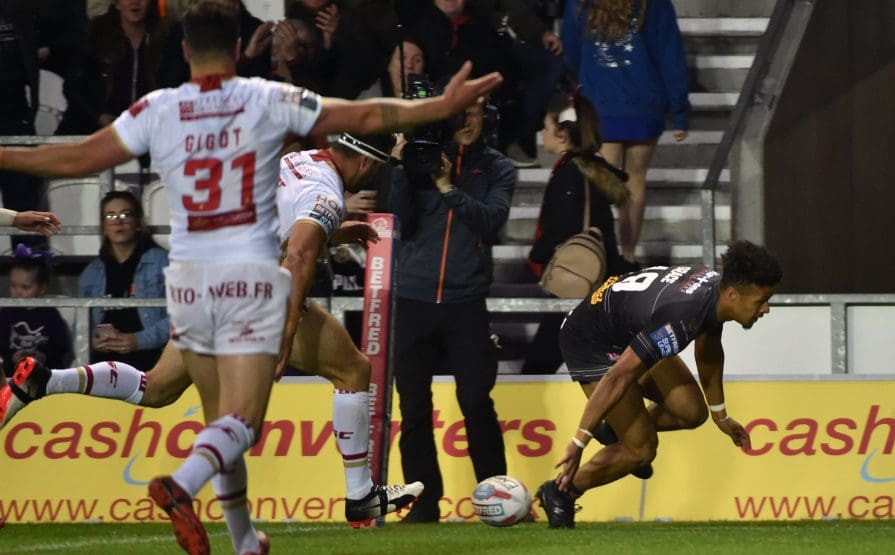 Try
Jodie Broughton for Catalans Dragons
Saints overplay – Peyroux's offload hits Richardson, Catalans sweep up and Broughton goes over in the corner
Try
Regan Grace for Saints
Lovely fast hands from the Saints – Fages links with Percival to put Grace over.
Fages with a kick on the run – Catalans obstruct the chasers and Saints have a set in a great position
Catalans get the second half underway – Saints lead 16-4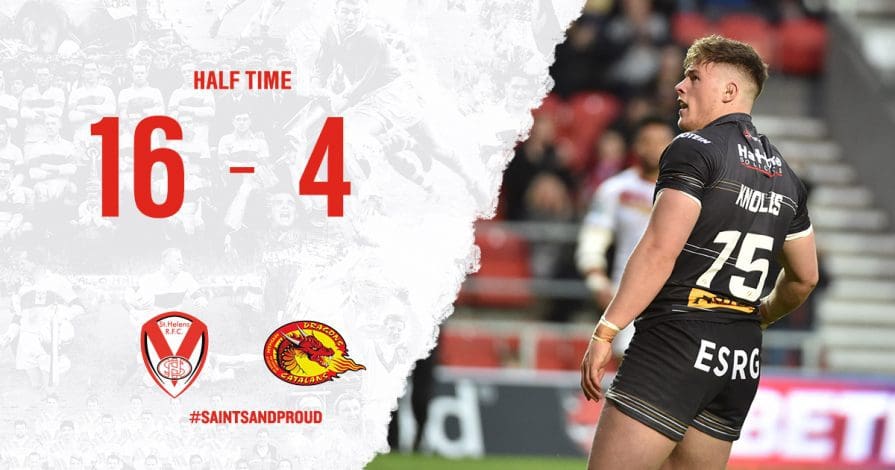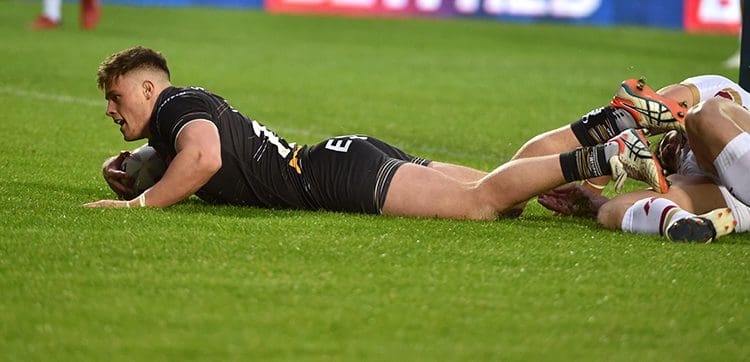 Goal
Danny Richardson for Saints
Richardson with the extras for 16-4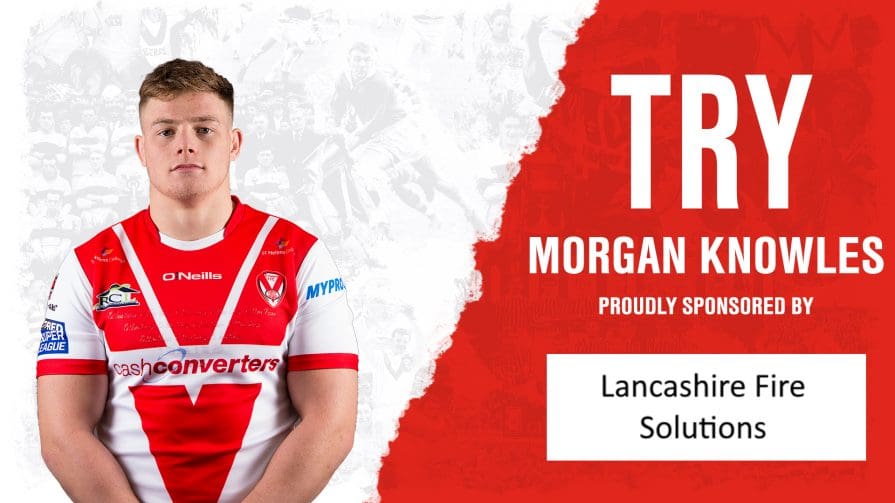 Try
Morgan Knowles for Saints
Catalans knock on in the repeat set – and Morgan Knowles snakes his way over!
Drinkwater misses the conversion – it's 10-4 here.
Try
Brayden Wiliame for Catalans Dragons
The centre is adjudged to have put the ball down before Ryan Morgan – Catalans back in this!
Ryan Morgan possibly saved a try there?
Maria held up – and we're now heading upstairs for a Catalans' try
Catalans kick to the corner on the last – Saints take it, but are then penalised for obstruction.
Good take from Grace – and he gets out of the in-goal area. Saints remain 10-0 up.
Saints caught out by a short drop out and Catalans are back in possession.
Saints with the ball on half way – Percival breaks down the left, chips inside but Richardson can't get it. Saints win a drop out.
Catalans on the attack with two sets on Saints line, but they lose the ball and Saints come away with it.
But Catalans mop up a crossfield kick. Saints remain 10-0 up.
Saints on the lookout for more points there – deep in Catalans' territory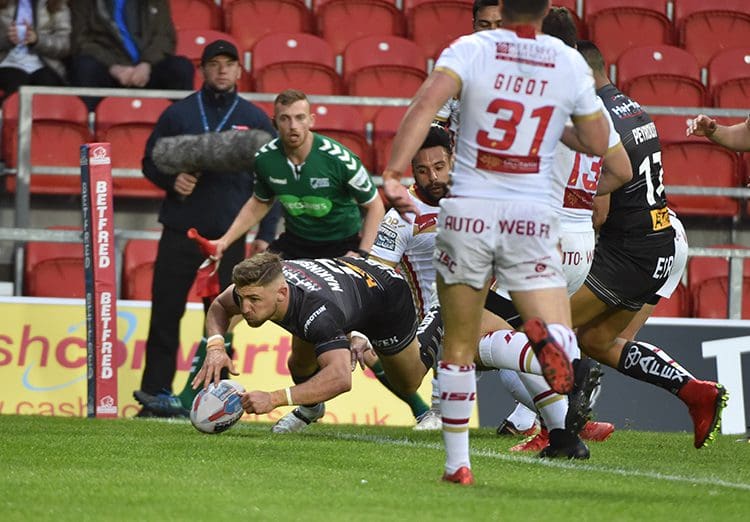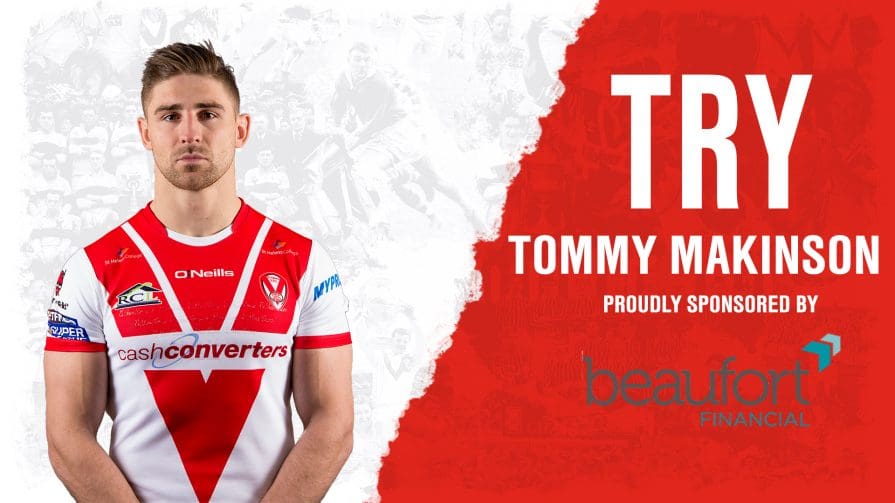 Try
Tommy Makinson for Saints
And it's given. Saints lead 10-0
Richardson's kick to the corner, Makinson jumps highest and puts down but we're heading upstairs.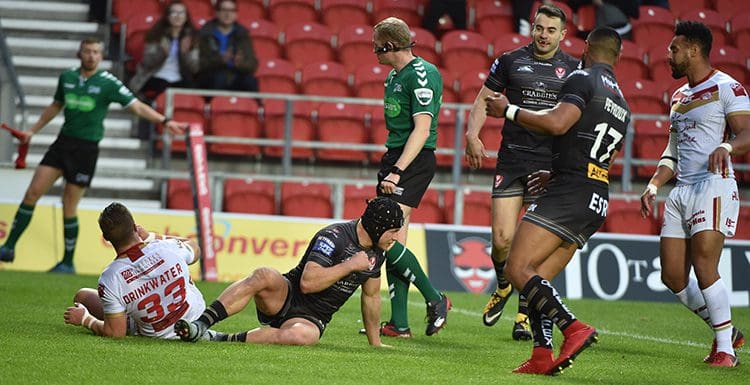 Goal
Danny Richardson for Saints
Richardson slots it over for 6-0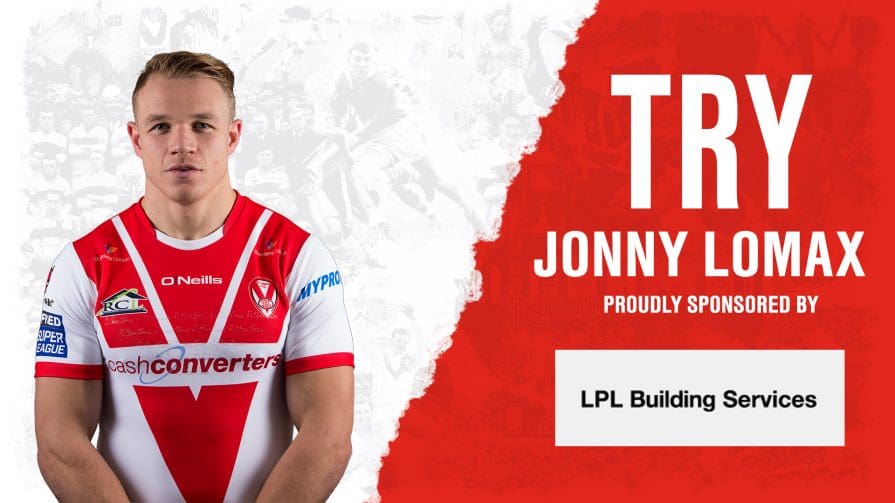 Try
Jonny Lomax for Saints
Lovely work from Makinson to kick inside and Lomax puts down.
Heading upstairs for a Lomax try following Makinson's kick.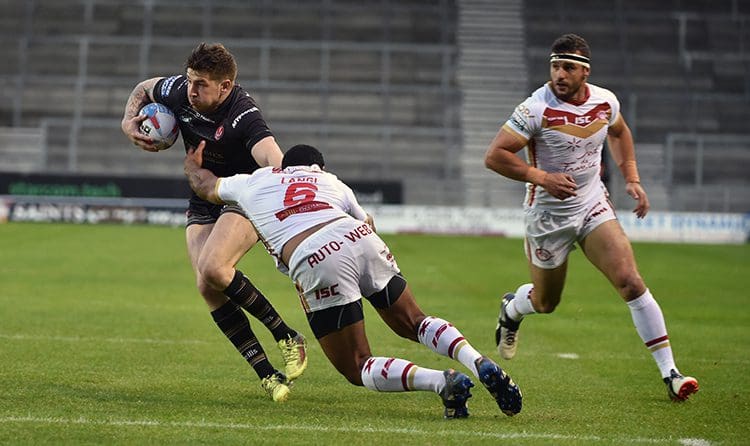 Lomax goes close but on the next play Wilkin's pass hits Amor – let of for Catalans
Catalans have to drop out.
Chip to the posts early in the tackle count – taken by Fages and Saints then win a penalty.
Grace couldn't keep a 40:20 in play and gets a touch before it goes out. Chance for Catalans.
Stray pass heads into touch, Catalans have to come out of their 20.
Catalans knock on from the kick off – Saints almost in, but will have another set.
Lovely tribute to two club legends, thank you all. Rest in Peace Cliff and Roy.