You can say that the derby is certainly a special occasion for Regan Grace.
Last year he announced himself to the rugby league world with a sensational debut.
This time around he won the hearts of every Saints fan across the globe by scoring in the corner to secure our first Good Friday win for nine years.
It was a sensational end to a sensational game that ebbed and flowed throughout.
Tied 14-14, Ryan Morgan broke down the right hand and within a blink of an eye, Jonny Lomax threw a looping pass for the winger to put down.
Danny Richardson nailed the conversion and then added a drop goal to break the Warriors.
It also sent a sold out Totally Wicked Stadium into raptures as well as taking Saints four points clear at the top of the table… but the win was about much more than that.
Wigan took an early lead in a ferocious first half when Morgan Escare, in for the ill Sam Tomkins, slotted over a penalty from under the posts on four minutes.
Six minutes later, Joe Burgess had one chalked off as he couldn't ground it before the dead ball line.
Saints followed up with a couple of sets on the Warriors' line, but couldn't find a way through, and then Burgess was unlucky not to take a kick across the field.
The home side then hit the front with a piece of class.
Jon Wilkin found a wonder ball to Thompson, who duly fed Ben Barba on the half way line.
The full back then rounded Escare and scored to the right of the posts.
The try changed the momentum of the game – as did a flurry of penalties that followed as the visitors lost their discipline.
But Saints couldn't turn the screw as Wigan's defence held firm.
More chances followed before, after another penalty, Saints made their possession pay.
A strong run from Grace got them into great position before James Roby took off and fired a short pass to Zeb Taia.
Richardson making it 12-2 with the conversion.
Saints could have gone further ahead as the half time approached but Grace was held up a couple of inches short after a superb break from Barba and Mark Percival.
Wigan came out fired up in the second half and reduced the deficit within five minutes.
And it was a simple one too as Joel Tomkins took a short inside ball to make it game on.
Saints almost hit back when Grace and Richardson both went within inches – and then Tomkins was held up.
But on the hour mark, Wigan took the lead through Willie Isa – Williams kicking the conversion.
Saints needed to right the ship and they did just that when Morgan Knowles had the ball stripped.
Richardson tagged on the penalty to make it all square before Sam Powell's drop goal effort went wide.
It was a case of who would blink first and it was Saints who won the game with another piece of brilliance.
Ryan Morgan made the break down the right, Makinson brought it inside and Lomax' pass did the rest.
Danny Richardson's drop goal making it ultimately safe with three minutes to go.
Joel Tomkins scored late on, but Saints had done the business.
Match Summary:
Saints:
Tries: Barba, Taia, Grace
Goals: Richardson (4 from 4)
Drop: Richardson
Warriors:
Tries: Tomkins (2), Isa,
Goals: Escare (2 from 2), Williams (1 from 2)
Penalties Awarded:
Saints: 11
Warriors: 6
HT: 12-2
FT: 21-18
REF: R Hicks
ATT: 17,980
Teams:
Saints:
23. Ben Barba; 2. Tommy Makinson, 3. Ryan Morgan, 4. Mark Percival, 19. Regan Grace; 1. Jonny Lomax, 18. Danny Richardson; 10. Kyle Amor, 9. James Roby, 16. Luke Thompson, 17. Dom Peyroux, 11. Zeb Taia, 12. Jon Wilkin.
Subs: 6. Theo Fages, 13. Louie McCarthy-Scarsbrook, 14. Luke Douglas, 15. Morgan Knowles.
Warriors:
20. Morgan Escare; 2. Tom Davies, 14. John Bateman, 4. Oliver Gildart, 5. Joe Burgess; 6. George Williams, 7. Sam Powell; 8. Tony Clubb, 9. Thomas Leuluai, 10. Ben Flower, 19. Willie Isa, 12. Liam Farrell, 13. Sean OíLoughlin.
Subs: 11. Joel Tomkins, 15. Ryan Sutton, 17. Taulima Tautai, 34. Josh Woods.
Saints Line up
| | |
| --- | --- |
| 23 | Ben Barba |
| 2 | Tommy Makinson |
| | Ryan Morgan |
| 4 | Mark Percival |
| 5 | Regan Grace |
| 6 | Jonny Lomax |
| 7 | Danny Richardson |
| 18 | Kyle Amor |
| 9 | James Roby |
| 10 | Luke Thompson |
| 12 | Dominique Peyroux |
| 11 | Zeb Taia |
| 12 | Jon Wilkin |
| 7 | Theo Fages |
| 15 | Louie McCarthy-Scarsbrook |
| 14 | Luke Douglas |
| 13 | Morgan Knowles |
Wigan Warriors Line up
| | |
| --- | --- |
| 1 | Morgan Escare |
| 2 | Tom Davies |
| 3 | John Bateman |
| 4 | Oliver Gildart |
| 5 | Joe Burgess |
| 6 | George Williams |
| 7 | Sam Powell |
| 8 | Tony Clubb |
| 9 | Thomas Leuluai |
| 10 | Ben Flower |
| 11 | Willie Isa |
| 12 | Liam Farrell |
| 13 | Sean O'Loughlin |
| 14 | Joel Tomkins |
| 15 | Ryan Sutton |
| 16 | Taulima Tautai |
| 17 | Josh Woods |
Last updated 30 Mar 18 17:07:46
Try
Joel Tomkins for Wigan Warriors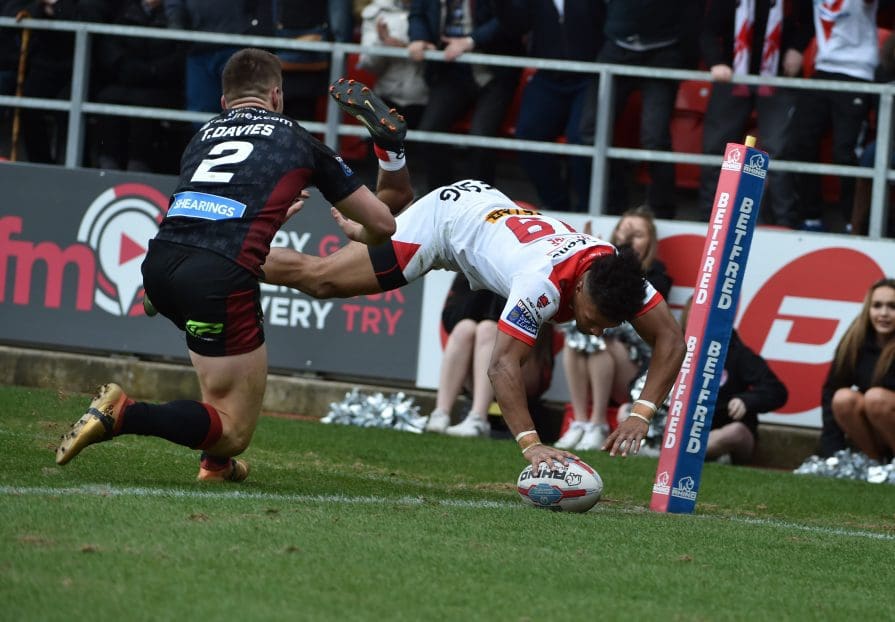 Drop Goal
Danny Richardson for Saints
Goal
Danny Richardson for Saints
Powell misses a drop goal attempt.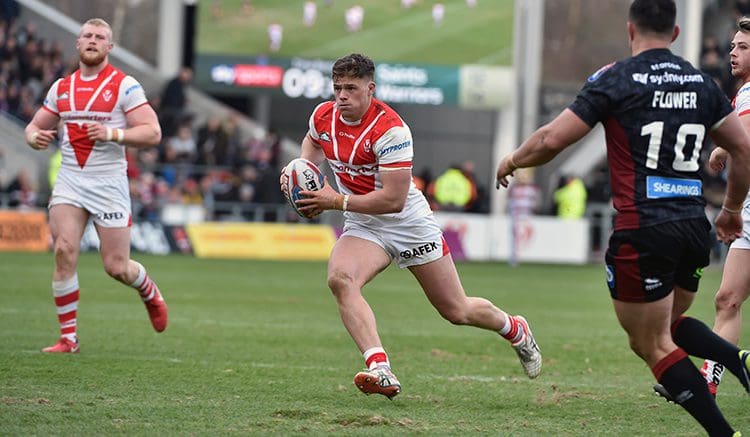 Goal
Danny Richardson for Saints
Ball stolen – Saints will take the 2.
Penalty to Saints on their 40.
Wigan lose the ball near half way.
Goal
George Williams for Wigan Warriors
Williams puts Wigan 14-12 up.
Try
Willie Isa for Wigan Warriors
Heading upstairs for a Willie Isa try
And Wigan have another set as the ball comes loose.
Lomax comes down the left hand side, finds Barba but Grace slightly overruns the pass and it's in touch.
Another important clearing kick from Danny Richardson has Wigan coming off their own line.
Lomax chips through, Burgess defends but Wigan get a penalty for a push.
High kick, but that is simple for Burgess who is now at full back.
Ben Barba with a chip on the last to clear the lines. It goes dead but it relieves the line.
Tomkins over the line again – but he's held up.
Grace goes close and then Richardson is held up short. Saints turning the screw again… Wigan's defence massive too.
Richardson kick on the last hits the post – into the hands of Josh Wood. Wigan coming off their own line.
Goal
Morgan Escare for Wigan Warriors
Escare makes it a four point game. Saints 12 Wigan 8
Try
Joel Tomkins for Wigan Warriors
Simple try for Tomkins as he takes a short inside ball to make it game on.
Wigan coming off their own line after Lomax' kick.
Breaths back? Wigan will get the second half underway. Saints lead 12-2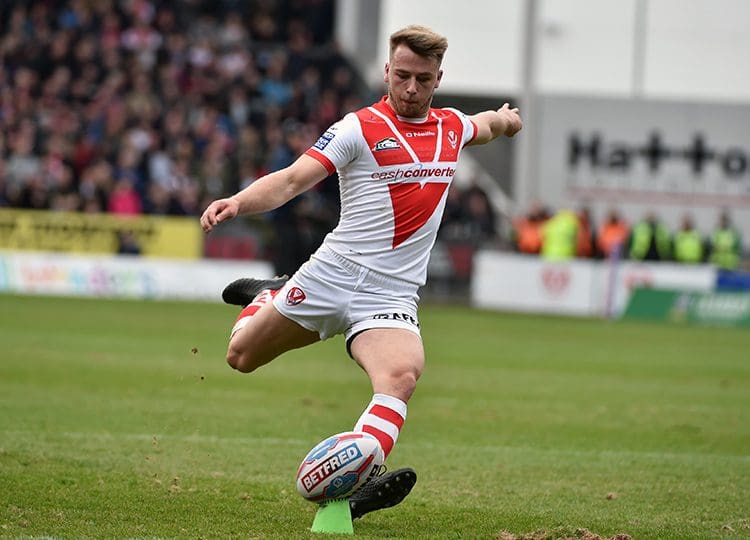 Blistering break from Saints. Barba find Percival who sends it to Grace – but he is held up inches short.
Goal
Danny Richardson for Saints
Try
Zeb Taia for Saints
Roby takes off, short ball to Taia and he ploughs over
Zeb Taia takes a short Roby ball and is over… but we're heading upstairs…
Grace taken high by Williams – Saints penalty.
Wigan's defence comes up trumps though and it remains 6-2
Kick to the corner – Morgan and Makinson clearly impeded but Saints win a drop out.
Another penalty heads Saints way, this time on half-way. And as we type another one.
Wigan attack, but they knock on. That try has changed the momentum here.
Saints have a penalty and they are on the front foot again.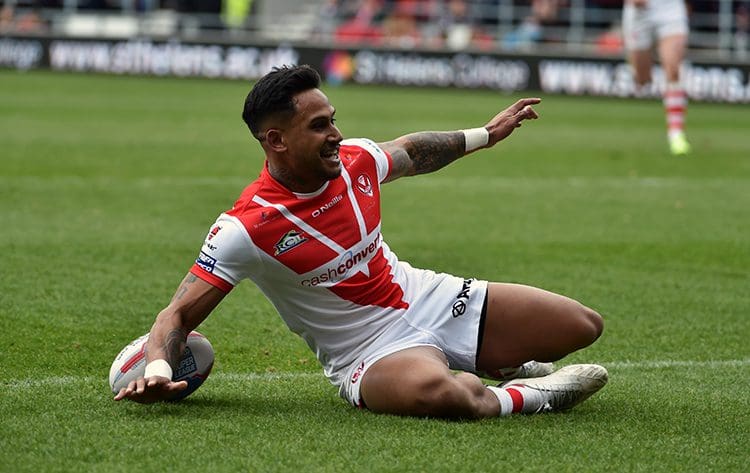 Goal
Danny Richardson for Saints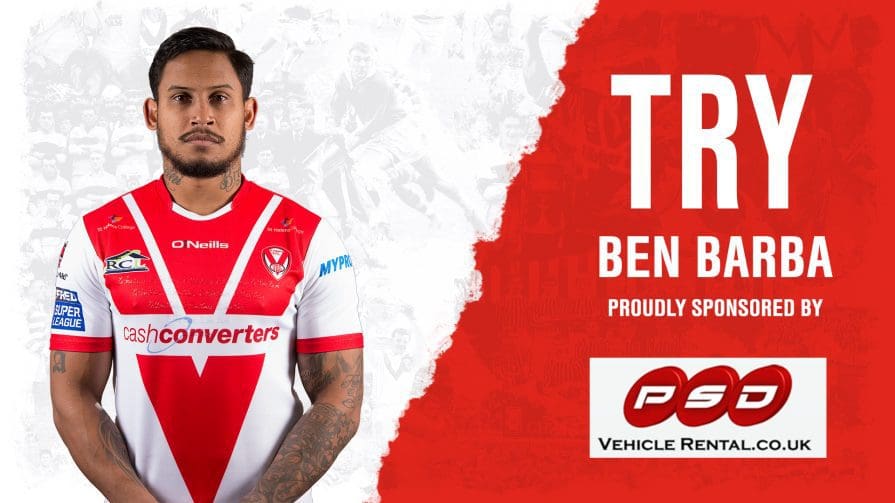 Try
Ben Barba for Saints
Saints break in the middle of the field, Wilkin finds Thompson who finds Barba and he rounds Escare
Joe Burgess looks to take a high ball in the corner – but he can't collect.
Ball up in the corner from Lomax – but Makinson just can't take it.
Wigan now caught for flopping as Makinson sets off on a run .
And Saints win a penalty. Can't take your eyes off this, lots happening all over the pitch.
Heading upstairs for a potential Wigan try – no try, tap on the 20 for Saints.
Makinson takes a high ball in the corner – good stuff from the winger there.
But Richardson fails to find touch and the ball is coming back.
Ball back with Wigan after Saints get caught for crossing. Richardson then collects a kick on the last and Saints win a penalty.
Restart bounces in Wigan's in goal area and they will have to drop out.
Goal
Morgan Escare for Wigan Warriors
Ball comes out as Flower runs it in – ball comes out but Saints are done for a steal. Wigan will take the two.
Ball goes up, Grace can't take it – Wigan have head and feed right in Saints 20.
First two sets of the derby complete, tackles flying in from all angles!
Saints will get this one underway. It's loud here! #saintsandproud