Saints v Huddersfield Giants
Saints' rally wasn't enough as they went down 16-12 to Huddersfield on Friday night.
Tries from Ben Barba and Luke Thompson saw Justin Holbrook's men almost erase a 16 point deficit – but the damage had been been done in the first half.
The Giants hit the front in the fifth minute when they shifted the ball left for Darnell McIntosh to dive in the corner.
Danny Brough landed the conversion off the touchline and then added another in the 11th minute when Alex Mellor took a simple pass to score.
Saints followed up with a set on Giants' line, but they couldn't take advantage – and the visitors duly turned that defence into attack.
Barba couldn't take Brough's high ball and within a blink of an eye McIntosh was over in the corner for his second.
It was a three try salvo that Saints couldn't recover from – but they did come close.
LMS' cooly put Jonny Lomax through a gap before the stand-off turned it inside to Barba who made no mistake from distance.
And Saints almost scored again shortly afterwards but Jonny Lomax slipped a micro-second before he would have realised Fages on his way to the sticks.
Next time Saints had the opportunity to score they did – and it came in the 57th minute.
Barba forced a drop out from a chip on the last – and won a penalty after he was dragged into touch.
Luke Thompson then powered over on the charge.
Saints could smell blood but they spurned four sets in a row to get back on level terms.
That defensive effort buoyed the Giants too, and it meant Saints needed a final flourish to try and level matters.
They couldn't catch a break though and Huddersfield held on.
Match Summary:
Saints:
Tries: Barba, Thompson
Goals: Richardson (2 from 2)
Giants:
Tries: McIntosh (2), Mellor
Goals: Brough (2 from 3)
Penalties Awarded:
Saints: 7
Giants: 4
HT: 6-16
FT: 12-16
REF: S. Mikalauskas
ATT: 8,979
Teams:
Saints:
23. Ben Barba; 2. Tommy Makinson, 30. Matty Costello, 4. Mark Percival, 5. Adam Swift; 1. Jonny Lomax, 18. Danny Richardson; 10. Kyle Amor, 9. James Roby, 16. Luke Thompson, 15. Morgan Knowles, 11. Zeb Taia, 12. Jon Wilkin.
Subs: 6. Theo Fages, 13. Louie McCarthy-Scarsbrook, 14. Luke Douglas, 20. Matty Lees.
Giants:
15. Jordan Rankin; 2. Jermaine McGillvary, 3. Leroy Cudjoe, 4. Jordan Turner, 23. Darnell McIntosh; 6. Lee Gaskell, 7. Danny Brough; 35. Suaia Matagi, 21. Adam OíBrien, 17. Ukuma Taíai, 22. Alex Mellor, 16. Oliver Roberts, 14. Dale Ferguson.
Subs: 13. Ryan Hinchcliffe, 18. Paul Clough, 25. Colton Roche, 27. Matty English.
Saints Line up
| | |
| --- | --- |
| 23 | Ben Barba |
| 2 | Tommy Makinson |
| 21 | Matthew Costello |
| 4 | Mark Percival |
| 18 | Adam Swift |
| 6 | Jonny Lomax |
| 7 | Danny Richardson |
| 18 | Kyle Amor |
| 9 | James Roby |
| 10 | Luke Thompson |
| 13 | Morgan Knowles |
| 11 | Zeb Taia |
| 12 | Jon Wilkin |
| 7 | Theo Fages |
| 15 | Louie McCarthy-Scarsbrook |
| 14 | Luke Douglas |
| 10 | Matty Lees |
Huddersfield Giants Line up
| | |
| --- | --- |
| 1 | Jordan Rankin |
| 2 | Jermaine McGillvary |
| 3 | Leroy Cudjoe |
| 4 | Jordan Turner |
| 5 | Darnell McIntosh |
| 6 | Lee Gaskell |
| 7 | Danny Brough |
| 8 | Suaia Matagi |
| 9 | Adam O'Brien |
| 10 | Ukuma Ta'ai |
| 11 | Alex Mellor |
| 12 | Oliver Roberts |
| 13 | Dale Ferguson |
| 14 | Ryan Hinchcliffe |
| 15 | Paul Clough |
| 16 | Colton Roche |
| 17 | Matty English |
Last updated 10 Aug 18 21:36:14
Saints can't do anything on the last and the Giants hold on.
80 seconds left, Saints have the ball.
Chip to the corner from Richardson but Makinson can't tip it back.
Saints attack down the left but they are forced into touch.
Saints ball, but they are in their own 20.
Huddersfield knock on inside Saints 40
Richardson's improvised chip on the last is just a little too deep.
Danny Richardson's short pass to Thompson is somehow intercepted!
Knowles hit high as he goes for the line – another set for Saints.
Telling touch on Barba's pass on the left hand side will give Saints another set.
Huddersfield penalised seconds after Saints are. Saints ball, 40 out.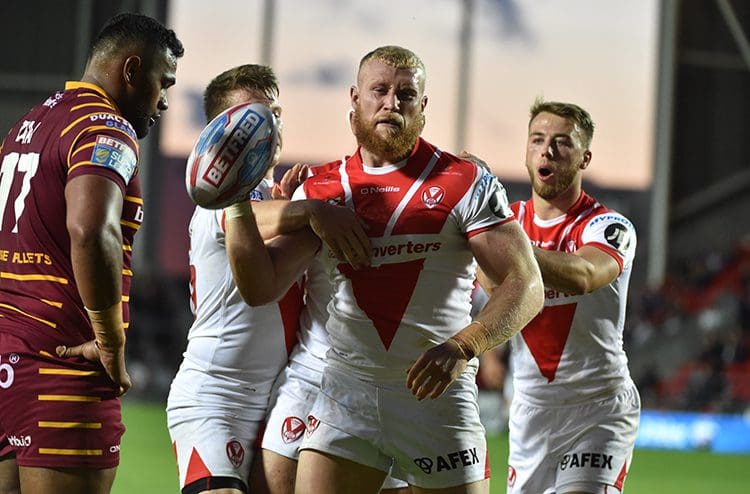 Saints within inches – they keep it alive, Wilkin finds Roby and he's held up just short.
Goal
Danny Richardson for Saints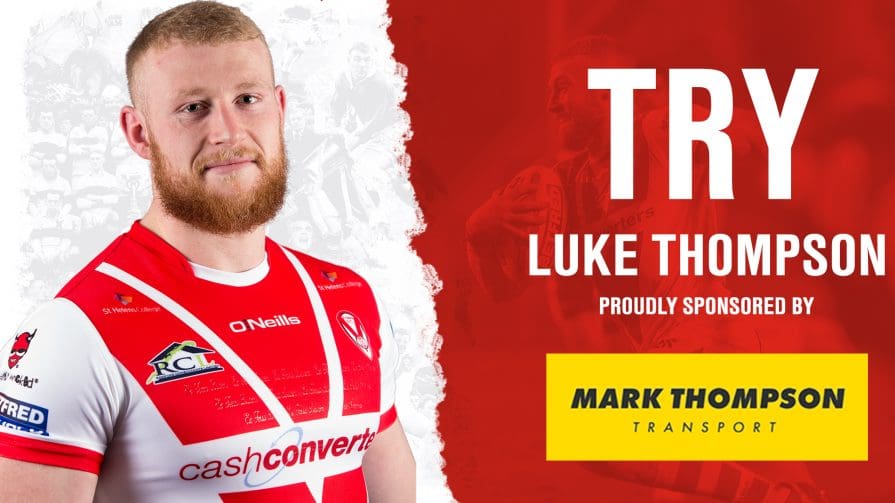 Try
Luke Thompson for Saints
BB working down the right hand side – tackle is completed and he's dragged into touch. Another set for Saints.
Saints penalty… Saints now in Giants' 20
Saints play it on the last – finds Barba who chips over and Saints win a drop out.
BB sees a gap and tries to put Lomax through but he can't haul in the pass. First real chance for Saints this half.
Giants move the ball right but they knock on.
Saints have to drop out once again.
Great take from Swift under pressure as Brough chips it over.
Saints defend the drop out and are making their way up to half way.
Brough chips it into the in-goal – great defending from Swift but Saints have to drop out.
Both sides exchanging sets at present – Giants are coming out of their own 20.
Huddersfield back out on the field – they will get the half underway leading 16-6.
Hooter sounds as Saints rush it on the last – chip from Lomax, who is pulled back. Saints win a penalty.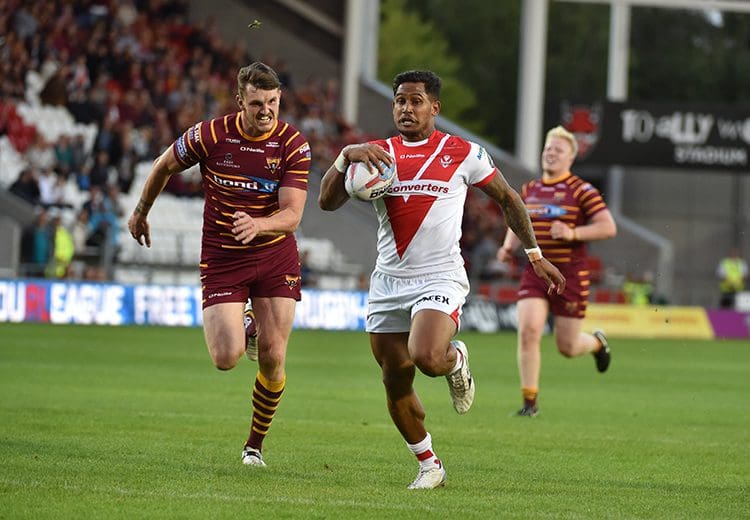 Taia sends Lomax away, but he slips before he can pass to Fages. Richardson then wins Saints a drop out.
Goal
Danny Richardson for Saints
Danny with the conversion and it's 6-16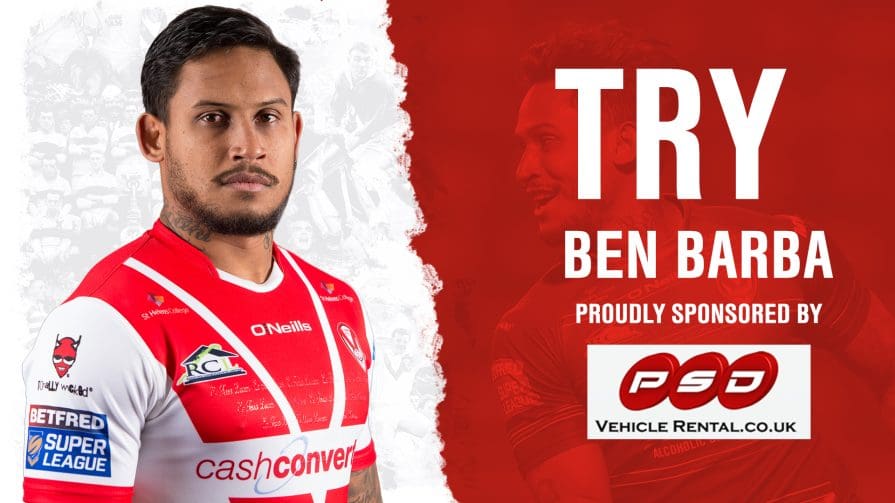 Try
Ben Barba for Saints
Louie sets Jonny Lomax away who turns it inside to Ben Barba who flies over!
Saints caught on the last near the Giants line. Visitors remain 16-0 up.
LMS takes a short Lees ball – has a player underneath him and is adjudged to have knocked on. Let off for the Giants.
And the Giants are penalised again.
Great kick on the last from Richardson wins Saints a penalty on the Giants line after he is hit late.
Knowles makes a huge effort to chase Brough and charge down his clearing kick. Comes up with the ball too – but on the next play Saints put it down.
Brough wide with the extras but they lead 16-0.
Try
Darnell McIntosh for Huddersfield Giants
And from the error the ball goes left and McIntosh grabs his second.
Another high ball – Saints can't take and Saints are penalised. Giants set right on Saints line.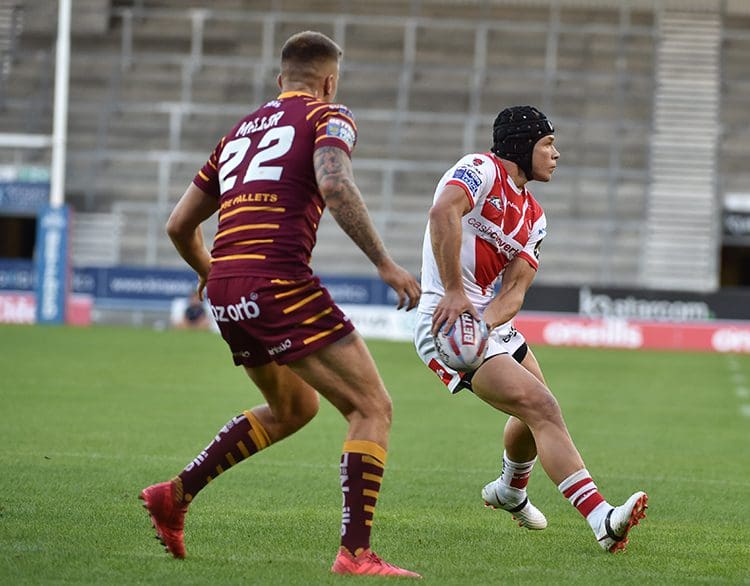 Giants' kick too strong on the last – gives Saints a breather and now they are over half way.
Saints have the ball on their own 40 – Richardson clears his lines with a kick along the floor. Giants lead 12-0
Taia caught on the last as Saints push the play.
Big hit from Percival on Matagi forces the ball loose – Saints ball, 30 out.
Goal
Danny Brough for Huddersfield Giants
Danny Brough makes it 12-0.
Try
Alex Mellor for Huddersfield Giants
Sweet pass sees Alex Mellor increase the Giants lead.
Giants' high ball, Saints knock on and our visitors have great field position.
Saints shift it left but the pass is behind Percival and Giants have the ball.
Goal
Danny Brough for Huddersfield Giants
Brough hands the Giants a 6-0 lead.
Try
Darnell McIntosh for Huddersfield Giants
Giants shift the ball left and McIntosh dives over in the corner.
Repeat set for the Giants after a loose pass is tipped by a Saints player.
Saints lose the ball in the tackle on their second set.
Saints get the ball back from their own kick off – Zeb collects one but then knocks on!
Saints will get this one underway