Saints edged Hull FC 25-22 in a pulsating Ladbrokes Challenge Cup tie on Sunday afternoon.
Mark Percival and Regan Grace both scored braces to set up a Semi Final date with Catalans in Bolton.
But they were pushed all the way by the cup holders who refused to give up their crown without a fight.
In fact, this tie wasn't settled until the last play of the game against a team that had been down to 11 men at one point, and had three sinbinned.
Percival got Saints underway after a tense first ten minutes.
Hull had already made a couple of half breaks before Saints took advantage when the centre crossed after some great interchange play.
It got better immediately too – the visitors failing to send the restart more than 10 yards – and Grace making the most of the cut out pass from Jonny Lomax to dive in the corner.
Saints were good for their 10-0 lead but within the blink of an eye Hull had gone ahead.
Firstly, Albert Kelly darted along the line to step inside under the posts and then Chris Green used all his strength to muscle over.
All the momentum had swung the holders way – but they were soon to rue their ill-discipline.
Danny Houghton was first to go to the bin for a 'crusher' on Danny Richardson and within a minute, Danny Washbrook was sent the same way for leaving his knee in the tackle on two occasions.
Two men to the good Saints recorded 12 points and took charge of the contest.
Grace's second came after Richardson's chip was tipped back and the winger spun out of a tackle – Percival then grabbing his brace as he danced through the cover on the next set.
Danny Richardson popped over a one-pointer for 23-12 at half time, and Saints should have increased their advantage early in the second.
A lovely tip pass from Percival saw Grace take off down the left.
With the defence closing in, he chipped for Lomax but the full back was hauled down just before the line.
Zeb Taia then dove over from dummy half – when perhaps a pass would have been the better option – and lost the ball.
Saints made back to back goal-line stands in the 50th minute, but on their third set, the Airlie Birds made the pressure pay – Taylor grabbing his second under the posts.
Both teams were visibly wilting in the hot sun as the tension cranked up a notch but Hull's discipline cost them again as Masimbaashe Matongo was sent to the bin for hitting Jonny Lomax late and from behind after he'd passed the ball.
Richardson converted the penalty to make it a seven-point game, yet his teammates couldn't unlock the Hull defence with a man advantage.
They missed two opportunities down the left hand side to kill the game off – and they were made to regret that execution as Makim Miloudi jumped highest on a crossfield kick to make it game on with 10 to play.
Saints couldn't convert further chances as the game came to a close but they left Hull needing to go the length with 60 seconds remaining.
They made 50 from a couple of tackles to set nerves on edge amongst the home faithful – but a forward pass from the play the ball with 10 seconds left meant it was game over.
Match Summary:
Saints:
Tries: Percival (2), Grace (2),
Goals: Richardson (4 from 5)
Drop: Richardson
Hull FC:
Tries: Kelly, Green, Taylor, Miloudi
Goals: Connor (3 from 4)
Penalties Awarded:
Saints: 6
Hull FC: 5
HT: 23-12
FT: 25-22
REF: Ben Thaler
ATT: TBC
Teams:
Saints:
23. Ben Barba; 2. Tommy Makinson, 3. Ryan Morgan, 4. Mark Percival, 19. Regan Grace; 1. Jonny Lomax, 18. Danny Richardson; 10. Kyle Amor, 9. James Roby, 16. Luke Thompson, 17. Dom Peyroux, 11. Zeb Taia, 12. Jon Wilkin.
Subs: 6. Theo Fages, 14. Luke Douglas 13. Louie McCarthy-Scarsbrook, 15. Morgan Knowles.
Hull FC:
1. Jamie Shaul; 2. Bureta Faraimo, 24. Jack Logan, 3. Carlos Tuimavave, 28. Hakim Miloudi; 6. Albert Kelly, 14. Jake Connor; 15. Chris Green, 9. Danny Houghton, 8. Scott Taylor, 12. Mark Minichiello, 21. Sika Manu, 11. Dean Hadley.
Subs: 17. Danny Washbrook, 20. Brad Fash, 23. Mickey Paea, 29. Masimbaashe Matongo.
Saints Line up
| | |
| --- | --- |
| 23 | Ben Barba |
| 2 | Tommy Makinson |
| | Ryan Morgan |
| 4 | Mark Percival |
| 5 | Regan Grace |
| 6 | Jonny Lomax |
| 7 | Danny Richardson |
| 18 | Kyle Amor |
| 9 | James Roby |
| 10 | Luke Thompson |
| 12 | Dominique Peyroux |
| 11 | Zeb Taia |
| 12 | Jon Wilkin |
| 7 | Theo Fages |
| 15 | Louie McCarthy-Scarsbrook |
| 14 | Luke Douglas |
| 13 | Morgan Knowles |
Hull FC Line up
| | |
| --- | --- |
| 1 | Jamie Shaul |
| 2 | Bureta Faraimo |
| 3 | Jack Logan |
| 4 | Carlos Tuimavave |
| 5 | Hakim Miloudi |
| 6 | Albert Kelly |
| 7 | Jake Connor |
| 8 | Chris Green |
| 9 | Danny Houghton |
| 10 | Scott Taylor |
| 11 | Mark Minichiello |
| 12 | Sika Manu |
| 13 | Dean Hadley |
| 14 | Danny Washbrook |
| 15 | Brad Fash |
| 16 | Mickey Paea |
| 17 | Masimbaashe Matongo |
Last updated 3 Jun 18 17:32:18
Hull called for a forward pass right from the play the ball!
Saints have a penalty on half way. 120 seconds to hold on.
Hull defend Theo's stab kick – but they are on their own line.
Connor takes Barba high – Saints have a penalty.
Connor misses the conversation. It's Saints 25 Hull FC 22.
Try
Hakim Miloudi for Hull FC
Chip to the corner and leaps highest.
Saints knock on in their own 10 metre. Big set needed here.
Big take from Grace from Kelly's high ball. Youngster standing tall once again.
What a run from Taia – but Saints can't make the last tackle count.
Ben Barba sets Saints on their way – the ball then comes left and Grace has a foot in touch.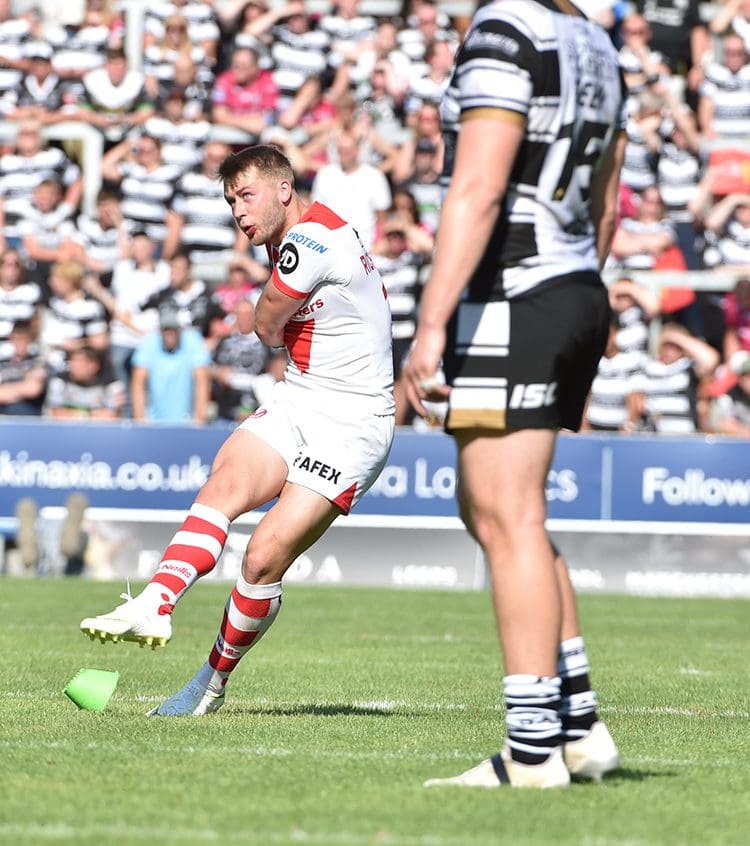 Goal
Danny Richardson for Saints
Penalty goes over and it's 25-18
Yellow Card
Masimbaashe Matongo for Hull FC
Sees yellow for hitting Lomax from behind after he'd passed the ball.
Goal
Jake Connor for Hull FC
Try
Scott Taylor for Hull FC
Taylor with the strength to twist over in the tackle.
And another set – Hull may have gone over here. We're heading upstairs…
Another penalty to Hull… they are on the front foot here.
Goal-line stand from Saints there as Hull look lively. Saints remain 23-12.
Lovely tip pass from Percy sees Grace take off down the left. The winger chips it on for Lomax to chase but he is hauled down. From dummy half Taia goes over. We're heading upstairs
Kick Off
Both teams back out for the second half. Saints lead 23-12 and they all get this one underway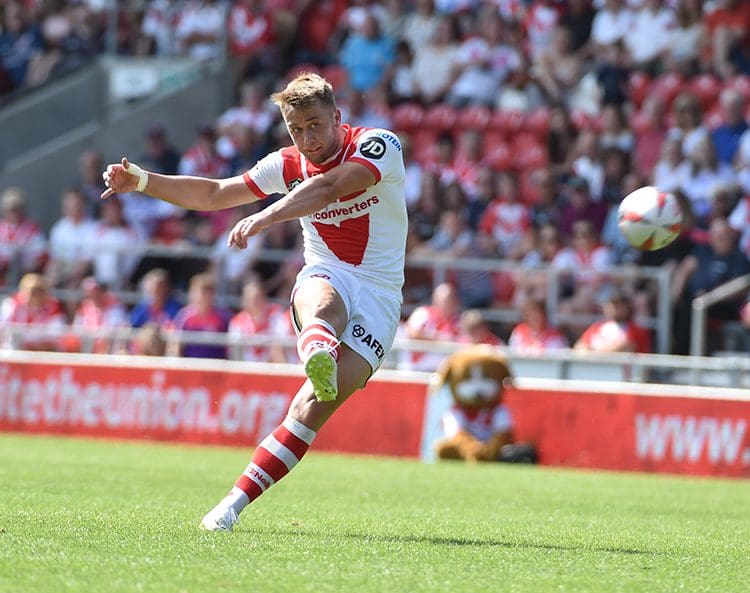 Drop Goal
Danny Richardson for Saints
Richardson with the one-pointer!
Hull knock on, Connor isn't happy, Saints get a penalty.
Goal
Danny Richardson for Saints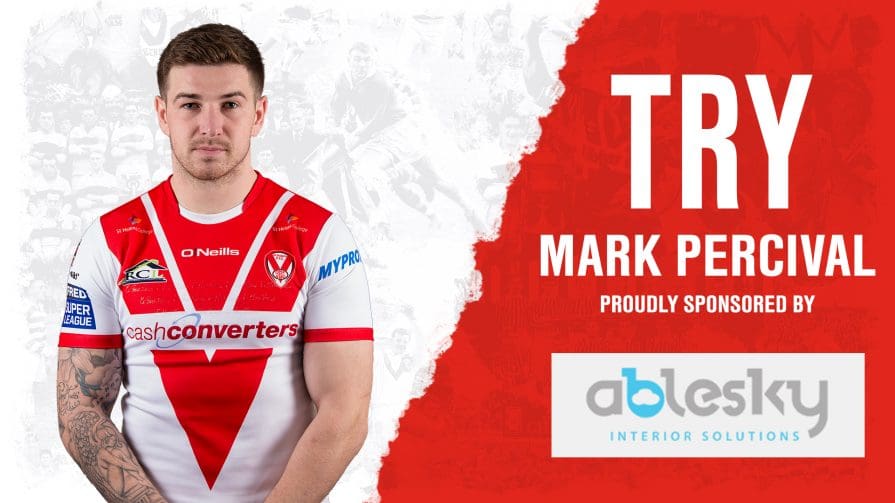 Try
Mark Percival for Saints
Great feet from Percy sees Saints stretch their lead.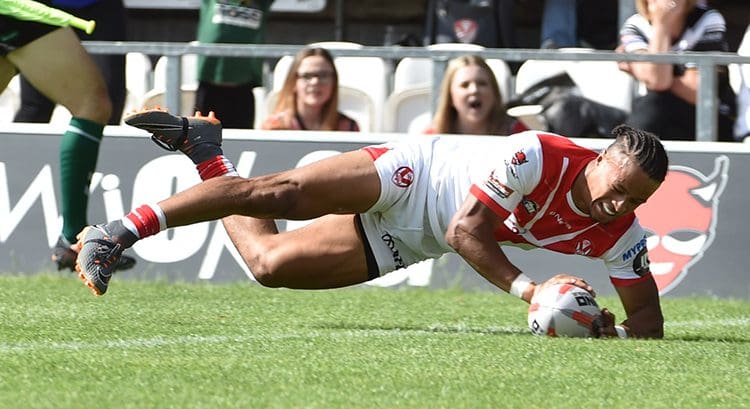 Goal
Danny Richardson for Saints
Richardson makes it 16-12
Try
Regan Grace for Saints
Grace snaffles up a loose ball, spins, and goes over. Saints back in front.
Grace flies down the left hand side from Percival's pass – Hull scrambling here.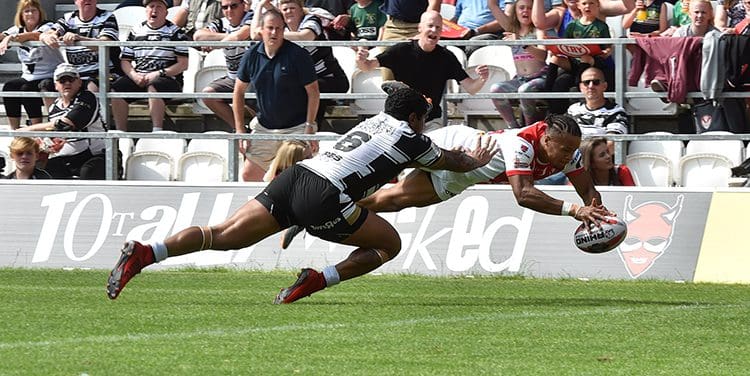 Yellow Card
Danny Washbrook for Hull FC
Washbrook leaves his knee in and is given ten minutes.
Yellow Card
Danny Houghton for Hull FC
Richardson on the deck – Houghton comes over the top of the tackle and is sinbinned for 'crusher' tackle.
Percival is upended and Saints have a penalty – didn't look great that one but Saints have the ball.
Goal
Jake Connor for Hull FC
Connor makes it 12-10 to Hull.
Try
Scott Taylor for Hull FC
Hull win a penalty for obstruction and then looked to have scored – we're heading upstairs once again.
Goal
Jake Connor for Hull FC
Try
Albert Kelly for Hull FC
Kelly replies for Hull – darts along the line and then steps through.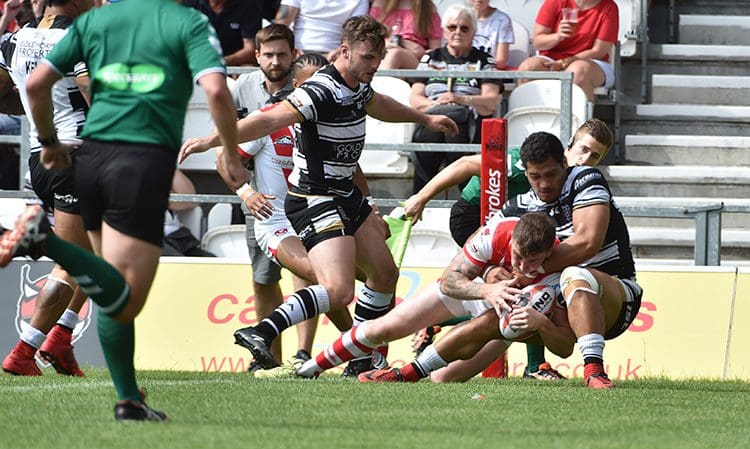 Try
Regan Grace for Saints
What a ball and what a finish! Lomax with the pass and Grace with the spectacular!
Ball doesn't go 10 from the restart and Saints have a penalty.
Goal
Danny Richardson for Saints
Belter of a 'shoe' from Danny makes it 6-0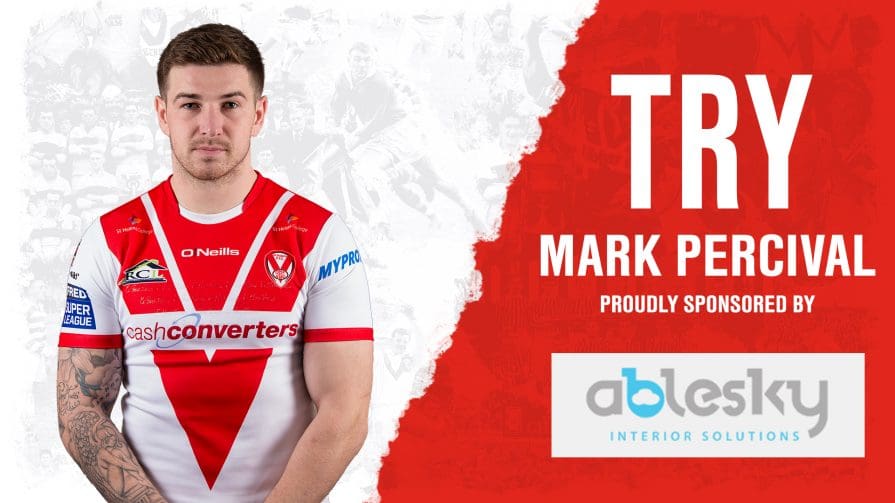 Try
Mark Percival for Saints
Saints in front! The ball is fed left, Percy takes on the line and goes over
Ball goes left – Percy goes over. We're off upstairs to check the grounding.
Half break from Richardson after Wilkin puts him through a gap – Hull scramble well.
Period of pressure from Hull – Saints defend a kick across field. Airlie Birds fired up for this one.
Makinson with the chip on the last – Hull defend it safely.
Kick on the last goes out on the full – Saints head and feed in Hull's 40.
High kick from Richardson, easy take from Shaul.
Real good attacking set from Saints down the left hand side – Hull do their job!
Cracking atmosphere here! Hull will get this game underway!