Adam Swift bagged a hat-trick as Saints beat Widnes 36-6.
The winger returned to the line-up for the first time since May to help his side record their 11th win on the bounce.
And in all honesty, he could have had five.
Saints opened the scoring when Zeb Taia followed up James Roby's barnstorming run for his eighth of the season.
The hooker ghosted through the line, hit the duke button and then span round to produce a fine offload.
By the 12th minute Saints had increased their lead.
Jonny Lomax was the kingpin this time, making a fine break before the ball made its away to Jon Wilkin, Theo Fages and Taia for Mark Percival to cross in the corner.
And just after the 20 minute mark Swift was collecting a looping pass for 14-0.
Dom Peyroux producing a great offload for Richardson to send the ball over.
Fages was unlucky not to score from LMS' offload as the half entered its final stages – but with three minutes to go Luke Douglas hit Louie with a sensational pass for him to steam over.
Richardson making it 20-0 at the break.
That lead was reduced within the first couple of minutes of the second half as Danny Craven took a ball at pace.
But normal service was resumed with a try right out of the top drawer.
On the last Lomax backed himself, darted through a gap on the left and then turned it back inside for Fages to go under the sticks.
And on the hour mark, Swift got his second thanks to a sweeping move that went left to right – the finish right out of the Tommy Makinson school too.
He could have had a hat-trick on freeplay moments later and then Kyle Amor went close in the 69th minute.
Fages had one chalked off as the game entered its final stages too but a long pass from Richardson saw Swift grab a deserved third.
Match Summary:
Saints:
Tries: Taia, Percival, Swift (3), LMS, Fages
Goals: Richardson (4 from 7)
Vikings:
Tries: Craven
Goals: Inu (1 from 1)
Penalties Awarded:
Saints: 9
Vikings: 8
HT: 20-0
FT: 36-6
REF: Scott Mikalauskas
ATT: 9,923
Teams:
Saints:
1. Jonny Lomax: 5. Adam Swift, 30. Matty Costello, 4. Mark Percival, 19. Regan Grace; 6. Theo Fages, 18. Danny Richardson; 10. Kyle Amor, 9. James Roby, 16. Luke Thompson, 17. Dom Peyroux, 11. Zeb Taia, 12. Jon Wilkin.
Subs: 13. Louie McCarthy-Scarsbrook, 14. Luke Douglas, 15. Morgan Knowles, 20. Matty Lees.
Vikings:
1. Rhys Hanbury; 2. Stefan Marsh, 4. Charly Runciman, 3. Krisnan Inu, 40. Owen Buckley; 6. Joe Mellor, 15. Danny Craven; 25. Jay Chapelhow, 33. Aaron Heremaia, 8. Gil Dudson, 17. Sam Wilde, 39. Weller Hauraki, 10. Alex Gerrard.
Subs: 12. Matt Whitley, 16. Tom Olbison, 20. Macgraff Leuluai, 23. Danny Walker.
Saints Line up
| | |
| --- | --- |
| 6 | Jonny Lomax |
| 18 | Adam Swift |
| 21 | Matthew Costello |
| 4 | Mark Percival |
| 5 | Regan Grace |
| 7 | Theo Fages |
| 7 | Danny Richardson |
| 18 | Kyle Amor |
| 9 | James Roby |
| 10 | Luke Thompson |
| 12 | Dominique Peyroux |
| 11 | Zeb Taia |
| 12 | Jon Wilkin |
| 15 | Louie McCarthy-Scarsbrook |
| 14 | Luke Douglas |
| 13 | Morgan Knowles |
| 10 | Matty Lees |
Widnes Vikings Line up
| | |
| --- | --- |
| 1 | Rhys Hanbury |
| 2 | Stefan Marsh |
| 3 | Charly Runciman |
| 4 | Krisnan Inu |
| 5 | Owen Buckley |
| 6 | Joe Mellor |
| 7 | Danny Craven |
| 8 | Jay Chapelhow |
| 9 | Aaron Heremaia |
| 10 | Gil Dudson |
| 11 | Sam Wilde |
| 12 | Weller Hauraki |
| 13 | Alex Gerrard |
| 14 | Matt Whitley |
| 15 | Tom Olbison |
| 16 | Macgraff Leuluai |
| 17 | Danny Walker |
Last updated 6 Jul 18 21:48:16
Goal
Danny Richardson for Saints
Danny hits the conversion for 36-6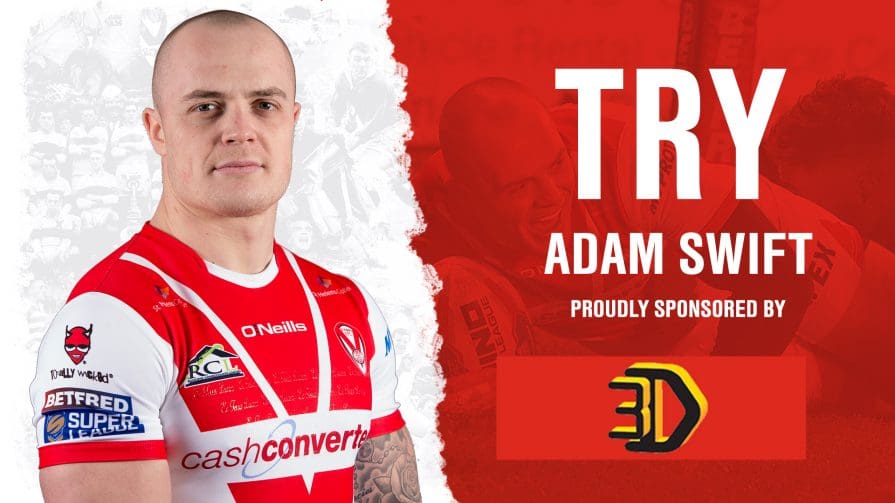 Try
Adam Swift for Saints
Long pass from Richardson and Swift has his third!
Fages has one chalked off for a knock on.
Saints penalty, 20 out from Widnes' line.
7 to go, Saints lead 30-6 and Widnes are on their host's line.
Marra almost over – he wins Saints a penalty
Widnes ball, but they are on their own line – they then win a penalty.
What a try that would have been – Swift on a free play blasts through the tacklers, gets ankle tapped but his offload goes to the floor. Unlucky. Saints have the ball.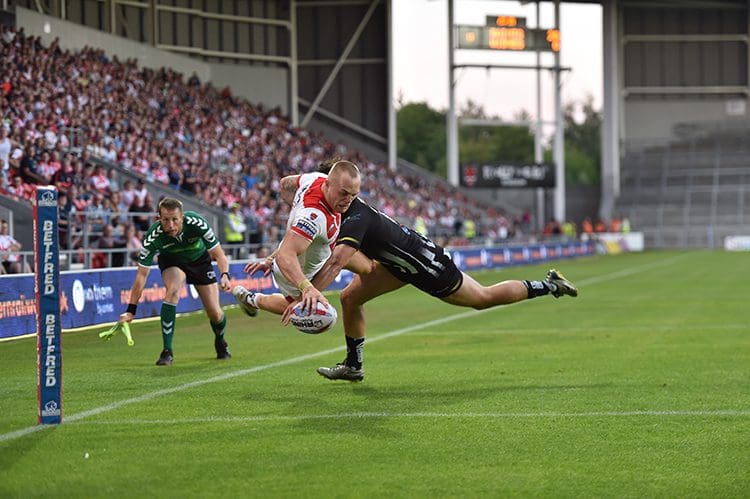 Danny misses the touchline conversion – Saints lead 30-6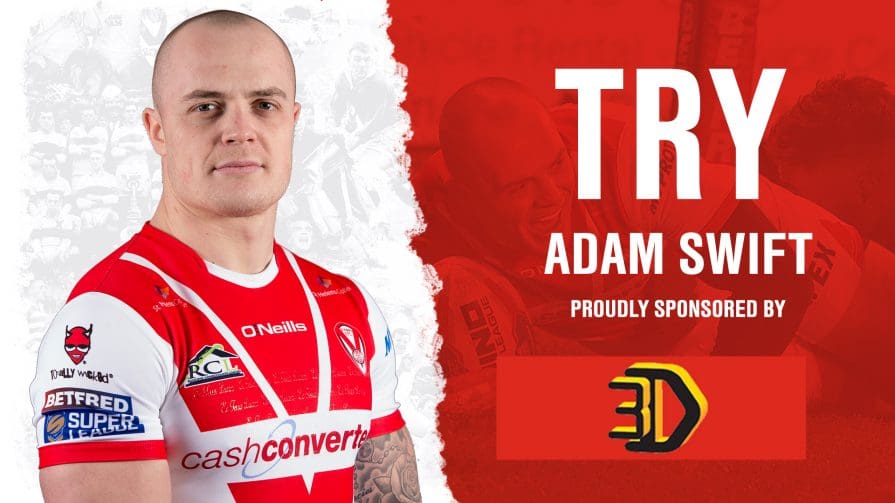 Try
Adam Swift for Saints
Another great try from Saints, ball swept right and it's Swift's second.
On the last Swift chips to chase – he must be 40 metres at least out – and he forces a drop out.
Percival loses the ball and Widnes have a penalty. More defending to do here.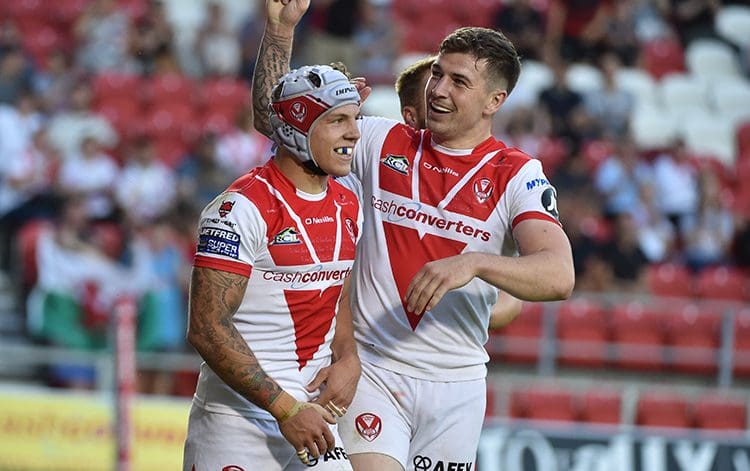 Goal
Danny Richardson for Saints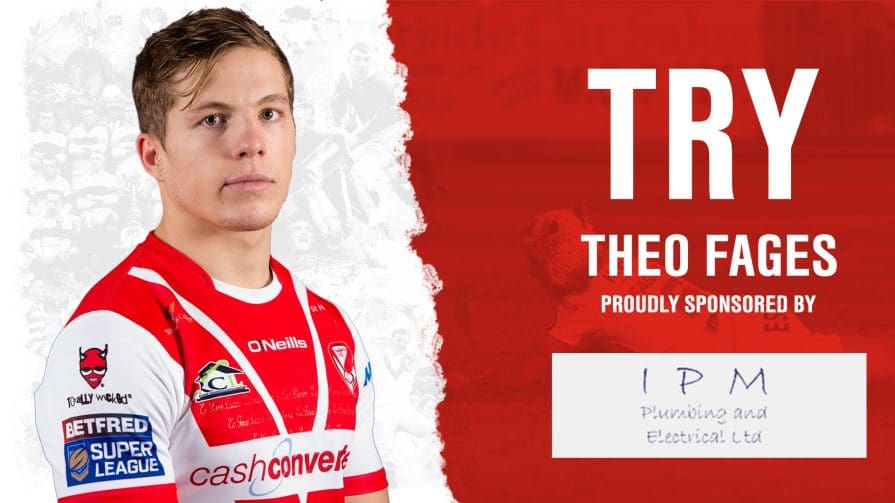 Try
Theo Fages for Saints
All about Jonny this one! On the last he backs himself on the left hand side, dives through and then finds Fages on his right hand side!
Goal
Krisnan Inu for Widnes Vikings
Try
Danny Craven for Widnes Vikings
Widnes hit back – Craven takes a ball at pace.
Back underway here, Widnes on the attack, Saints lead 20-0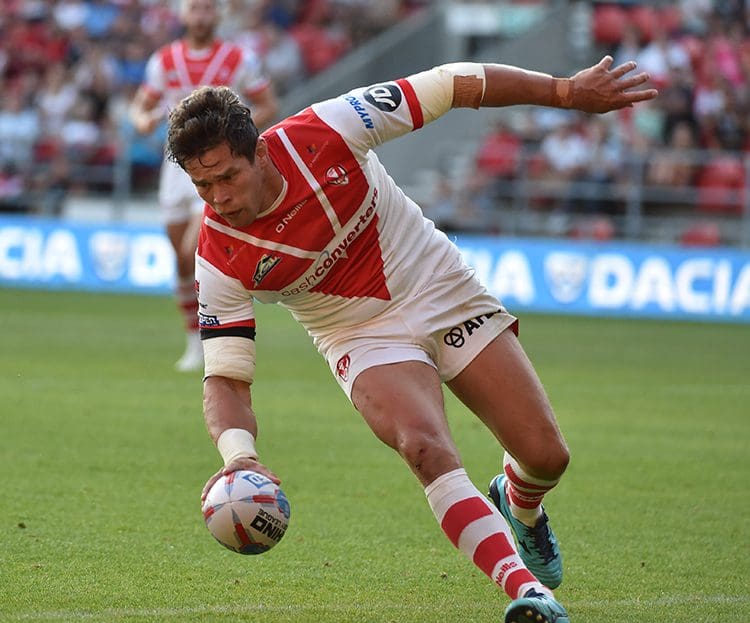 Goal
Danny Richardson for Saints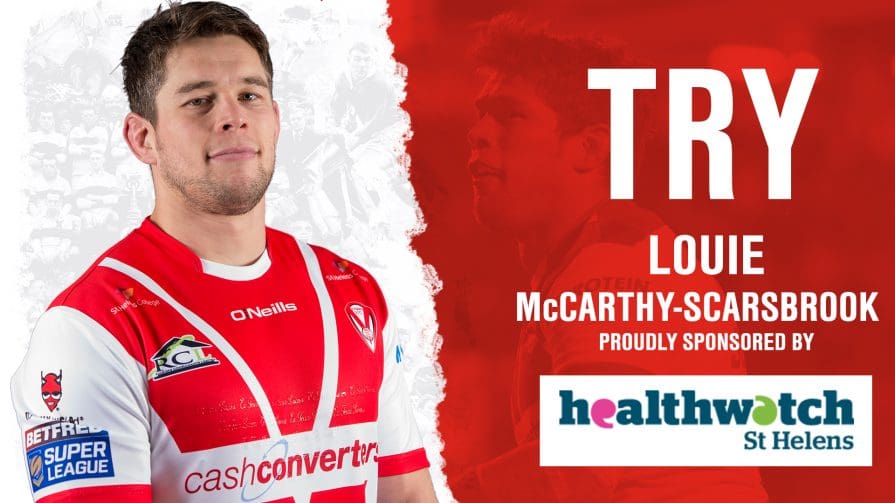 Try
Louie McCarthy-Scarsbrook for Saints
LMS over – but what a ball from Luke Douglas. Sensational pass to catch Louie on the burst.
Both sides exchanging knock ons, Saints with the ball and Matty Lees is hit high. Saints pen.
Lovely run from LMS – offloads to Fages and he has held up inches short. Widnes then caught offside.
Widnes kick it out on the full – Saints ball around 45 out. They lead 14-0
Fages kick wins Saints a drop out.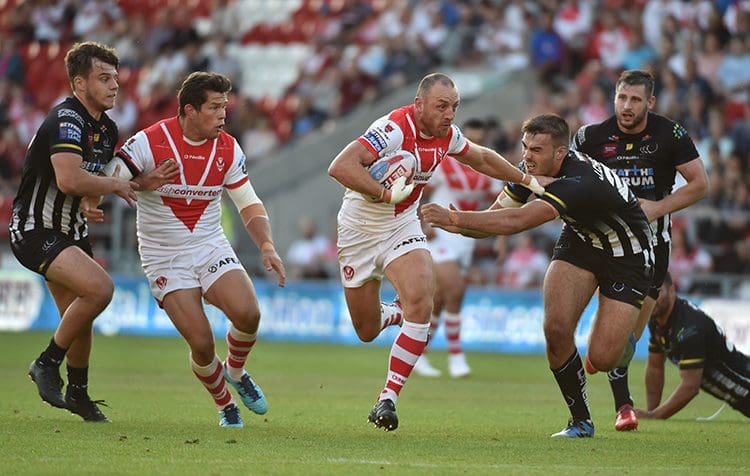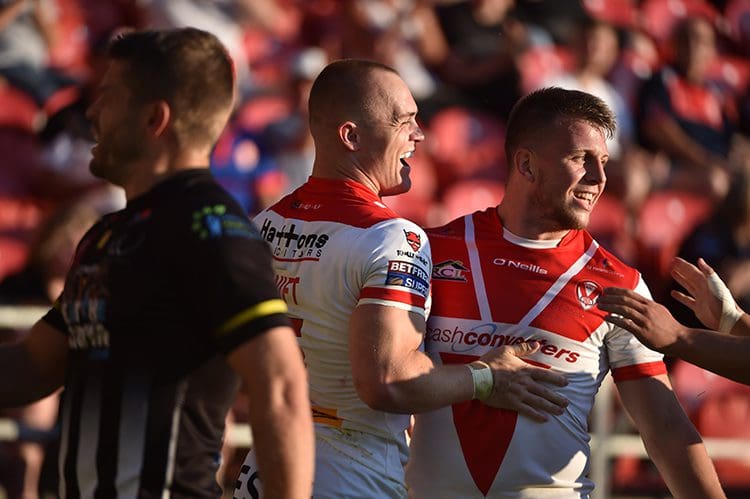 Try
Adam Swift for Saints
Saints 14-0 to the good ktc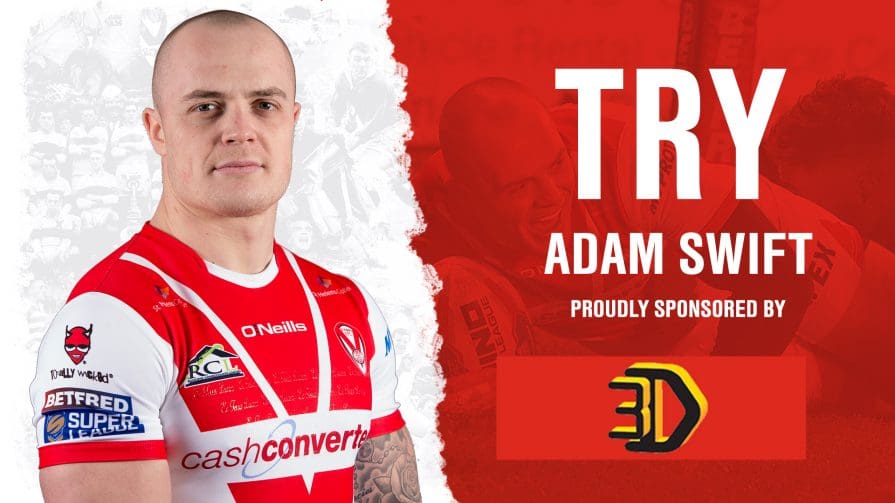 Another set as Saints knock on the door – they lead 10-0
Back to back pens for Saints now have them in good field position.
Peyroux with the try-saver, and then Richardson does one too. Great D from Saints.
Back to back pens for Widnes and they are on Saints' line.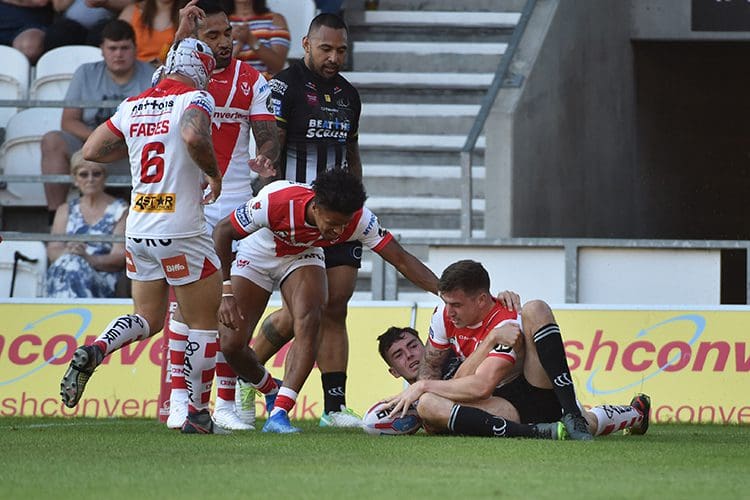 Richardson wide with the conversion attempt – Saints lead 10-0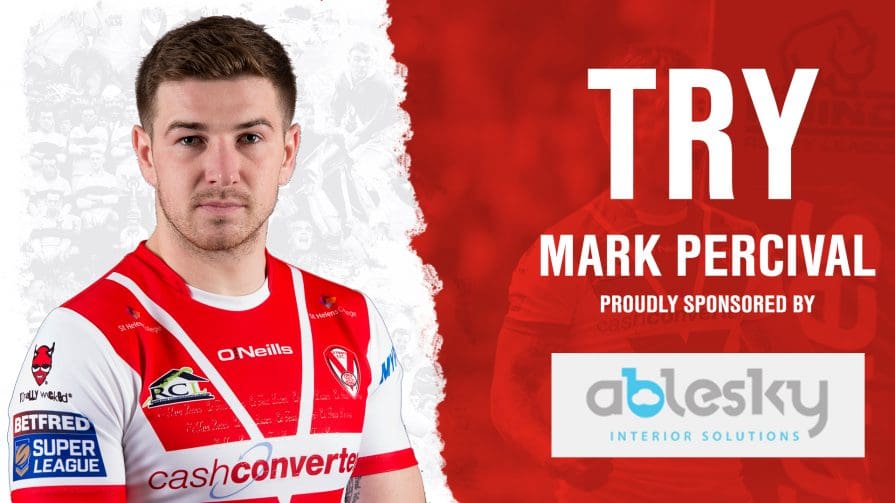 Try
Mark Percival for Saints
Lomax' break makes this one. Ball then through hands from Wilkin & Fages and it ends up with Percy.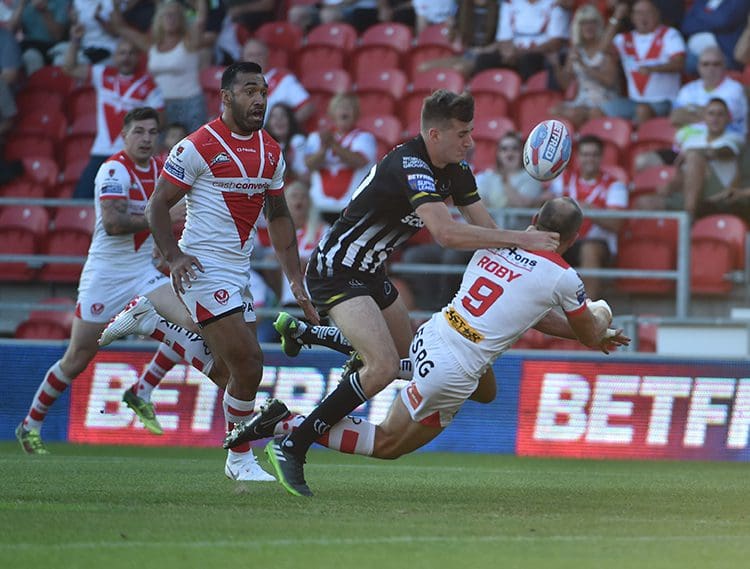 Goal
Danny Richardson for Saints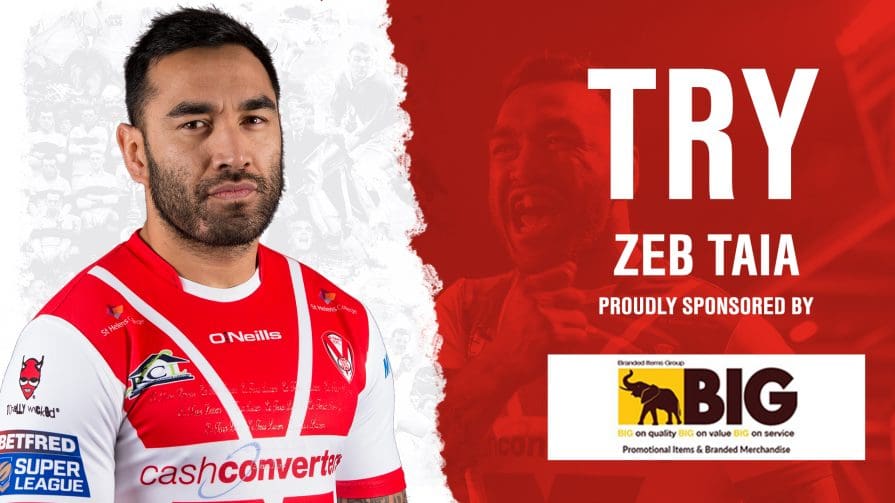 Try
Zeb Taia for Saints
Taia over but this try is all about Roby – breaks through from 40 out, perfects the spin and then produces the offload. Class.
High kick from Richardson – easy take for Rhys Hanbury
Saints stop a Widnes attack on their own 10 and will come away with it. Even start here.
Saints then called for a forward pass
High ball taken on the bounce by Swift and he's off – 30 metres and Saints now over half way.
Danny Richardson kicks long on the back of Saints first set, Widnes close to their own 40.
Widnes will get this one underway!