Saints will have to wait another week to secure the League Leaders' Shield after they went down 30-10 at home to Wigan.
A brace from Tommy Makinson either side of the half gave Justin Holbrook's side hope after being 14-0 and 18-4 down.
But the Warriors converted their chances to hand Saints their first derby win of the season.
Wigan got off to a good start when Dan Sarginson crossed following Morgan Escare's break after just four minutes.
Both sides then had a try chalked off before James Roby went close in the 20th minute.
More chances were to come for the home side but each followed a similar pattern – and Wigan duly punished that profligacy to increase their lead.
Joe Greenwood did the damage again, finding a gap on the left hand side to give Gildart some space.
The winger looked wrapped up but he found Sarginson on his outside for his second.
John Bateman slipped out of tackles for 12-0 as the half came to a close but a piece of brilliance between Danny Richardson and Tommy Makinson as the hooter sounded gave Saints a lifeline.
Richardson sent over a pinpoint kick to his winger who out-jumped Gildart, span around and put down in the corner.
It went without saying that Saints needed to score first in the second half – so the last thing they needed was for Tom Davies to stretch out under some weak tackling to extend the Warriors' lead.
But Saints hit back with Makinson's second.
Attacking the right hand side LMS hit a pass at pace and produced a wonder offload, under pressure, for his winger.
But after Saints lost the ball in Wigan's 20, Oliver Gildart went the length of the field to take the lead out to 24-10.
Sean O'Loughlin then scored after he caught a short pass – Williams converting – to hand Wigan the spoils.
Match Summary:
Saints:
Tries: Makinson (2)
Goals: Richardson (1 from 2)
Warriors:
Tries: Sarginson (2), Bateman, Davies, Gildart, O'Loughlin,
Goals: Escare (0 from 2), Williams (3 from 4)
Penalties Awarded:
Saints: 5
Warriors: 4
HT: 4-14
FT: 10-30
REF: C. Kendall
ATT: 14,061
Teams:
Saints:
23. Ben Barba; 2. Tommy Makinson, 3. Ryan Morgan, 4. Mark Percival, 19. Regan Grace; 1. Jonny Lomax, 18. Danny Richardson; 16. Luke Thompson, 9. James Roby, 14. Luke Douglas, 13. Louie McCarthy-Scarsbrook, 11. Zeb Taia, 15. Morgan Knowles.
Subs: 10. Kyle Amor, 12. Jon Wilkin, 20. Matty Lees 21. Jack Ashworth.
Warriors:
20. Morgan Escare; 2. Tom Davies, 19. Willie Isa, 3. Dan Sarginson, 4. Oliver Gildart; 6. George Williams, 9. Thomas Leuluai; 25. Romain Navarrete, 7. Sam Powell, 10. Ben Flower, 40. Joe Greenwood, 14. John Bateman, 13. Sean OíLoughlin.
Subs: 8. Tony Clubb, 15. Ryan Sutton, 30. Gabriel Hamlin, 35. Ollie Partington.
Saints Line up
| | |
| --- | --- |
| 23 | Ben Barba |
| 2 | Tommy Makinson |
| | Ryan Morgan |
| 4 | Mark Percival |
| 5 | Regan Grace |
| 6 | Jonny Lomax |
| 7 | Danny Richardson |
| 14 | Luke Douglas |
| 9 | James Roby |
| 10 | Luke Thompson |
| 15 | Louie McCarthy-Scarsbrook |
| 11 | Zeb Taia |
| 13 | Morgan Knowles |
| 18 | Kyle Amor |
| 12 | Jon Wilkin |
| 10 | Matty Lees |
| 17 | Jack Ashworth |
Wigan Warriors Line up
| | |
| --- | --- |
| 1 | Morgan Escare |
| 2 | Tom Davies |
| 3 | Willie Isa |
| 4 | Dan Sarginson |
| 5 | Oliver Gildart |
| 6 | George Williams |
| 7 | Thomas Leuluai |
| 8 | Romain Navarrete |
| 9 | Sam Powell |
| 10 | Ben Flower |
| 11 | Joe Greenwood |
| 12 | John Bateman |
| 13 | Sean O'Loughlin |
| 14 | Tony Clubb |
| 15 | Ryan Sutton |
| 16 | Gabriel Hamlin |
| 17 | Oliver Partington |
Last updated 31 Aug 18 21:31:01
Goal
George Williams for Wigan Warriors
Williams takes the score out to 30-10.
Try
Sean O'Loughlin for Wigan Warriors
Short ball and O'Loughlin takes the lead out to 28-10
Goal
George Williams for Wigan Warriors
Williams takes it out to 24-10
Try
Oliver Gildart for Wigan Warriors
Ball hits the deck – Wigan come away with it and then go the length of the field.
Massive kick from Richardson – Escare spills it. Big set and chance for Saints.
20 to go, 18-10 to the visitors, Wigan coming out of their own 40.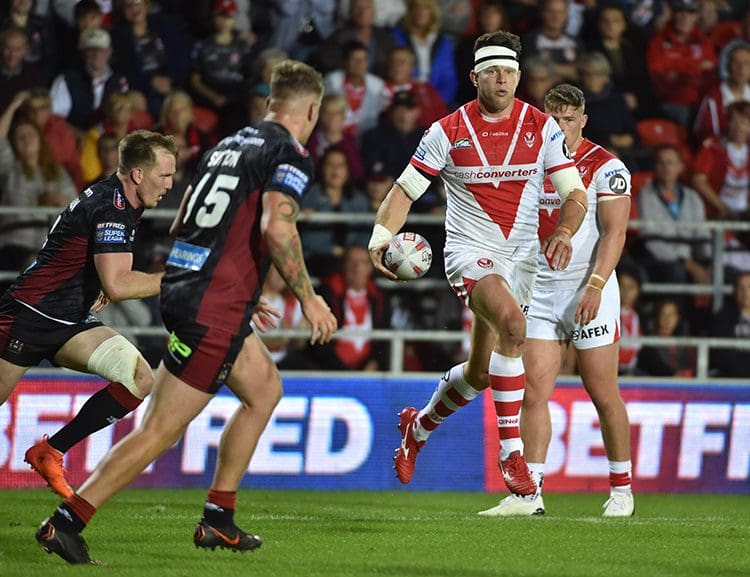 Great kick from Barba around 40 out wins Saints a drop out as Escare is caught in goal.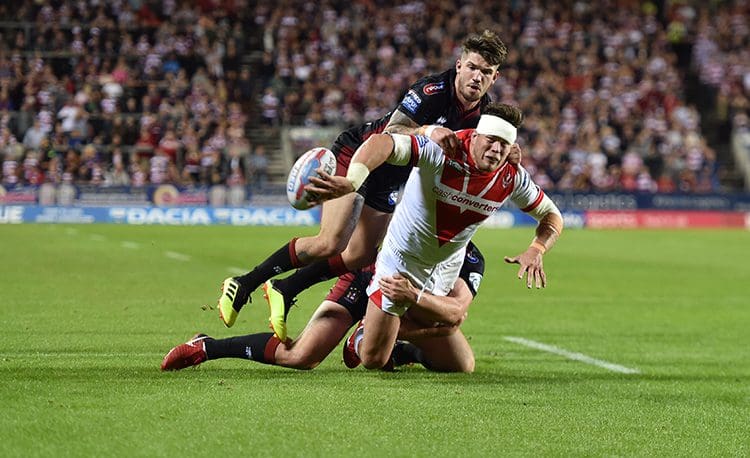 Goal
Danny Richardson for Saints
Cracker that. Saints 10 Wigan 18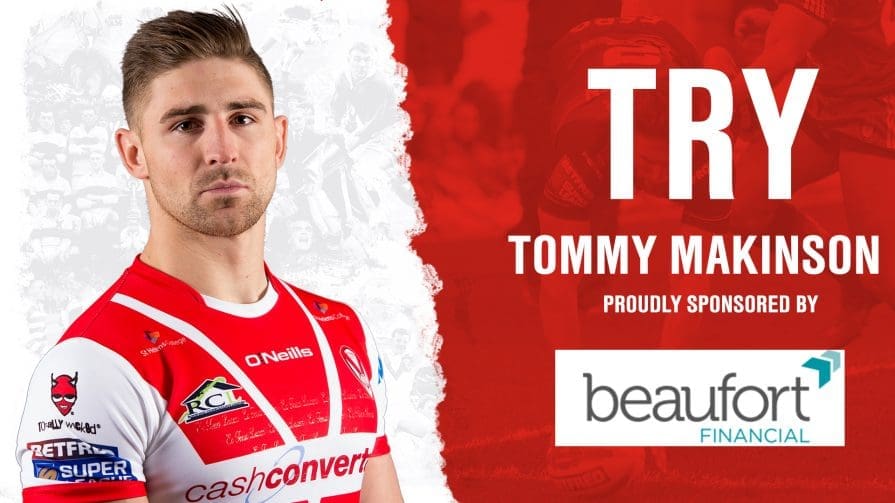 Try
Tommy Makinson for Saints
Saints attack the right hand side – wonder offload from LMS and Makinson is over
LMS stops a certain Davies try with a covering tackle.
Williams can't convert and so Wigan lead 18-4
Try
Tom Davies for Wigan Warriors
Stretches out as Saints fail to wrap him up.
Saints will get the second half underway – Wigan lead 14-4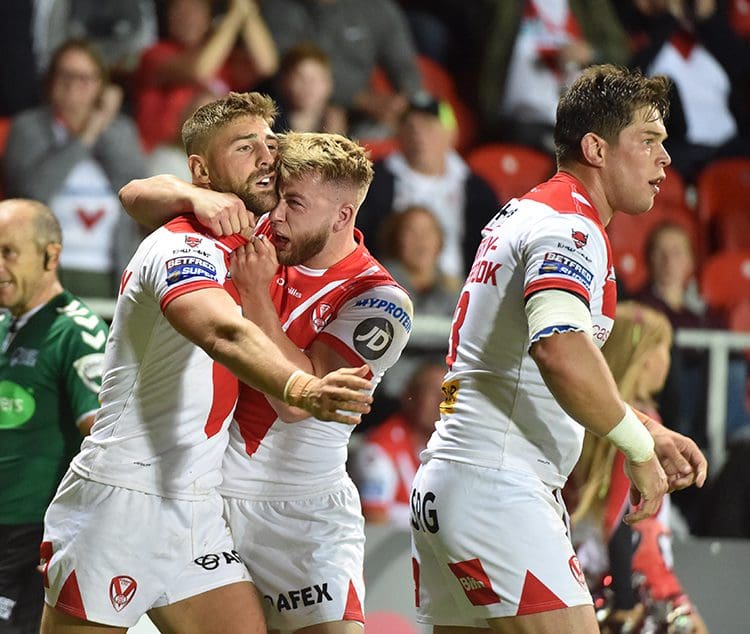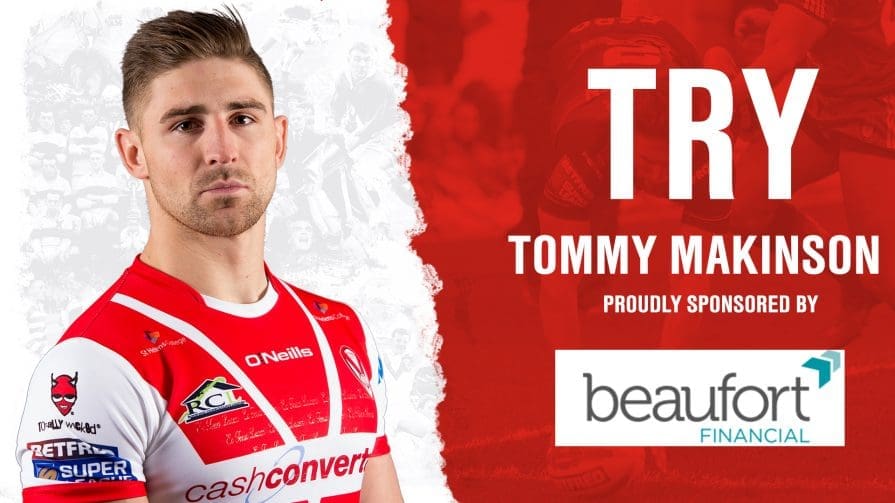 Try
Tommy Makinson for Saints
What a try that is – and much needed!
What a kick from Danny – picks out Tommy Makinson as the hooter goes and he spins out and puts down. We're heading upstairs…
Goal
George Williams for Wigan Warriors
Try
John Bateman for Wigan Warriors
Bateman extends the lead as he pushes through
Richardson tries his best to stay out of the in-goal but Saints have to drop out.
Escare wide again but Wigan lead 8-0.
Try
Dan Sarginson for Wigan Warriors
Wigan find space in the middle of the field; Greenwood finds Gildart who keeps it alive for the centre to grab his second.
Wigan penalised for interference on the first tackle – another set for Saints.
Saints have a fresh set as Wigan knock on.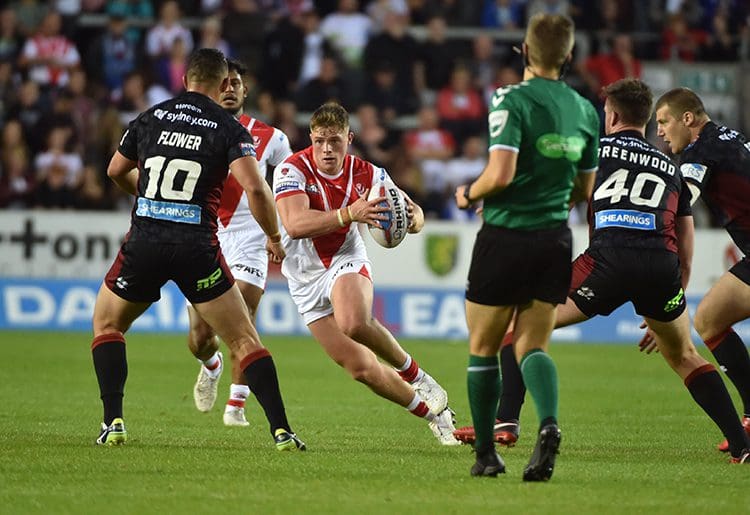 Long pass from Lomax is a little too long and Makinson can't stay out of touch.
Saints penalty on Wigan's line
Lovely kick from Lomax means Wigan have to drop out.
Saints stop a Wigan attack and Barba heads 60 metres up the field.
Ryan Morgan leaves the field with a head knock – LMS now in the centres with Jack Ashworth on the field.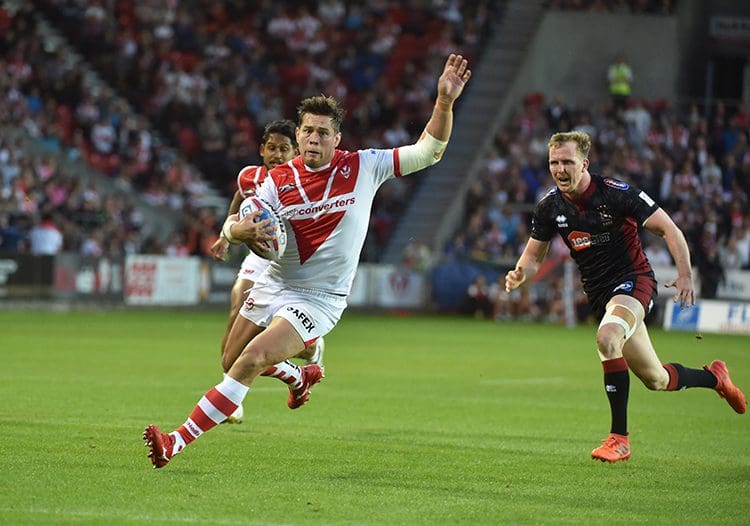 Wigan right on Saints line once – ball comes loose, looks like a knock on but another set follows and Powell is over. Vid ref decision coming up.
No try – obstruction in the build up
LMS sidesteps Escare on his way to the line after a pass from Morgan Knowles – but it heads upstairs as no try.
Crossfield kick comes in again – Wigan caught offside and Saints have a penalty.
Ryan Morgan takes a crossfield kick – Saints have to drop out again.
Kick comes in – Makinson knocks it dead and Saints have to drop out.
Escare wide with the extras – Wigan lead 4-0.
Try
Dan Sarginson for Wigan Warriors
Greenwood's offload sends Escare away and he puts Sarginson over.
Escare lets a high ball bounce – Thompson grabs it but is wrapped up by the defence.
Good opening set from the Saints – chip over the top from Richardson which Escare takes. Wigan coming away from their own 20.
Wigan will get this one underway!
Late change to the Wigan side sees Morgan Escare come in for Sam Tomkins and Ollie Partington join the bench.